It's hard not to have a soft spot for British director Shane Meadows. In an industry in which the university educated middle-class still hold sway, he's that refreshing if too-rare example of a down-to-earth working-class kid who got into the business by just going out and making his own short films with his mates using whatever equipment they could lay their hands on. And even with a string of acclaimed feature films to his name, he's still making them that way, just for the fun of it. In the workshop included as one of the extras on this disc, he claims to have made almost a hundred, seeing them as his sketch book, small works made for himself and his friends that help him to continually develop his craft. He's not precious about the technology used to produce them, either – his 2005 short The Stairwell is just 15 seconds long and was shot on a mobile phone. It's also a pleasure to note that despite his recent commercial success and the considerable praise and attention he has attracted over the years, Meadows has stayed true to his roots and has not become a media dick. He still looks and sounds like a brickie with a camera – I really do mean that as a compliment – and is a living testament to his own philosophy that anyone can become a filmmaker if they have a genuine love for the medium and the filmmaking process, and if they just get out there and do it rather that sitting around waiting to be somehow magically discovered.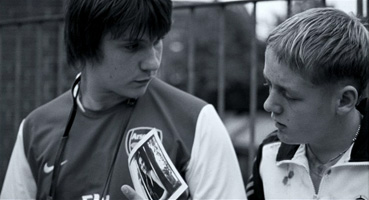 My relationship with the cinema of Shane Meadows goes back to our 1998 film society screening of his second feature Twenty Four Seven, which generated enough audience enthusiasm to prompt subsequent screenings of A Room for Romeo Brass, Once Upon a Time in the Midlands, Dead Man's Shoes and, most recently, This is England, his most critically acclaimed work to date and his first real commercial hit. In all that time I've yet to see a Shane Meadows film I didn't like, usually a great deal, but I've also yet to see one that genuinely knocks me for six. This is no reflection on the films, I should point out, but on my own life experiences and taste. A good example is his 2004 Dead Man's Shoes. It's a compellingly constructed revenge drama with a searing performance at its core from Meadows' close friend Paddy Consadine. And yet it also, perhaps inadvertently, serves to highlight the conservative morality that underscores so many cinematic revenge tales, where specific crimes decree that their (usually male) perpetrators are deserving of violent death without trail, unless, as happens there, they have got themselves a wife and kids and have become functioning members of normal society. At a time when Park Chan-wook's Vengeance Trilogy was persuasively suggesting that the act of revenge is a dead-end street that morally destroys everyone involved in its enactment, it's a curiously old-fashioned viewpoint. And yet this is still a film I'd urge people to see, for its low-key handling, its naturalistic performances, it's gripping storytelling, its attention to character and detail, its sudden and unexpected switches of mood and tone – exactly the reasons, in fact, I'd recommend any of Meadows' features to date. It doesn't matter that I've yet to make that magical connection with any of them, I still admire the hell out of their director and am damned glad he's out there making movies.
For those familiar with Meadows' previous work, Somers Town has come as something of a surprise. Some have seen it as Shane Meadows light and it's easy to see why – there is none of the conflict or confrontation of This is England, no startling tonal switches or big narrative surprises. There is a small twist, sure, but it's not going to have anyone sitting bolt upright and shouting "What??" at the screen. It's light on plot and its potential socio-political elements become no more than levers to get and keep the two lead characters together – young homelessness and the new immigrant workforce are facts of life rather than topics of exploration. This could be seen as a social comment in itself, of course, but I doubt those involved in working with either group would be likely to agree.
It all starts when young Nottingham kid Tomo leaves home for unspecified reasons and heads to London, where, during his first night on the streets, he is beaten up and has his money and bag stolen. His luck changes the following morning when a chance encounter with a woman he met on his journey south results in her buying him breakfast and giving him some money to get home, knowing full well he won't use it for a ticket. In the same café is young Polish immigrant Marek, who spends his days wandering the streets taking photographs while his father works on the construction of the new Channel Tunnel terminus. Tomo introduces himself by grabbing Marek's photos and running off with them, but a short while later the two are getting to know each other and a friendship is born.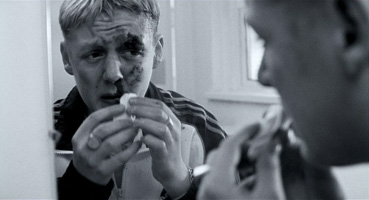 It's their developing relationship that Somers Town is really about, of course, how two very different souls can find common ground through their sense of isolation and displacement in an alien town. Their circumstances and reasons for leaving their respective homes may be different, but Tomo and Marek become friends precisely because at the specific moment of their first encounter they have no-one else close to their own age to relate to. Even Marek's strong relationship with his father is of small compensation, given that he works by day and goes out with his countrymen at night. Family bonding occurs over breakfast, as they prepare food or practice their English on letters in newspaper problem pages.
Initially there's a sense that Tomo is exploiting the relationship for his own ends (he blags a bed for the night in Marek's room, in spite of Marek's fear of the consequences should his father find out) and that he is leading his new friend astray by introducing him to the pleasures of theft and serious drinking. But the two find a mellowing common ground when Tomo grows to share Marek's puppy love for French waitress Maria, another displaced soul who clearly enjoys the attention she receives from these two smitten youngsters. It's a mark of the difference in their personalities, though, that while Marek romantically idealises her through his photographs, Tomo uses them as material for a sneaky bathroom wank.
The coming-of-age touchstones may be familiar and the story development threadbare, but there is real enjoyment in Meadows' pared-down handling and typically winning approach to character interaction, with entire scenes covered in single wide or two-shots to allow the actors to improvise around regular collaborator Paul Fraser's script (the entire film was shot in ten days and expanded while filming from its original short film length). As Tomo, young Thomas Turgoose confidently confirms the promise of his This is England debut, while plucked-from-school first-timer Piotr Jagiello is quietly believable as Marek, particularly in his relationship with his father (an impressive but never showy performance from Ireneusz Czop). Completing the picture as local dodgy dealer Graham is Perry Benson, who on the evidence here has the potential to become Meadows' equivalent of what Ricky Tomlinson once was to Ken Loach.
So is Somers Town really Shane Meadows light? I'd have to say yes, but in a way that works for the story and will do no harm to his reputation as one of Britain's most important and talented contemporary filmmakers. It may sideline plot for character and skirt around the issues at its core, but there's still a poignant honesty and overriding optimism to the central friendship that is both engaging and, intermittently, rather fun. Natasha Braier's black-and-white camerawork manages the small miracle of making North London appear almost attractive, and there's an unexpected colour coda that I have no embarrassment in describing as genuinely heart-warming. Profound it may not be, but it's the only Shane Meadows film that you can describe, without a hint of irony, as rather sweet.
A very pleasing 1.85:1 anamorphic transfer that perfectly captures the tonal greys of Natasha Braier's monochrome cinematography without sacrificing either its black levels or shadow detail. No obvious signs of enhancement or compression issues are evident, while the switch to colour, which has been treated to look like 8mm film (funny how that particular post-modernist trick is still used for a generation of filmgoers who have never seen 8mm for real) is effectively bright without over-saturation.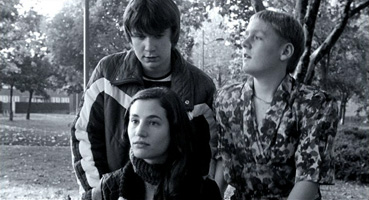 Both Dolby 2.0 stereo and 5.1 surround soundtracks are on offer. Both deliver the goods on clarity and range in a film whose soundtrack matches the gentle tone of its drama. Gavin Clark and Ted Barnes' soulful music really benefits from the 5.1 mix, however.
Interview with Perry Benson (5:38)
The affable Benson provides a few brief responses to questions over his character and Meadows' working style, and a more detailed account of how he and Meadows met and ended up working together on this film.
Interview with Thomas Turgoose & Piotr Jagiello (6:20)
The two likeable young actors who play Tommo and Marek tell how they landed their parts, describe their characters, and talk about working with Meadows. It's brief but interesting, not least for the story of the injury sustained by Turgoose when filming the drunk scene.
Interview with Shane Meadows (14:41)
The always interesting and ego-free Meadows talks about how the project came about, the problems of shooting in London, how the film expanded from a short to a feature, how much he learned about directing from casting and working with non-English actors, and how a planned year off saw him end up making four films. It's all good stuff, with the info provided on close friend and regular co-writer Paul Fraser's childhood particularly engaging.
Shane Meadows' Master Class at the Tribeca Film Festival (68:46)
A substantial extra in which Meadows, screenwriter Paul Fraser and producer Barnaby Spurier take the stage to answer questions at this year's Tribeca Film Festival. It's mainly Meadows' show with some useful contributions from Fraser and it covers a lot of ground, including how the two got started in film (this is really interesting for newcomers), Meadows' approach to scripts, the pleasures of working with young and inexperienced performers, the autobiographical elements of their work together, the origins of this particular project (Spurier covers this from a different angle than in the separate Meadows interview), the decision to shoot in black-and-white (London doesn't photograph well in colour) and the importance or workshopping with the actors to shape their characters and dialogue. It's nicely typical of Meadows that his reaction to the commercial success of This is England was to finally buy himself a car. A terrific extra that should be required viewing for all young budding filmmakers.
There are also two brisk TV Spots (1:04) and a well assembled Trailer (1:59).
A very enjoyable and unexpectedly good natured work from Meadows, and one whose characters and good humour go some way to compensating for the slight anaemia in other areas. A short film, but the extras – which in total run for considerably longer than the main feature, make this a very worthwhile disc. Recommended.