For any long term fan of martial arts cinema, the opening minutes of Wing Chun should stir some memories, with its garish yellow titles, cheesy music and unlit exteriors, suggesting a work from the first-wave heyday of the mid-1970s. But not only was Wing Chun released in 1994, a year after the same director's stylistically acclaimed Iron Monkey, but it's also regarded as one of the last works of what was essentially the genre's second wave, six years before Crouching Tiger, Hidden Dragon was to kick off the third wave revival that is still going strong.
Wing Chun is less a transitional work than a barometer of genre's early 90s fragmentation, with traditional martial arts fighting, flying wire work, swordplay, broad character comedy and even sex farce all stirred into the pot. What makes it worthy of any genre fan's attention – well one of the things – is that it blends these sometimes diverse elements so enjoyably, hopping deftly from comedy to action and back again, and even effectively blending the two, an approach demonstrated just five minutes in when the title character battles bandits using fellow villager Wong as a weapon, manipulating him with a series of rapid prods and shoves.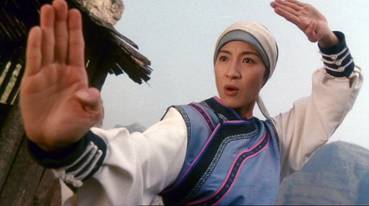 Set in remote rural China in days of old, the comedy-of-errors plot centres around Yim Wing Chun, female co-owner of the local tofu shop and the finest fighter in town, a cause of considerable embarrassment for the local men folk. One of them, Scholar Wong, has eyes for Wing, that is until the beautiful Yim Neung arrives in town and is adopted by Wing and her acid-tongued and bad-breathed sister, 'Auntie' Fong. With Wing now dressing in more masculine fashion, Yim is employed as the shop's 'tofu beauty', attracting record sales as men fall over themselves to be served by her, Wong included. Enter Leung Pok To, returning after a ten year absence with the intention of marrying childhood sweetheart Wing, but on mistaking her for a man, he chases instead after Yim under the mistaken impression that she is the adult Wing. As you might have gathered, this is not your typical martial arts movie plot. It doesn't end there. With his gender misapprehension in place, Leung believes that Wing is Yim's boyfriend, and thus believes that the woman who is Wing Chun is dating the woman he thinks is Wing Chun. And while Wong dreams of romance with Yim, Auntie Fong becomes fixated on reeling him in for herself. Oh, and the brother of Flying Monkey, the head of the local band of bandits, also fancies Yim and arranges to have her kidnapped, providing us with the expected genre bad guys for Wing to go one-to-one with.
Daffy though all this is, especially given the absurdity of a woman of Michelle Cheung's looks being mistaken for a man just because of how she's dressed, it does move at a brisk pace and is performed with enough ludicrous gusto to prompt genuine laughter. More surprising, perhaps, are the lesbian overtones provided by this set-up (and a couple of lines of dialogue), in particular a shot in which Wing and Yim look almost lovingly into each others eyes, and a foot massage delivered by Yim that drives Auntie Fong into an orgasmic frenzy. Mind you, she does seem to be prone to them, engaging in substitute sex with Scholar Wong at a grinding wheel, and later emerging from her bedroom in a dishevelled daze after tricking him into the real thing. Despite genre icon Donnie Yen's co-starring role, the women repeatedly steal the show, being smarter, sassier and in Wing's case the better fighter, an element that foreshadows the strong female roles in Crouching Tiger, which also featured Yeoh. It's an aspect that is starkly emphasised when Wing punishes the bandit who attempts to kidnap Yim with a fiery emasculation.
But essentially this is all the string that binds the pearls, and in the action scenes the film really shines, with the fights initially more earth-bound than the more recent Yuen Woo-ping standard, though once Wing and Flying Monkey go head-to-head things get pretty airborne. Both Yeoh and Yen really get to show their stuff in fight sequences that were action-directed by Yen, the real show-stopper being a horseback battle fought in the midst of flaming fences, though Wing's challenge to a would-be tough guy to break a tray of tofu is a delightful mix of lightning choreography and object acrobatics.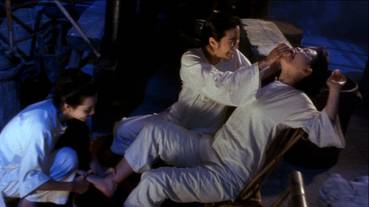 Taking its title from the kung fu style made famous by the late Bruce Lee, which is only featured in part in the film, Wing Chun may lack the visual polish of the likes of Iron Monkey and generally be regarded as a slightly lesser work, but for those of us who like our martial arts rooted to gravity and can go with the silliness, it's something of a treat.
The slightly retro look to the exteriors initially makes the transfer look a little average, but closer inspection and the more stylistic night lighting reveals a spotless print, impressively transferred, with colour, contrast and detail all very pleasing, and no visible signs of edge enhancement or distracting compression artefacts.
The Cantonese 5.1 track has been remixed from what was presumably a mono or basic stereo track, and remains largely front and centre weighted, though music and atmos sounds are spread a little wider. There is also an English dub, hammily performed, but not as bad as some.
The inevitable but welcome Bey Logan commentary delivers an encyclopaedia of information on Donnie Yen, Michelle Yeoh (both of whom are friends of Logan) and the Wing Chun fighting style, to the extent that we are 40 minutes in before he really gets screen specific. This is all interesting stuff, as usual, and has its fair share of engaging anecdotes, not least the arrival on set in a large limousine of Michelle Yeoh fan Oliver Stone. The commentary and DVD are interestingly dated by Logan's frustration that Zhang Yimou's Hero had at this point not really been seen in the West – the film was later to sit at number one in the US box office for some weeks.
Kicking Up a Storm (14:34) has co-star and martial arts legend Donnie Yen talking about the making of the film and his role in it, hinting at the creative differences between himself and director Yuen Woo-ping, specifically his unhappiness at the decision not to more fully feature the Wing Chun fighting style. He also reveals that he can't swim and that in a scene he played with Yeoh in which he had to rescue her from drowning, she actually had to save him. Yen clearly has a lot of respect for Yeoh. The problems of shooting the fire and horseback scene, which Yen effectively directed, are also covered. The interview is in English.
Warrior King (17:48) is an interview with Tsui Sui-keung, who plays Flying Monkey (under his English screen name of Norman Chu, something Bey Logan finds hilarious), who talks about his prolific career, his role in the film, and the fact that at 52 he still does all his own action scenes. This interview is in Chinese with English subtitles.
It's been out for over a year now, but is re-released this week as part of Contender's 'Epic Action' box set along with Iron Monkey and Tai Chi Boxer at a ludicrously low price, making them fine value if you don't have any of the films already (and let's face it, genre fans probably will have). A case, as Bey Logan has said, of a film with 'something for everyone', I enjoyed the mix enormously, and once again Yuen Woo-ping's choreography and technical direction are a joy in themselves. And if you want to know just why so many of us think Michelle Yeoh is The Business, look no further.