Much like the great tragedians of classical Athens, Aeschylus, Sophocles and Euripides, director Nick Murphy's Blood draws influence from the myth of the House of Atreus. A contemporary Greek tragedy of two brothers committing unspeakable crimes in the name of vengeance and betraying the law they swore to uphold, the hostile winds of Hilbre Island's washed out Wirral peninsula are as vicious as the bent coppers who take unresponsive criminals out there to rough up confessions. The tide may take the bodies out to sea but it's not enough to wash away the sins of those abusing the authority of their badge.
Based on the 2004 six-part television series Conviction, creator Bill Gallagher also pens the big screen adaptation. A ninety minute contraction stop Blood from dealing with some pretty weighty themes, namely, fraternal frailties, the expectations of familial loyalty and the emotional toll of getting away with murder, though whether it examines any one of these with the necessary depth is debatable. As with last year's The Awakening, Nick Murphy's follow-up is a handsomely shot production. It's also exceedingly well-acted by its ensemble, whose guilt-racked performances are full of fear and sadness which is remembered long after, even as the film itself fails to stick in the memory.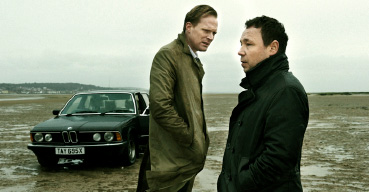 Joe and Chrissie are brothers (the incredulous pairing of Paul Bettany and Stephen Graham) who are also both police detectives. They both work under the omniscient legacy of father and former big shot department head Lenny (Brian Cox) who is now dementia-ridden. When a young girl's body is discovered at a public skateboarding rink, the brothers and colleague Robert (Mark Strong), hone in on prime suspect Jason (Ben Crompton), a peeping perv known for taking pictures of young girls. Failing to get a confession, Jason is released soon thereafter. Incensed by this result, Joe is reminded of a similar case from his past where he let the culprit escape, determined that it won't happen again. If his "it's all happening over again past" feels like standard issue baggage, the more compelling element of this personal mission is the pressure Joe puts on himself as someone answerable to the townspeople and their collective call for justice. In this small community he can feel his every move being watched and with with little confidence after what happened before.
Getting drunk at Joe's anniversary party, the brothers decide to take matters in their own hands and make a late night call on Jason, taking him out to the island for a less than legal, second interrogation. With their father passed out in the backseat of his car, Joe employs the bullying methods passed down by their patriarch and attempting to force a confession, he kills Jason in an act of unrestrained violence. The rest of the film deals with the fallout of this fatal mistake, the brothers' collective guilt, their attempts to cover their tracks and a suspicious Robert inching closer and closer to the truth.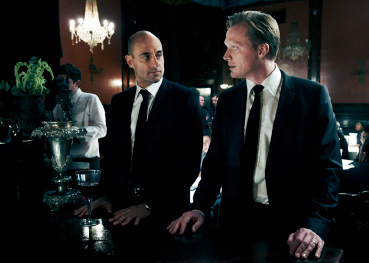 Shifting away from the predictable procedural elements of the plot and focusing on the characters' overwhelming psychological guilt, which starts gnawing at them the moment they return home, Joe and Chrissie are barely holding it together from the word go. The post-murder portion of the film takes place over a few short days, during which neither is able pretend at normalcy; permanently near-tears and speaking together in hushed, urgent whispers. Circumstance and slipshod cover-up is not their ultimate undoing, the brothers are simply not cut out to live with murder on their minds. To this end, Murphy has the sense to let a commanding Bettany carry the film. While the script paints Joe in broad strokes, between the lines Bettany nails the character's quaking disintegration and snarling flashes of nastiness inherited from his father. In his increasingly frayed and utterly riveting performance, Joe's tragedy belongs not only to the Greeks but the fatalistic nightmare of film noir.
Stephen Graham's more sympathetic Chrissie is an adult who regresses to a child-like state whenever he's around his brother. Like his name, he's a bit of a frightened little girl and Joe's influence on his younger sibling has a streak of menace too subtle for Chrissie to realize he's being victimized. Chrissie's unquestioning loyalty to Joe comes from a mixture of loyalty and fear, but being made an unwilling accomplice to a horrendous crime pushes that loyalty to breaking point. Desperate to clear his conscience, Chrissie assists Jason's mother's hopeless search for her son, in an attempt to masochistically absolve himself. This leaves Mark Strong's Robert tightening the investigative noose, reliable as ever in the role of an unflinching, hard-nosed professional.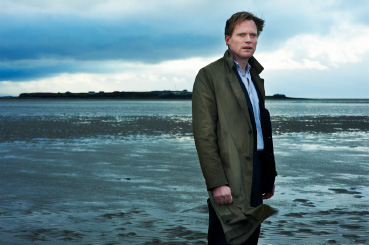 Blood shows in slow, dreadful detail, the exacting toll guilt can take and how close it can hit to home. Delving into the twisted, knotted turmoil of its characters elevates it above more rudimentary thrillers, but sometimes the approach is too heavy handed. Joe seeing Jason's ghost all around him and even interacting with him at times, never feels like anything other than an attempt to have something visual happening when the emotions get too repetitive. The film eventually gets stuck rattling round Joe's head and the family dynamic - clearly a central priority for the writer and director given the film's title - somehow goes wholly unexplored. Hints of Joe and Chrissie's relationship with their father, their significant others and with each other are there, but too often we're left to fill in the blanks. Their domestic lives feel like cutouts, only dwelled on when they grind the gears of the plot.
The best Greek tragedies are those which show how all the family members are affected, and though Blood is not as multi-layered as it ought to be, Bettany piles it on as the tradition demands, in one of the best films of his wildly indiscriminate, uneven career. It's a welcome return to form for the actor often so much better than the projects he stars in.
Blood is released at select cinemas on 31 May and on DVD on 10 June from Entertainment One.

---
Timothy E. RAW interviews the film's director Nick Murphy at the 56th BFI London Film Festival. This video can be viewed full at high resolution by accessing the tools menu when the video is playing.
Timothy E. RAW interviews lead actor Paul Bettany at the 56th BFI London Film Festival. This video can be viewed full at high resolution by accessing the tools menu when the video is playing.
Our Thanks to Edwin Hayfron of Premier PR for arranging these interviews.