| | |
| --- | --- |
| | "Paul Gambaccini said "Mischief! He was the most mischievous person and he had it behind his eyes and if you don't have that, you don't have anything. I got the sense that no one wanted this story really to be told. He told me I had a massive undertaking. I went to bed and I thought, "Oh, man, what have I done?" |
| | Lead Actor Rami Malek* |
Yes, the introductory quote usually belongs to the director of the film but as Bryan Singer was fired two weeks from completion of principal photography, his final tasks finished by actor and Eddie The Eagle director Dexter Fletcher, his remarks about his film are somewhat muted. So I turned to the person who dominates the film, the extraordinary Rami Malek. I don't know his other work well (Mr Robot) and do remember his Night at the Museum pharaoh but on the strength of this performance... I've not had this much fun in the cinema for a long time. I lived through the band's stellar success in my teens and twenties. I was never a concert-level fan but I did appreciate the music and regretted their falling out of favour, as Queen became somewhat overlooked after Mercury's departure. But then most success stories have a few dips. As my son is listening to Queen in 2018, (if a single person can speak for his entire generation) then the band may have clawed its way out of its cultural limbo. Mercury died in 1991 and the interest is still there. It's by no means a perfect film or an important one. It straddles the bigger questions and human quandaries with some confidence but what it does do, in every scene, is entertain gloriously with a knowing wink and the knowledge that to know Queen was to love Bohemian Rhapsody. We are complicit in this entertainment in the sense that we know almost all the timeline, the highs and hurdles and half the delight of the film is revelling in them as the characters first get to encounter them. And it is also moving with quite a few punch the air moments and scenes of touching pathos. The film never recreates the behaviour that Freddie was infamous for (behind closed doors) but then the story told is too appealing to worry about might have been the 'X' rated version. I am sympathetic to those that feel that Mercury's inner life wasn't examined too closely but when you have this story with this actor...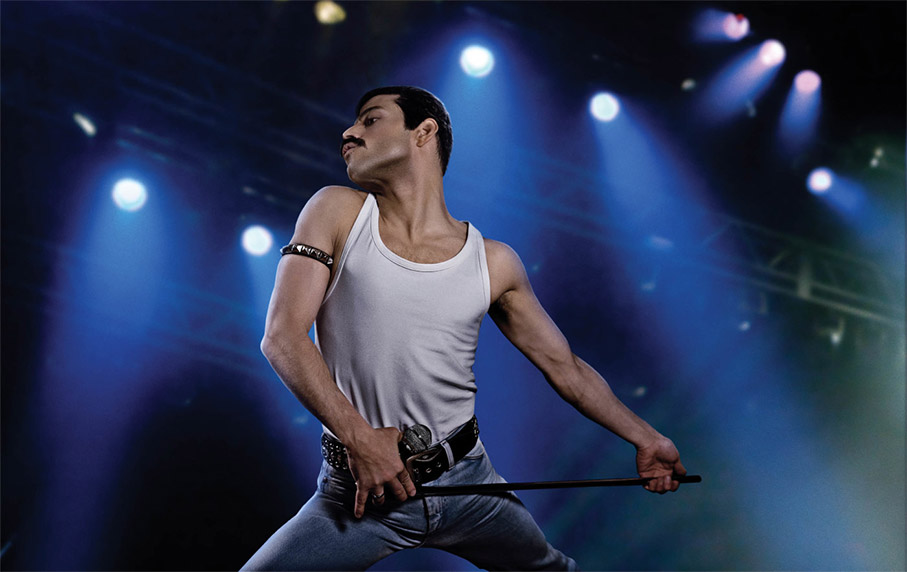 © 2018 Twentieth Century Fox Film Corporation.
Standing like a colossus astride the whole enterprise is a performance that had to be almost impossible to achieve. Someone had to convince an audience that Freddie Mercury is alive and in front of (and in) your face. I don't know what deal with the devil Malek entered into but he's stolen Mercury's soul as a character once said of No. 6's double in The Prisoner. The teeth felt overdone but if a few unguarded photos are to be believed, Mercury's real incisors were more numerous than any mere mortal's and really did protrude that much to the point where Malek as Freddie is forever passing his upper lip over them as if painfully self-aware of their effect on his own face. As I said, at first (and when I saw the trailer) I thought "Wow, that's a great Freddie Mercury but the teeth..." but you soon forget this in the midst of a towering performance that takes us on an emotional rollercoaster. Let's see if we can sink that annoyingly apt metaphor. What else goes up and down... Let's stick with rollercoaster. Malek is cocky young Freddie (or Farrokh Bulsara), Freddie in hetero love, recording genius Freddie and falling, flailing and failing Freddie and he is insanely brilliant in each iteration. The cliché of the most famous being the loneliest haunts the film a little but never harms it. It's clear from a lot of Mercury's lyrics that he was adored but privately loveless. Once fame enters your life, your art suffers. All you have to draw on experience-wise is that raging fame, a fire that obliterates any sense of 'normal life' cohesion. Pink Floyd's album Wish You Were Here is all about being chewed up in the maw of the record business and even Abba sang of the heartache of fame... "Facing 20,000 of your fans, how could anyone be so lonely?" Indeed. Malek plays Freddie's introspective side with enormous heart and so you overlook the damage a truncated timeline does to events and characters. A lot of flak has been fired at what was true, untrue, mistimed and distorted but this is a distraction. If the surviving band members and their manager put their shoulders behind it, how wrong can it be and besides, biopic and historical stories don't have to pander to the truth half as much as they have to simply engage and entertain. In narrative terms emotional truth has far more value than actuality. Malek, for two hours last night, was almost more Freddie Mercury than the great man was himself. I'm still shaking my head in wonder of that Live Aid scene. Just extraordinary. Bravo Mr. Singer and the band (this was shot first so Fletcher was yet to be on board).
The other cast members are pitch perfect. A major nod has to go to the casting director Susie Figgis, one thoroughly deserved. It's a real balancing act to find a credible lookalike and an actor with enough talent to play the part convincingly (which is why Malek is almost supernatural casting). But Rhapsody's Queen members look astonishingly like their real counterparts and each deserves a name check for their superb work in the film. You really, and very quickly, get the sense that Gwilym Lee as Brian May, Ben Hardy as Roger Taylor, and Joseph Mazzello as John Deacon, are family. It's interesting to speculate about what Sasha Baron Cohen may have done with the lead role but reports are that he was much more in tune with a harder edged portrayal and while Bohemian Rhapsody doesn't shy away from the seedier aspects of his character, it's a very, very watered down version of a man known for his extraordinary appetites and excesses. While Brit audiences will raise eyebrows at the appearances of Kenny Everett and Bob Geldof (well played by Dickie Beau and Dermot Murphy respectively) the real treat and casting coup is that of EMI record producer Ray Foster. Famous, if that word is apt, for refusing to release Bohemian Rhapsody as a single for being too long and unintelligible – hindsight makes idiots of us all – the role is played by the one man who probably pushed the song pop-culturally in the States more than any other. Say hullo to Wayne of Wayne's World, Michael Myers almost unrecognisable under facial hair and mostly backlit. He also gets the best laugh of the movie with a late insert and has a line that specifically references that scene in Wayne's World. Lucy Boynton as Mary Austin, Mercury's fiancée, does a great job with the gradual hurt of 'on the road' separation and their joint realisation of Freddie's sexual orientation. Apparently Freddie left her half his estate in his will. The word 'muse' isn't too far away here. Kudos too to the pair playing Freddie's parents; Meneka Das as his mother and Ace Bhatti as his father. I loved how inclusive the band members were with them because in 70/80s Britain, casual racism was almost default. Mercury's original cultural identity, that of Indian Zoroastrianism from Zanzibar, often prompted the ignorant and offensive slur 'Paki' and how forceful the plosive 'p' was pronounced to really aim the hate.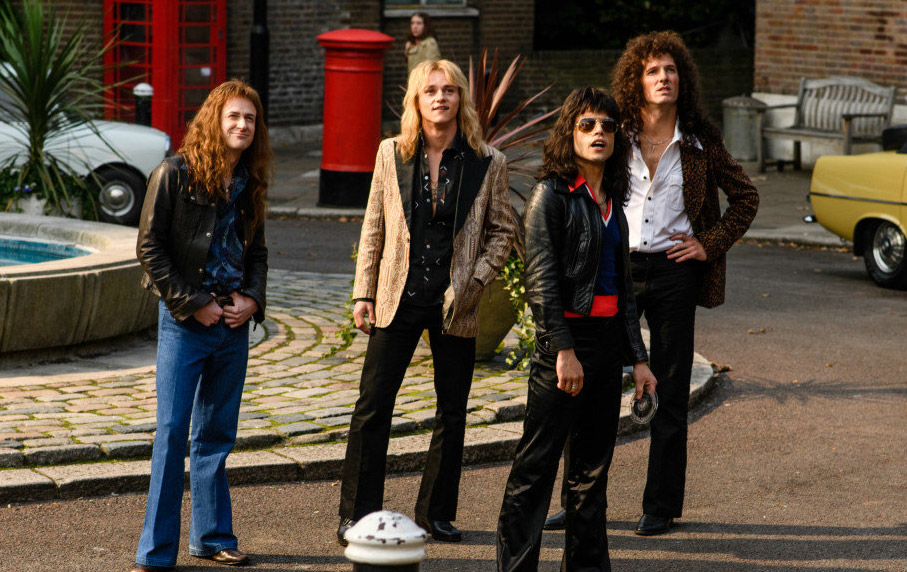 © 2018 Twentieth Century Fox Film Corporation.
I just bet editor John Ottman had a ball with this movie; Queen songs to cut to, classic performances reimagined. It's edited with real consideration and each comic punch line works supremely well. The film has wit by the bucket load and is simply unpretentious entertainment the like of which I really didn't think filmmakers went for anymore. I'll end on my favourite line, one that says a great deal about why power and fame is so demoralising for the famous and how real collaborative creativity, the essence of Queen, is lost because of an imbalance of control. Apologies if I get it wrong but I've seen the film only the once... and the line's not on the IMDb quotes page. Freddie is trying to get back in the band for Live Aid after going solo. He says of his new collaborators...
"So I get a group of people together and tell them what to do... And they do it."
Lovely.
---