As someone who has watched many, many more movies than he has read books (and I've read quite a few), I have to admit to being previously unaware of author Lee Israel, on whose autobiography the identically titled Can You Ever Forgive Me? was based. Now, having watched and been utterly captivated by this film adaptation, I'm keen to know more, to read the book from which Nicole Holofcener and Jeff Whitty's screenplay was drawn and learn more about its author than could possibly be crammed into one hour and 45 minutes of entertaining screen time.
The film opens with Lee at her desk in the open plan office of a dimly lit publishing house at which she is employed, sipping from a glass of whisky as she works. Seconds later she's being put down by her younger and more self-consciously groomed co-workers, one of whom snottily reminds her that they're not allowed to eat or drink in the office, a comment Lee responds to by telling her to fuck off. When asked to repeat her comment she sharply obliges, but this time she inadvertently targets her boss, a humourless weasel who fires her on the spot. We've only just been introduced to Lee and I already liked her.
Director Marielle Heller then paints an economic picture of Lee's personal and professional life, as she returns to her apartment, brushes dead flies off her pillow and opens food for a cat that isn't interested in eating. She then heads reluctantly out to a shindig being thrown by her evasive literary agent, who is surprised by Lee's attendance and unwilling to talk business at what is meant to be a purely social occasion. After swallowing a couple of drinks and stealing some toilet rolls, Lee thus makes for the door, stopping off at the cloakroom to make off with someone else's coat. The following morning, concerned by her cat's continued lack of appetite, she hauls the animal to the vet, who refuses to treat the animal until Lee pays at least half of the money she owes them. An attempt to sell some of her old books to a local bookstore nets her precious little, and on arriving home again she has to barter with the kindly building supervisor over three months' unpaid rent.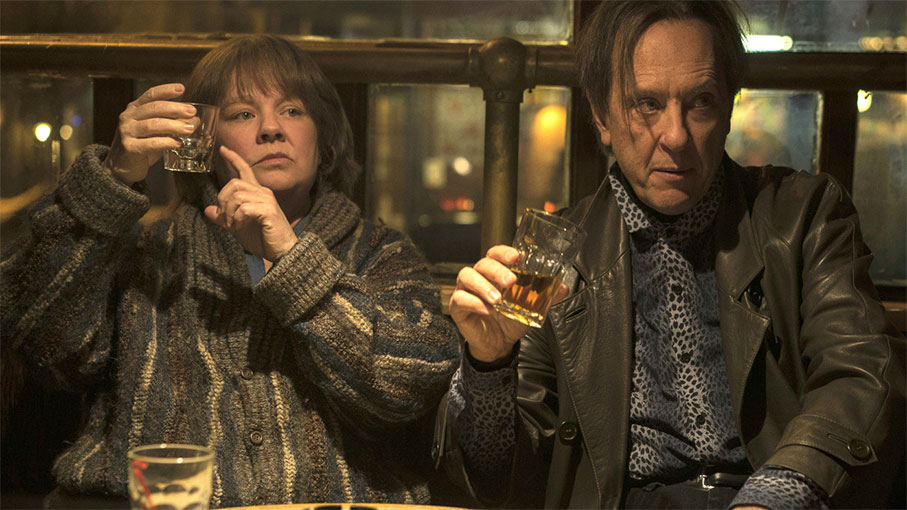 If Lee's curt dismissal of her office colleague's judgemental jibes was the first indication that I was going to like this movie and this character, the second came here. We are, after all, talking well-worn movie tropes – having a character challenged by a landlord for unpaid rent has been employed by any number of films to quickly establish a character's money troubles, and not all can have the wit and invention of The Big Lebowski. Yet somehow none of these encounters feel stale or clichéd here, thanks to a finely tuned balance of unforced direction and perfectly pitched performance. I'll have more to say on that in a minute.
We learn that Lee is working on a biography of celebrated comedienne and singer Fanny Brice, and in the course of her research she discovers two typed letters written and signed by Brice wedged between the pages of an old library book. She has one of them valued by local bookshop owner Anna, who offers to buy it for $75 and suggest that would be worth more if the content was of more interest. This inspires Lee to spice up the second letter by adding a fake postscript, which ups its value to $350. Encouraged by this, Lee takes to forging letters from a number of once prominent literary figures and selling them to bookshops with collector clients. Soon she has the money to pay off all of her debts and continue to fund her still vigorous drinking, the pursuit of which has seen her make friends with lively but homeless homosexual Jack Hock, whom she eventually comes to trust enough to bring in on her scheme. It's their oddball friendship that delivers some of the film's funniest moments, but also its most emotionally hard-hitting scene, one that has a hard and long-lasting impact on their relationship.
As a lead character in an American movie, Lee is far from the typical Hollywood female lead, a middle-aged, overweight alcoholic loner with a dour view of the world and who openly admits that she prefers cats to people, but absolutely enthralling to watch on screen. She's played by Melissa McCarthy, whose work has a comedy actress has had its share of sometimes painful misfires (although I always enjoyed her wickedly on-the-nose impersonation of Sean Spicer on Saturday Night Live), but who here she delivers a performance so convincingly real and so subtly nuanced that I now cannot imagine anyone else in the role (and know that it was originally offered to Julianne Moore, whom I regard as one of the greatest screen actors of her generation). There's an honesty and truth to her portrayal that bonds us to Lee beyond the sympathy we would naturally feel for someone against whom the forces of fate seem to have conspired, and the effect on me was to see her later actions as I might those of a particularly reckless friend. Indeed, my emotional connection to her became so strong that my fear of the legal consequences of her activities (which we know from the start are coming or the book wouldn't have been written) became secondary to my concern over the humiliation she would likely suffer as a result. For all her faults, I liked her too much to want to see that happen, or to witness the effect it would probably have on the tentative friendship she strikes up with Anna. McCarthy also has some lovely (but never showy) bits of business that sometimes speak volumes about her character, my favourite being the reactive "hands off" flinch she gives when she receives what is meant to be an encouraging pat on the shoulder in the film's later stages. Providing strong support is Richard E. Grant, who walks a delicate line as Jack Hock and just never stumbles. It would have been so easy to overplay this role, and given that Grant has delivered his share of wild performances in the past, it's doubly satisfying to see him in such control here, capturing the character's natural flamboyance and cocky self-assurance but never making a spectacle of either. There's fine work, too, from a consistently strong supporting cast that also understands the value of keeping it real. This is one seriously well-acted film.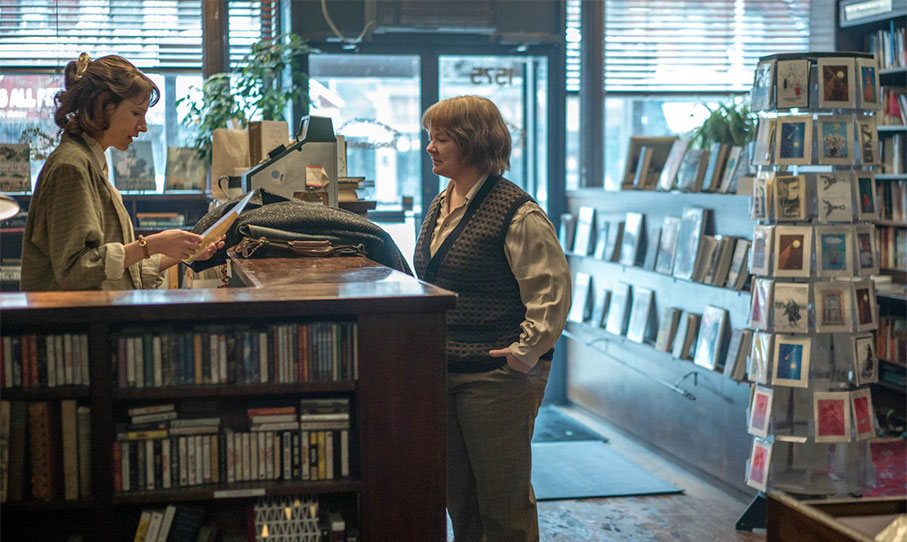 The restraint of the performances is matched at every step by the consistently light touch of Marielle Heller's direction, which by focusing exclusively on character and story never draws attention to itself and for the most part is almost invisible, and that's not as easy to achieve as you might think. Heller and her screenwriters also take on board that some will be familiar with the facts of the case and that others will have a good idea where the narrative is heading and structure their film accordingly, but in common with Alan J. Pakula's standard-setting All the President's Men, they are still able to milk some real tension from a story whose conclusion has been predetermined by history.
I went into Can You Ever Forgive Me? knowing little about its subject and a tad unsure about its casting choices, and emerged completely won over by the story, the performances and the delicate handling. It's a fascinating biographical tale that is movingly humanised here, an alternately sad, intriguing and delightfully funny character study that has landed both lead actors worthy Oscar nominations, plus a third for Holofcener and Whitty's thoughtfully structured screenplay. I'll admit that it breaks no new ground and is unlikely to get serious cineastes all that fired up, but as a piece of character-driven cinematic storytelling it's a fine achievement, right up to its perfectly-judged and smile-provoking ending. Frankly, I can't wait to see it again.
Here's a clip: