There are arguments for and against films made from a geographical outsider's viewpoint; the conviction that cinematic truth can only really be the product of personal experience versus the freshness that sometimes comes from seeing a location through newcomer's eyes. As evidence of the latter I offer two very different films, Breaking Away, directed by the British Peter Yates, and This Must Be the Place, from Italian director Paolo Sorrentino, both quietly celebrating aspects of Americana that seem to pass most stateside filmmakers by. But I could be wrong. Not ever having visited the US, I'm in no position to judge whether these films accurately capture America or simply reflect a particular director's interpretation of it. Certainly when it comes to American directors making films set in Britain, I've made my share of complaints to the authenticity police.
Director Maryam Keshavarz has certainly fielded a few arguments about the realism of aspects of her captivating debut feature, Circumstance. An Iranian-American who was raised in America but regularly spent her summers in Iran, she's told interviewers how she still regards herself as an insider and outsider in both countries, an intriguing dislocation reflected in the content and style of this film. Much of it was inspired by her own experiences and those of Iranian friends and family. Although set in Iran, it was actually shot in Beirut, a choice of location the source of complaint for some ex-pat Iranian viewers. But what were her options? There is no way she'd have been allowed to shoot the film in Iran, where even screenplays have to be scrutinised by something called The Ministry of Guidance before official permission is given for any production to proceed. It's also where Jafar Panahi, one of the country's most internationally respected filmmakers and the man responsible for marvellous films like The Circle and Offside, has been sentenced to six years in prison and banned from making films for twenty years because their supposedly inflammatory content is considered critical of the status quo. His response while under house arrest was to record his reaction and the details of his newly restrictive everyday life on his iPhone and a borrowed HD palmcorder, and smuggle the edited footage out of the country on a flash dive hidden in a birthday cake (I'm not making this up). The cheekily titled This is Not a Film was then screened at the 2011 Cannes Film Festival to considerable acclaim.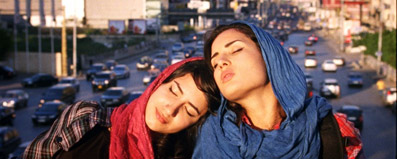 With all that in mind, try to imagine how The Ministry of Guidance would have responded to the following plot outline. Atafeh Akimi is the teenage daughter in a wealthy but liberal Iranian family. Her best friend is the orphaned Shireen, whom the Akimis have adopted and introduce to visitors as Atafeh's cousin. By day the two are lively but respectful and well-behaved, but at night they attend underground parties, where they experiment with drugs and alcohol and make out with boys. They are also deeply attracted to each other. Their illicitly carefree approach to life is disrupted by the return to the family home of Atafeh's brother Mehran, a religiously devout recovering drug addict who develops an increasingly dangerous obsession for Shireen.
I presume you'll have no trouble spotting the problems here, and the very idea that young Iranians might be secretly indulging in such forbidden activities has clearly outraged the country's traditionalists. That doesn't mean, of course, that it isn't happening. It's an almost mathematical fact of life that the more strictly you forbid something, the more determined society's youth will be to embrace it, and they'll always find ways to do so. In Circumstance we get a tantalising glimpse of this underworld of illicit pleasure; at the party that the girls attend early on in the story, and in the black market music and DVD outlet that is hidden behind a barbershop in the manner of a 1920s Chicago speakeasy. A couple of years back I might too have questioned whether such a busy network of illegal activity could really exist without being flushed out by the authorities, but since then have been exposed to Bahman Ghobadi's No-One Knows About Persian Cats, an eye-opening drama-documentary that highlighted the sheer scale of Iran's underground rock music scene and its seemingly thriving black-market economy.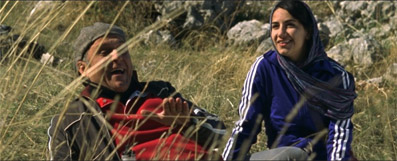 For a debut feature, Circumstance displays a confidence that is genuinely remarkable. Who people are, what their relationship is to each other, and the social restrictions in which they are forced to operate are never spelt out, but emerge organically as the story unfolds, as they might if we had walked into their lives as invisible observers. Cinema itself has trained us to pick up on all the early signs that Atafeh and Shireen are more than just friends, though in a society where a degree of religiously defined conformity is expected and even enforced, our awareness that their elders are doing likewise quickly becomes a real cause for concern. The curse of lesbian film romances – one that seems to dictate that love affairs between women are doomed to fail – thus hangs over the pair from an early stage, but given their enforced secrecy and the unpleasant price they could pay for exposure, it would be unrealistic to expect them to live happily ever after, particularly when a key concern of the film is the repression of (female) free expression in a patriarchal society.
As if determined to match director Keshavarz's first-film confidence, newcomers Nikohl Boosheri and Sarah Kazemy are consistently impressive as Atafeh and Shireen, capturing with equal conviction the rebellious pleasure-grasping that adolescence awakens and the repressive pressures of societal conformity. A strong supporting cast are also noteworthy, particularly respected Iranian-born stage actor and director Soheil Parsa (who co-founded the award-winning Canadian theatre group Modern Times with actor Peter Farbridge), who delivers a captivatingly low-key performance as Atefah's father Firouz, a gentle liberal progressive who regales his daughter with stories of his rebellious youth and reacts with disbelief ("You're joking!") when his son asks him to stop the car because it is time for him to pray.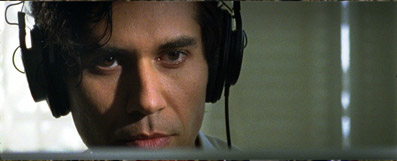 There were, I'll admit, a couple of times when I also found myself questioning the authenticity of background detail – while I fully accept the existence of illicitly held parties and even illegal music venues, to find one with the slick nightclub décor of the venue that gets raided by the Morality Police seems a little unlikely. Yet by this point the film has moved into openly metaphoric territory, with Atefah's brother Mehran (played with just the right balance of disapproval, quiet fanaticism and subtle menace by Reza Sixo Safai) increasingly becoming a symbol of state oppression, a religious fundamentalist who dishes out the odd corrective beating, employs a network of surveillance cameras to spy on his family, and blackmails them into unquestioning social conformity.
If this all sounds a little glum, then it fails to take into account the poetry of the filmmaking (an exquisitely handled family trip to the beach says so much with so few spoken words), the energy and tenderness of the lead performances, and the touchingly believable bond that exists between the two girls. There are also a sprinkling of genuinely humorous moments, notably in the socially layered scene in which the girls assist with the dubbing of Gus Van Sant's Milk into Persian, where their friend Joey is ask to reign in his performance as the titular Harvey Milk ("He's gay, but not that gay") and Shireen is questioned on her overly orgasmic groans during the re-recording of a sex scene. "Why are you making those donkey sounds?" Joey asks her. "Ladies here don't make those sounds." It's typical of the film's structural finesse and emotional maturity that we are later given sobering cause to recall and ponder on that seemingly throwaway remark.
---
The following interview with Circumstance writer-director Maryam Keshavarz was conducted at the 2012 POUT Film Festival in London on Friday 22nd June.
Circumstance is currently playing at the ICA in London. You can book tickets HERE.
Our sincere thanks to the good people at Peccadillo Pictures for arranging this interview and for allowing the use of clips from the film.