| | |
| --- | --- |
| | "Dolittle's box-office woes follow its poor reception by US film critics, who have branded it 'lavishly misbegotten' and 'anti- cinema'. Downey Jnr.'s performance was singled out for particular opprobrium. His peculiar Welsh accent has been called 'utterly bizarre'. The film's disastrous performance so far marks the second big-budget failure for Universal in two months." |
| | UK Telegraph Article by 'Telegraph Reporters"* |
Anti-cinema? What does that even mean? And how are the words 'Bay' and 'Michael' strangers to the sentence in which that phrase was used? I sat in on a preview with an audience of rapt kids who laughed and giggled at the jokes and 'oohed' and 'ahed' at the spectacle. I even saw one child figuring out in her Potter-clogged mind that the bad tiger (who just had mother issues) was voiced by Voldemort himself, Ralph Fiennes. No I didn't, but you get the picture (unlike US audiences apparently). It was a mildly enjoyable romp with no real gravitas and if a bagpipe being pulled out of the backside of an extraordinarily clean-anused dragon is predictable than you really need to have professional help. I know this third act reworking by the executive producer and star (Downey Jnr.) may have not been the answers the filmmakers were looking for (injecting more whimsy and humour) but it's not as if these moments are anti-cinematic. Studio demanded autopsies are undignified things and hindsight and damage control do not exactly sparkle with attractiveness. If I read once more that the film's director Stephen Gaghan (his oeuvre leans towards the adult side having written Traffic and directed Syriana) was singularly unsuited to this film's sensibilities I won't scream but my brows will form a 'V'. Directors like actors should not be typecast. And as far as I can work out Gaghan was making a father-son reunited story so the animals and humour got pushed back. After cool, less than enthusiastic preview screenings, the 'drama' dynamic was off the table so in came the fart jokes (and the other writers and directors to try and steer the behemoth in the right, box office friendly direction).
Plot? An animated prologue tells us that vet and animal linguist Dr. Dolittle loves his wife. She dies on an expedition. He's been in a constant state of mourning for seven years, a bearded, crusty hermit who cannot bear human beings. An animal lover and son of a hunter accidentally wounds a squirrel called Kevin. He finds Dolittle's mansion and enters together with the Queen's Maid of Honor after meeting her on the way in. He pleads for Dolittle to save Kevin, his squirrel. He does so (of course he does). Dolittle is asked to come to Buckingham Palace and figure out what the dying Queen needs to revive her. The magical plant lives on a magical island. Dolittle and co. set sail… Don't need any more, do you? Bona fide Welshman, Michael Sheen is the villain by the way. And Danny Elfman does his trademarked Pee Wee inspired score.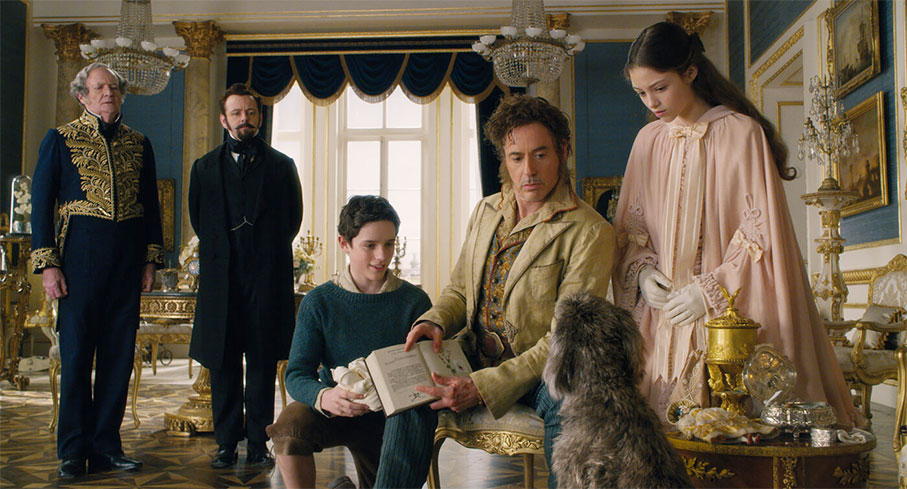 When an actor becomes a bona fide star in a certain role, power shifts beneath their feet. To be fair, Downey Jnr. was well represented on the film as an executive producer and his wife, Susan, a producer, was presumably watching his back. 'Iron Man' could basically do anything he wanted. If you cast Johnny Depp and get a black-toothed, ear-ring wearing rogue, Captain Jack Sparrow, then the studio has a right to be nervous. When the character shocked everyone and worked, everyone was ecstatic. In Dolittle, the studio wanted 'Iron Man' Robert Downey Jnr. To be fair, the filmmakers put him in a diving suit in the film, which gave the filmmakers a chance to riff with the HUD (Heads Up Display) so prominent and necessary to his performance in the faceless Iron Man suit. He may have looked like Downey Jnr. but he sounded like Spike from Notting Hill and for good measure chose to represent Wales (that large open mouthed area west of England) not only in choice of accent but also slang, symbolic vegetable and flower. Having been born and educated in South Wales, it was a surprising cultural time machine and I had to keep pinching myself saying "Yes, that is Robert Downey Jnr. sounding like Richard Burton's uneducated younger brother." Or that bastard who bullied me in Form Three. The studio's nerves were on display in the trailer. I think you heard Downey Jnr. speak very few times (enough for the internet to change into third gear). So coincidentally that's number three in an ongoing series…
There have been three movies that I've seen in the last three or four weeks with an identifiable distraction that has managed to take me out of the film in one instance, for most of the running time. 1917, (go Sam!) made me too mindful of the one-take wonder of its delivery, an aspect of which I know both director and cinematographer were all too aware. It was a memorable experience but without the technique of editing – the essence of film craft – it fell flat for me. But I love the fact it's successful and I won't discourage anyone from seeing it. Then there's The Personal History of David Copperfield (go Armando!). Because of physical discomfort, I didn't enjoy this as much as I'd hoped but in its own way, it had a built in distraction. It will become historically significant for that distraction but it is entirely positive and I support it while indicating it may be detrimental to the film it's serving. I'm aware I'm treading on eggs placed on thin ice wearing a suit of lead armour boldly going where lots of film champions have gone before but… If you are going to cast a part in a Dickens movie someone of an ethnicity or skin colour very different from what most people regard as 'Dickens-Appropriate' then you have to take responsibility for some flak that may come your way. Given that, someone whose opinion I value and trust said that it took about fifteen minutes for her to stop asking "How is a middle class proctor in the 1800s an English/Chinese person?" before just becoming as colour blind as the film itself. That, my friends, is progress. But it is also a distraction. That said the cast is sublime and Dev Patel is about as attractive and charismatic a leading man I've seen in a long time. So let's get back to the Taff with the 'boyo's and the 'look you's and the leaks and the daffs.
A friend of mine once argued very persuasively that two of Hollywood's leading men were at the top of their game because of the timbre of their voices. Looks and acting talent may have had a hand in their success but think about it. George Clooney and Robert Downey Jnr. have very specific and idiosyncratic sounding voices, seductive and assured. Maybe losing that aspect in his charisma arsenal was what gave the filmmakers pause over the "Aye, mun!" routine. So Robert Downey Jnr. affects a Welsh accent as Dolittle. There is nothing inherently wrong with this (I know what a Welsh accent sounds like). It's not perfect but it is something of a significant distraction. I'm on the Sean Connery and Kevin Costner side of accent performing. If it isn't working, drop it. People pay to see stars not accent imitators. But the vitriol out there for the man and the production that is simply attempting to make huge wodges of cash entertain people is quite surprising to me. I went in expecting a disaster. I left with the image of a real, live young girl in front of the screen dancing to the end credits. She enjoyed herself… As did I given the film is not aimed at cine-literate 58 year olds. It's Doctor Dolittle! Talking animals! Child-friendly jokes! What else do you think you're going to get? A 'franchise'?
---