Nicole Holofcener tends to deal with wayward women in some sort of semi-self-inflicted crisis. In Enough Said, her most audience-friendly effort yet, she skillfully observes a woman whose inability to trust her own judgment and have her own experiences gets her into some uncomfortably sticky situations. Holofcener looks at the loss parents experience when their children leave the nest, and the parallel terror of new relationships in middle age when the past lingers and the future is mined with vulnerable uncertainties.
Eva (Julia Louis-Dreyfus) is a masseuse and single parent gearing up for her daughter Ellen's (Tracey Fairaway) impending college departure. At a party she meets Albert (James Gandolfini), also a single parent whose daughter is college-bound. The two click and soon begin dating. At the same party Eva meets Marianne (Catherine Keener), a poetess whom she immediately idealizes and takes on as a client. Nothing out of the ordinary until she finds out that the ex-husband Marianne constantly complains about happens to be Albert. Instead of acknowledging the coincidence, Eva deliberately deceives both parties in a misguided effort to suss out and assess Albert's supposed laundry list of faults. Unsurprisingly, the relationship begins to lose its identity when Eva starts seeing Albert through Marianne's eyes.
Enough Said works so well in part because the script openly acknowledges that these characters have a lot of life both behind and ahead of them. It deals very honestly with the fact that budding relationships which come in middle age carry baggage and a past that both must reconcile. Each have daughters, ex-spouses, their own experiences and acquired defense mechanisms. In Hollywood, middle-aged romance is a sort of hazy hiccup in life that must be overlooked or ignored completely, despite being far more interesting for its sense of "burned once..." caution and mature perspective. That relationship history, so often lacking in the teenage love affairs that monopolize our big screen entertainment, is both a possible savior and destroyer for Eva and Albert's relationship.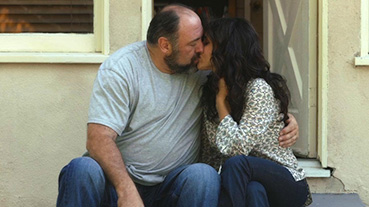 Holofcener puts Eva into a predicament and watches her make the wrong decision about how to handle it. As with her previous films, the director's protagonists are often crippled by a layer of self-sabotaging selfishness, their weakness usually being the catalyst for a plot that ends in a lesson learned. Eva all-too easily starts to regard Marianne as this ideal person; perfectly composed, surrounded by perfect furniture and enlightened for having written some published poetry. On a pedestal, Marianne's perspective sounds like fact and it quickly taints Eva's experience of Albert. She loses sight of the fact that every relationship is different, and that grafting onto someone else's past experience tampers with the future in ways that are unhealthy and unfair to the other person involved.
Some unsubtle predicament reminders acting as punch lines occasionally lessen the film's poignancy and a corny score has Holofcener perched on the edge of a pit of rom-com polish at times, but the heartfelt performances and chemistry between Julia Louis-Dreyfus and James Gandolfini is what makes the film, saving it from any momentary concerns or minor redundancies. This is Louis-Dreyfus' first starring role in a film, and her ability at making in-too-deep moments of awkwardness so entertaining give Eva enormous appeal, even as she blithely stumbles into uncomfortable situations of her own making. Louis-Dreyfus' looks of astonishment encompass the broad comedy of her iconic roles on Seinfeld and more recently, Veep, but the humour's focus is always on this very real relationship.
James Gandolfini is affable and genuine here, a presence we immediately connect with because he is the bear-like embodiment of loveable, everyday schlub Albert. An unlikely but perfect match for Eva, Albert is simple and shy but so caring and completely comfortable with who he is that we root for these two, even when Eva's actions suggest she might not deserve him. The softness that came through in his extremely moving voicework in Where the Wild Things Are is present here as well. The performance is all the more cherishable because we witness a taste of the largely unrealized potential for Gandolfini as a romantic lead. Mostly, this is due to his untimely death, but it also has to do with the very narrow mindset of what romances can be about and who they can star. This too-rarely seen side of Gandolfini as a vulnerable jokester wearing his heart on his sleeve and never compromising himself or his habits, is every bit as complex as Tony Soprano, but so very different that we're able to quickly forget the role he's forever identified with.
The easygoing companionship of Eva and Albert is the force that earths Enough Said, and Louis-Dreyfus and Gandolfini are so natural together they inspire the kind of enthusiasm and investment from an audience that's rare for a rom-com.
Our interview with writer-director Nicole Holofcener can be read here.