| | |
| --- | --- |
| | "There's sort of that kind of aura of NASA history at that time that's so coded in myth a little bit. And so it just seems like a ripe opportunity to maybe try to chip away at that and bring the icon back down to Earth." |
| | Director Damien Chazelle* |
Steven Spielberg was First Man's executive producer and we are asked to believe that this giant of popular culture didn't sidle up to director Chazelle after viewing the first day's rushes and whisper in his ear "You want to shoot the whole thing like that?" First Man tells the critic-proof narrative of how a bereaved, determined, brave and stoical American became the first person to walk on the moon. You have to try awfully hard to screw that up. I'm not saying it was screwed up per se but I am asking one extremely pertinent question regarding the style employed. To clarify my criticism, I have to ask you a question. What is the camera's point of view? Whose point of view are you looking from when you look at the screen? Yes, the answer to that is probably "Well, there are many points of view," but none of them (not one of them) randomly loses focus, wobbles and shakes and crash zooms, right? Yes. Paul Greengrass has become an expert in the "our camera operators do not know what action they will be expected to cover" genre. But even his films have an innate logic to why they are made that way - the fractured mind of Jason Bourne, the urgency and terror of being on board an aircraft taken over by terrorists or a tanker assaulted by desperate pirates. And they are edited with real precision for full clarity. There is an artistic reason for that style of coverage. And Greengrass makes it work.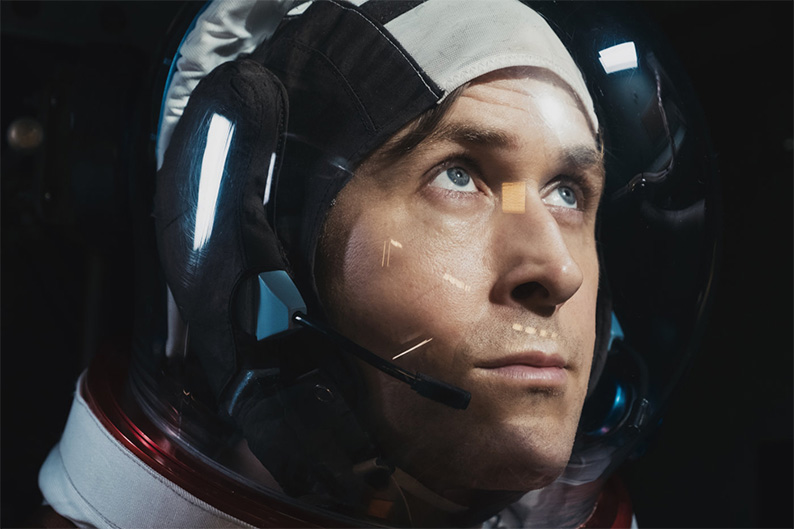 © Universal Pictures International
This is Neil Armstrong, Damien... the world's coolest and tripod-rock steady guy maintaining an even strain. And you shoot him like Jason Bourne but not in a good way? First Man's eponymous moonwalker, if asked, would never be characterised as having shaky-cam credentials. Here is a man so cool and so dry and so 'straight' that if you shoot soft (out of focus) or jump cut (just not his style) or keep moving the camera so it looks like a film student's attempt at Blair Witch inappropriateness, it just feels way off. It feels wrong for the film and for the character. Many will disagree with me (reviews have been mostly positive and this intensely irritating style barely commented upon in those I've read**) and that means that many may well be right but the coverage and camera style of First Man just felt wildly inappropriate. If shaky-cam was Armstrong's internal response to grieving over a child's death and suddenly the style changed once he arrived on the moon... Oh, God. I think I may be defending creative decisions too vigorously. Damien Chazelle is clearly not a thoughtless man. He decided to shoot his Neil Armstrong film in such a style and that style seems to me to be wildly unrelated to his subject. I love the chosen aesthetic of shooting on actual celluloid. I just cannot abide the shaky-cam used in controlled, simple spaces like homes and mission control. Once we're in the tin cans, then, yes, knock yourself out (which presumably the operators did on occasion). Can someone out there please tell me what is shaky-cam's creative or emotional point in First Man? What am I not getting?
But then, (forgive the Beatles Walrus musings) I am me and he is he and we are altogether. See how he runs (or more appropriately), see how he flies. The narrative is a relatively straightforward one even if the manner of its coverage is far from it. Test pilot Neil Armstrong is having a problem re-breaking Earth's atmosphere to get back on terra firma. He solves this dramatically and with a cool that encapsulates the elusive definition of 'the right stuff'. From the opening sequences, full of the discordant machine-stress noises as elements are fought and the snatched views outside the cockpit window, it's clear that director Chazelle is telling as much of the story of his protagonist, through the inner life and point of view of Armstrong. As the first man on the moon, Ryan Gosling is convincing if a shot can stay on him and in focus long enough for us to care. Gosling, in quite a few of his roles, plays strong and silent. I adored his performance in The Nice Guys because it was such a break to see such an actor try dramatic comedy for a change. Denis Villeneuve exploited Gosling's hard man Drive persona in Blade Runner 2049 and Chazelle has done the same here. If the camera operator could crawl over Gosling's face as well as lounge languorously over it, I'm sure he/she would have. I have no issues with directors concentrating on their lead actor (hence the term 'lead' actor) but why, oh why are we moving the camera so much and so... I'll stop now. If you like shaky-cam and think it's furthering the art of cinema then, save a few extraordinary exceptions, we are never going to agree. So I'll shut up now. In hindsight, that last sentence is a bald faced lie.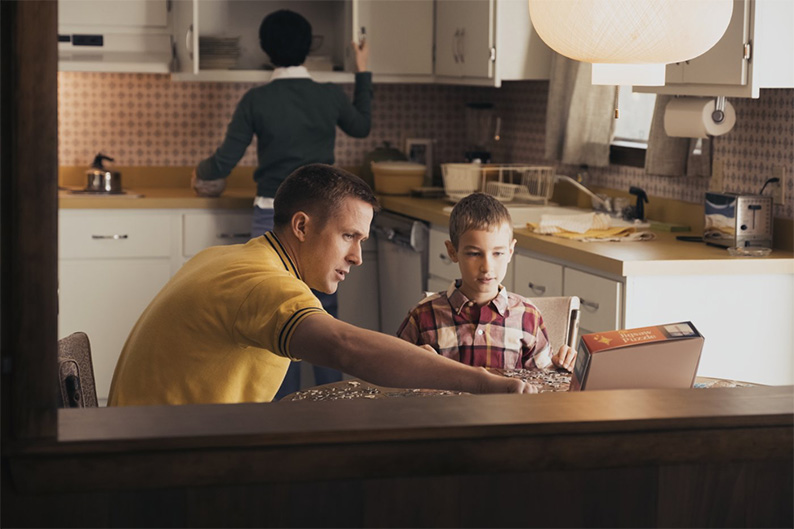 © Universal Pictures International

Everything else (perhaps not quite) was great! The lunar module test, the space scenes... There are a lot of domestic sequences that felt way too long (the whole movie is two hours and twenty minutes and yet no other critic seems to have a problem with that). It did feel long but then that was exacerbated by the style of coverage. I felt the time dragged because I spent so much of my time screaming inside the words "What is the meaning of all this shaky-cam bullshit?" I did promise I'd stop criticising this decision. I am a bad reviewer. I meant to honour that promise but it's such a DNA decision, snaking through most aspects of the movie that you almost think the director might have felt like torpedoing his own movie and daring us to hate it. Technically the film is fascinating. I am a child of the film age and began my career editing 16mm film. It seems that First Man was shot on 16mm in the early scenes, 35mm in the NASA scenes and to give the moon the blast of "Wow!" it deserves, those sequences were shot on the IMAX format. On the moon the barren ethereality is beautifully captured and despite knowing all of the movie events backwards (I was also a space fanatic in the day), the tragic inciting incident in the second act made me squirm with dread and I was actually tense as the fuel counter runs out as Armstrong descends towards the rock strewn lunar surface. My trusted source mentioned in the introduction to this review was also critical of the aged and dirty interior controls of the space craft as if the set dressers and designers had used actual instruments from the 60s (tick, very good for accuracy but nought out of ten for the aged aspect. They were, at the time of course, brand spanking new!)
The supporting cast do great work (nice to see Corey Stoll not shying away from making Buzz Aldrin something of a dick). Jason Clarke as astronaut Ed White is touching as a close friend of Armstrong's but has to suffer his friend's frustrations and travails from a distance. All of Armstrong's non-family relationships are kept at arm's length, which brings us to his wife, Janet. I've not watched any of The Crown so am unfamiliar with Claire Foy. She plays Janet with great strength and often dares to be unsympathetic. In her concern and fear for her husband's well being, she often makes unexpected choices or is directed to do so, and if she succeeds in those choices, it's manna from heaven for a director but sometimes the audience is forced to go deeper to find her core. Anger is the symptom of extreme concern. Just imagine falling in love with a man, having children with him, losing a child to a malignant brain tumour (which can further tightly bond or irrevocably fracture a marriage) and then mentally prepare for his eight day space mission to land on the moon. In 1969. Part of her must have known the chances of disaster were high. She was the first woman to go through that ordeal and of course, there were to be 23 others, partners of moonbound astronauts. Neil made a choice. Janet had none.
So, one of the greatest achievements of humankind and eight years of a deeply gifted man's life made into a film almost universally hailed by most of the critical world. Am I the first man (ahem) to be roundly critical of the shaky-cam decision?
---