The original version of this review was published on Catherine's blog Cinema Enthusiast June 11th 2013*
Noah Baumbach revisits the comical sharpness of his roots and the result is a youthful, delectable collaboration with new squeeze Greta Gerwig. Baumbach is an all-time favorite director of mine, and as a massive fan of his more polarizing works, it's nice to see that Gerwig's involvement brings him around full circle to the Kicking and Screaming quarterlife crisis territory. More specifically, this one is about the intricacies and intimacies of female friendship and the slow emergence of self-aware maturity. And it ties the two together beautifully.
There are very few films, in the grand scheme of things, that are actually about the complex nature of intimate female friendship. All of us women have these friends in our lives; it's a singular thing full of competitiveness, comfort, self-comparison, support, undying love and memories. Frances' world basically starts to fall apart once her best friend Sophie moves out and the splinter effect takes hold. She's too busy talking about getting her life together, judging her own life solely through the context of Sophie's and unwilling to compromise herself in her own deluded fashion. It's a tough thing to make a living as an artist, even if you come from a white middle-class place of privilege. As one character astutely and accurately points out, pursuing the arts in NYC to begin with is only an option for the rich (the reveal that Benji is writing a spec script for Gremlins 3 had me in near-tears). You do what you can when you can do it, and that takes time. As Frances falls apart, it's obvious that everyone else around her who says they've got their shit together are that much better at putting on a show.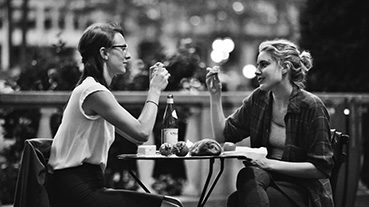 Frances Ha has a makeshift flighty structure and a dizzy French New Wave sensibility befitting its careening heroine. Comprised equally of full scenes and montage, exchanges and moments are pared down to their minimum for maximum effect. In those moments, the underlying sadness of this fairy tale-like picture lies in the poor decisions Frances makes in order to live in the past and retain a sense of control - has there been a more pitiful Paris excursion on film? Quite clearly, the only thing holding her back from putting her best foot forward is herself.
As Frances, Greta Gerwig is the fuel of the film, driving it forward in facial tics, dopey interactions, awkward overcompensation and a sunny infectious energy. If you aren't a fan, boy oh boy are you out of luck. She is this film. The reliably static camera keeps on her as we watch Frances try and commit to moments and the actress playing her, fully committing in the moment.
With its star also serving as co-writer, Frances Ha is a reminder of how purely collaborative Baumbach can be with his actors. In that exchange, his relentless ear for dialogue and mastery of the art of modern social exchange comes to the fore. On this point, Nicole Holofcener is a filmmaker whose artistry and approach is comparable and Frances Ha would make for an excellent double feature with her debut Walking and Talking.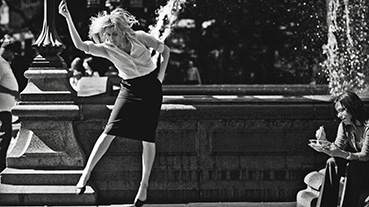 Amongst the talkers are Baumbach's composers for The Squid & the Whale, musical duo Dean and Britta, who show up again here and are given lines this time! I have to admit how distracting this was for me, missing a lot of the much talked about, long dinner scene because I was too busy happily gaping at the two of them. Not as championed for his soundtracks as Quentin Tarantino or Sofia Coppola, Baumbach's musical selections are more often than not, astute and near perfect, and here provide the perfect accompaniment to dorky, bittersweet self-improvement. While we're all justifiably fawning over the usage of "Modern Love" (which faces stiff competition from the song's pairing with Denis Lavant in Holy Motors), can we please stop for a second and appreciate the multiple usage of Hot Chocolate's "Every 1's a Winner"? No song or sentiment better expresses the 'ha' of Frances.
---
* http://cinenthusiast.wordpress.com/2013/06/11/films-seen-in-2013-round-up-125/