Throughout its two hundred and thirty eight pages, it's often suggested that the cruelly casual brutalities visited upon wayward souls in Rust and Bone, Craig Davidson's collection of riveting short stories, are the result of karma. "A balancing act takes place every minute of every day, a silent tally, each act carrying its own discrete weight, its own transformative power." In such an unforgiving context as Davidson's writing, karma would suggest a foreshadowed end, a fatalistic nightmare of chance encounters and unexplainable events in which debts are squared but salvation is seldom the end result.
In their superbly imagined adaptation, Thomas Bidegain and co-writer/director Jacques Audiard prove themselves far more merciful Gods, fully acknowledging the skid-row quality of the source material but never pummeling you with it. When we meet them, characters in the book have already resigned themselves to their fate, the die has been cast and there's no turning back. Often it's simply a matter of settling scores before the endgame. Just as haunting but with a much more redemptive emphasis, this stirring adaptation trumpets the way in which strangers have the ability to empathize, reconcile and heal, triumphing over physical boundaries and social boarders. A film of such tremulous, clattering emotional power it could move mountains, Audiard's latest may have received a surprisingly lukewarm reception at Cannes, but Rust and Bone represents the creative crescendo of a thus far critically adored career, coming across as so much more relatable, empathetic and engaging than the overpraised A Prophet, a film whose more denigratory, gruesome elements weren't handled with anywhere near as much grace and elegance as they are here.
Ali (Matthias Schoenaerts) is running from the past and his native Belgium, attempting to start over with his son Sam (Armand Verdure), living in France with his sister and her husband. Stealing and foraging for food on the streets, a better life is something Ali fights and scraps for, both in his job as a bouncer at a local nightclub and in his far shadier, more lucrative knockdowndragouts as a bare knuckle street fighter. Through the doors of his club walks killer orca whale trainer Stephanie (Marion Cotillard) –- for the last time as it turns out, shortly thereafter losing her legs in front of an amphitheater audience at a waterpark show, when the whale she trains and feeds decides to show her who's boss by biting down and spitting her out at the knees. In the book this happens because the testosterone-charged male trainer is a horny jock, unthinkingly taking his eye off the ball to flirt with a woman eying him up in the fourth row. A clear example of cause and effect.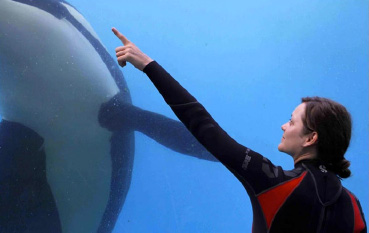 Stephanie doesn't have a defining moment on which to hang all her future woes and a lifetime of self-hating regret, it's simply a tragic accident without rhyme or reason and is suitably presented here in uncomprehending subjective chaos. Knowing the gruesome scene was coming and being of sensitive disposition, bunched muscles and balled fists saw me assuming the film's initially distrustful emotional composure, but any savage bloodletting is reserved exclusively for humans acting like animals rather than animals exacting revenge on their human captors. It's a beautifully bleak, hallucinatory scene of searing sunshine and fathomless shade beneath the surface, blood dirtying corral blue water in a horror show painting of fuzzily bleached colour, itself a metaphor for the bleed through effect by which characters on divergent paths are brought together in surreal twists of fate.
Audiard's over-reliance on pop music to sell emotion is a point many critics have taken issue with and is undoubtedly a self-sabotaging weakness of the film, especially when he has such vulnerable, empathetic performances from his leads. And while he hardly employs source music with the finesse or power of Paolo Sorrentino (who often uses chart hits to comment, critique and change our perspective on a scene), let it be known that the use of sugary sweet Katy Perry's 'Firework' (first as a ballad of death, then as a cathartic chorus of closure) is a masterstroke. Seeing a trashy pop song re-contextualized against such intensely dramatic scenes, there's a wondrous exhilaration in how the music re-shapes the moment, and how the moment reshapes the song you thought you knew.
What has never been in doubt is Audiard's uncanny ability to make chance encounters between people from completely different worlds feel believable and inevitable. Never more so than watching a back alley brawler fall in love with an aquatic amputee. Never mind that this all works so convincingly, that it works at all – and in French – from such lean, mean slices of Americana (in place, prose and parlance) is a small miracle. Great stories every last one, but with gamblers, dog fighters and sex addicts to choose from, it's as if Bidegain and Audiard purposely set themselves the task of weaving together the most diametrically opposed characters and lifestyles the book had to offer. Originally the film was to have featured a third story, a love story (in the book it goes by 'A Mean Utility') until the eureka moment came and it was decided that the street fighter and the whale trainer would be the ones falling in love. In Marion Cotillard (Oscar winner in waiting) and Matthias Schoenaerts (star in the making) these two are played as defiant and generous spirits who guide, support and give to one another in their harsh newfound circumstances. Stephanie loses her legs and her supposed mastery over one of earth's most powerful creatures, yet goes on to thrive in a physically able, macho environment where women aren't allowed, finding and tempering the humanity in a just-as-powerful man reduced to a savage creature. Through Stephanie, Ali finds a surrogate sense of family after having run away from one and very quickly beginning to alienate the other. Cotillard in particular is astounding. Her exploration of Stephanie's gradual coming to terms with the way she's viewed by others and how she views herself is so acute, it's like seeing the character at a molecular level.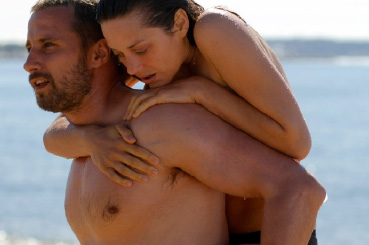 As well as having great chemistry, both actors play very much in the same key, cutting down to the bone of their character's vulnerabilities whilst revealing them to be admirably resilient.
It's one of many remarkable qualities, that marks Rust and Bone as that rare film about a disabled character who isn't downtrodden in their stoicism and locked in struggle. In the wake of her accident, Stephanie's eyes are sunken and vacant, but rather than foist an entire act's worth about the misery of adjustment on us, Bidegain and Audiard take no more than twenty minutes before bringing Stephanie and Ali back together again and out in the world, where she acknowledges that though she can't live life the way she used to, it doesn't mean she has to stop living. Such depictions are encouraging and inspiring and though many disabled viewers will recognize the way able-bodied Ali is totally accepting of legless Stephanie as the stuff of pure fantasy, we're an underserved audience in that department and we'll gladly take what we're given.
Even as fantasy, their evolving relationship is considerate of questionable motivations. When brutish Ali bluntly offers to have sex with Stephanie for the first time since her accident, yes, it's a compassionate gesture, but one that only goes so far. Clearly he's attracted to her (and who wouldn't be when she looks like Cotillard), but he doesn't necessarily want any further attachment outside the bedroom. Fortunately, as fuck buddies, they're most definitely buddies, the relationship, quickly blossoming into a love that transcends physical intimacy.
That Stephanie herself isn't rendered sexless by her disability is yet more cause for celebration. Her sexuality is gorgeously and wordlessly expressed in a scene where Ali carries her on his back out into the sea to conquer lingering post-traumatic fears and to reclaim her natural habitat. The water taketh away, but the water also giveth as Stephanie is glimpsed nakedly floating, the sunlight on her breasts, wearing nothing but a smile of orgiastic release. This reminder of her sexuality is a reminder of the fact that she's in fact still very much alive, an energy and vibrancy informing Cotillard's whole performance and perhaps best encapsulated by the moment where Stephanie takes a rhapsodic spin to the B52's 'Love Shack' in her wheelchair, tossing herself about flirtily as if she were still able to go out clubbing. It's an empowering portrayal by an actress who never once plays trickster with the character or the audience, striking a realistic balance between hope and hopelessness. Stephanie is down but not out. Depressed and crumbling but not defeated. That same balancing act which informs the short stories is similarly weighted towards tragic ends, karma or no karma, but as an example of raw, humanist cinema, Rust and Bone remains darkly satisfying and deeply moving.
---
Huge thanks to thanks to Emily from Think Jam for setting up the interviews.


Interview with Marion Cotillard at the 56th London Film Festival, conducted by Timothy E. RAW.
Interview with Matthias Schoenaerts at the 56th London Film Festival, conducted by Timothy E. RAW.
*the film refered to at the end of the interview is the 2009 German thriller LOFT in which Matthias stared. Director Erik Van Looy recently wrapped on the English language remake THE LOFT with Matthias reprising the role of Filip.
Interview with director / co-writer Jacques Audiard and co-writer Thomas Bidegain at the 56th London Film Festival, conducted by Timothy E. RAW.
*just to be clear, when Thomas is saying what sounds like "mineland", he means "Marineland."
---

Rust and Bone
is currently on general release. The movie tie-in edition of Craig Davidson's short stories is available from Picador.