When a fight between three brothers and an armed man in a back street in modern-day Lebanon results in the latter's death, teenage Jad (Wissam Fares) takes the rap to protect the older Ziad (a splendidly chisel-faced Alain Saadeh), who would have been banged up for life for the crime. During the five years Jad spends in jail, Ziad and younger sibling Joe (Tarek Yaacoub) build a business selling drugs through their takeout pizzeria, but with Jad's release imminent they are looking to go straight and put their efforts intead into running a small restaurant. The only thing that stands in their way is Abu Ali, the drug lord whose product they have been successfully peddling and who is not happy with his dealers' retirement plans. He convinces Ziad to take on one final job, to drive a truck load of locally produced amphetamines into Syria, but once across the border Ziad smells a trap and the deal goes seriously sour.
With Abu Ali's drugs now in their possession, Ziad and the newly freed Jad are keen to profit from this windfall, but need a secure way of smuggling the goods out of the country. By chance they learn that an Italian film crew working in Lebanon once successfully shipped drugs back home by hiding them in film cans, which cannot be X-rayed or opened without spoiling the legitimate contents. When he discovers that such shipments require official permits, Ziad approaches low-rent documentary filmmaker Charbel (Fouad Yammine) with an offer to fund the feature film he has for so long dreamed of making, the intention being to send the footage abroad for processing, a process Ziad insists on personally overseeing.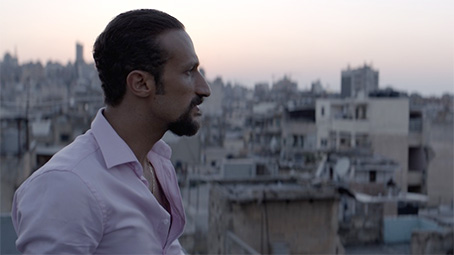 Lebanese writer-director Mir-Jean Bou Chaaya is not the first filmmaker to make low-budget filmmaking the subject of a (low-budget) early career feature and I doubt he'll be the last. What sets Very Big Shot aside from the likes of The Big Picture and Living in Oblivion is that it starts off as an altogether different film. Indeed, the midway switch from sober crime drama to comical satire did catch me a little by surprise, in part due to how involving that first half proves to be. There's a palpable tension and a climactic jolt to the Syria sequence, and the family conflicts that arise from Ziad and Jad's drug ambitions, which the furious Joe wants nothing to do with, are realistically staged and convincingly performed.
Yet from the moment Charbel begins casting his magnum opus, tension takes a back seat to character and situational comedy, and initially there's the sense that two different films have collided and reformed as a work of two distinct and slightly mismatched halves. But once you adapt to the tonal shift – which is easier than you might at first suspect – then the new direction in which the film heads provides its own set of pleasures. This does include a number of genuinely laugh-out-loud moments: one of the would-be actors' complete lack of emotional expression; the hilarious over-expressiveness of the first cast male lead; the various failed attempts to film a key character introduction scene; the overload of smoke and rain for a sequence that is leant a surrealistic edge when a large white horse is led down a stairway into shot ("What the hell is that horse doing here?" screams Charbel before a perfectly timed cut to the next scene).
More specific to the locale are the scenes that touch on the country's religious divide, which also happens to be the subject of Charbel's film-within-a-film. This is at its most intriguing when the boundaries that separate the staged-for-movie drama from real life intermittently crumble, as when devout Christian Jad is inadvertently cast as the male lead opposite Charbel's wife Alya, then repeatedly freezes because he refuses to say that he is a Muslim, an intransigence that forces a complete rewrite of the script. With their roles now reversed and encouraged to improvise an argument with Alya, Jad gets so caught up in the action that he rips Alya's hajib from her head, inciting Muslim onlookers to angrily intervene. The resulting conflict almost escalates into a small-scale religious war.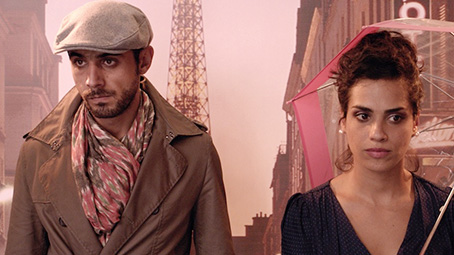 The filmmaking process and the power play that comes with it are also amusingly satirised, most obviously in Ziar's gradual transformation from wily drug smuggler to aspiring independent movie mogul. Initially in hiding from Abu Ali and his goons, as his confidence grows and his dress sense sharpens he starts throwing his weight around on set and smarmily encouraging alterations to Charbel's script in order to scale up the action. When shots fired skyward to break up the religion-inspired street fight attract the attention of a local news crew (and inspire some creative storytelling on the filmmakers' part), Ziad's growing ambition prompts him to stage explosive attacks on the production to secure it more widespread media coverage, which leads to him guesting on a national TV news programme to talk up the filmmakers' bravery and pompously denounce these assaults as "crimes against cinema."
The midway tonal switch is not as smooth as it could have been and there are a couple of minor narrative bumps along the way, but Very Big Shot is still a smartly made, winningly entertaining and confident debut feature that is by turns engaging, tense and pretty damned funny. If you're not keeping your eye on the running time (which I definitely wasn't, itself a good sign) then the ending might seem to come out of nowhere, but it leaves you with plenty to ponder on after the credits have rolled and delivers a sly dig at past and present Lebanese political corruption. It also opens the way for a sequel that I actually hope never appears; I'd like to think Bou Chaaya would trust his audience to imagine what happens next without further assistance.
---
Very Big Shot will be screening at the 59th BFI London Film Festival on the following dates:
Sunday 11 October 2015 20:45
Vue West End Cinema, Screen 7
Sunday 11 October 2015 21:15
Vue West End Cinema, Screen 5
Tuesday 13 October 2015 15:15
Vue West End Cinema, Screen
The 59th BFI London Film Festival runs from 7th to 18th October 2015.
For further information on the films being screened and to buy tickets for showings, head here:
https://whatson.bfi.org.uk/lff/Online/