I know as well as anyone not to take any of this Oscar malarkey at all seriously. Cheques trailing a whole lotta zeros and written months prior, talk that much louder than any blubbering actress' bad comedy coronation. The simple truth is, if the monetary muscle of Harvey Weinstein hadn't backed The Artist every step of the way, nobody outside of the festival circuit would have known or cared to see a black and white pastiche of silent cinema. Left to bubble under in and around the blogosphere and talked up by the only most vocal film critics with an axe to grind after the dust had settled, it might have ended up on a list just like this one, spoken of as the film that everybody missed, imploring you to give it a second chance on DVD.
Oscar night itself is all about soaking up the glitz, the glamour and who's sitting with who. The importance of who wins and who loses matters little more than passing the time as an amusing drinking game – The Artist cleaning up like we all know it would, made that walk from the couch to the bedroom sometime in the a.m. one fraught with peril.
Still, after three plus hours of seeing middle-brow mediocrity hog the limelight, every year, I can't help but cast my mind back over twelve months and hundreds of films and wonder what might have been. We can all agree the Oscars is a joke, but how in the hell do you nominate Brad Pitt for Moneyball and snub Michael Shannon for Take Shelter? Get real. Shannon's performance is not just the best of this year, but it's also one of the most compelling portraits of mental illness ever put on screen. And let's not even start on the egregious oversight of the complexity Tilda Swinton lent to Lynn Ramsey comeback We Need To Talk About Kevin. The film itself may be a hard pill to swallow, but there's simply no denying the muddled torment and tragic poise of her barnstorming performance.
It's funny, on my complete list of 2011 films, made up of 254 titles, none of the big night's ten best picture nominees, other the Hugo (#11) cracked the top thirty, with Midnight in Paris sitting just outside at #31. Obviously the nature of such lists is a subjective as the winning of awards is fiscal but with Moneyball, The Artist and The Descendents placed as low down as #63, #68 and #75 respectively, I'm at a loss outside of the blatant politicking I spoke of in my last article, to single out any obvious merits worthy of such recognition. Yes, an argument can certainly be made for the joyfully committed performances and technical sophistication of The Artist in flawlessly executing a dewy-eyed nostalgic throwback, but go on trying to convince me till the cows come home, I'm honestly quite content to pick any of the recent pristine restorations of the real thing (courtesy of Masters of Cinema's continued dedication to putting out silent era film on Blu-ray) than the novelty value, wink-wink, nudge-nudge homage that seems to be charming the pants off just about everybody but me.
So yes, ought to know better, but I'm going to go ahead and uncork that rage anyway and suggest five films that in a fair and just world would have been nominated. Consider the following a good 'ol cry over spilt milk.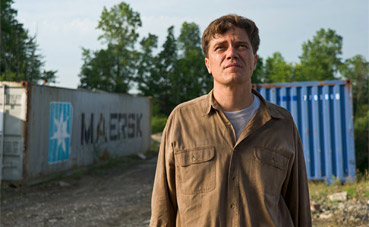 Why not start with the curious omission of my favourite film of the year? Take Shelter's absence amidst all this awards fervour continues to trouble me even now, long after the point of no return. I still remember how electrifying it felt, seeing it for the first time at BFI's London Film Festival and feeling that this expertly tense film very much of our economically-haggard times, was something truly special, certain as the credits rolled that the film was bound for a row of plaudits ending in Oscar. Early reviews and festival word of mouth was red hot, the film won the Critics Week Grand Prize at Cannes, Jessica Chastain's star continued in the ascent and Michael Shannon's career-making turn was coming not too long after a nomination from the Academy for Revolutionary Road. No mistake about it, the film is undoubtedly hard-going but its hypnotic effect is due in no small part to standout Hollywood level FX sequences that put you right in the film's troubled dreamscape and which I felt certain might open it up to a horror crowed sated on found-footage franchises. Of course it didn't help that the UK advertising went overboard with this, and swapped out the wonderfully evocative US one-sheet's, formation of birds in ominous flight over the family unit, choosing instead to Photoshop in behind them, four oversized tornado funnels reminiscent of blockbuster Hollywood Twister. While the effects are indeed impressively memorable, they're always in service of one man's slow burn descent into madness, never about leading with spectacle as the poster did here. Michael Shannon and the film's fans may undoubtedly feel cheated, but what remains certain after seeing it three times in the cinema and eager for the Blu-ray, is that Take Shelter is an American masterpiece waiting to be discovered afresh at home – preferably one with a rip roaring sound system.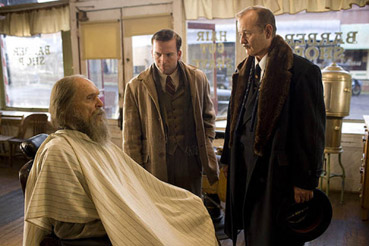 Oscar loves elder statesmen. It's their one sentiment, I too have a weakness for, taking as I do special joy in watching certain performers age like fine wine as time passes and turning in their best work during their twilight years. A perfect example of this is Robert Duvall's perfectly realized role in Aaron Schneider's faultless debut film, Get Low. As a cantankerous hermit wrongfully accused for the mistakes of his youth, Duvall finds the heart and humour in a man coming out of isolation to make sense of the time which he has lost. Striving to get an accurate impression of what the townsfolk really think of him and whether or not his exile from the community and years spent in the wilderness was justified, he stages his own funeral as a community event at which he himself will also attend to hear people's stories about him.
This down south tale of forgiveness late in life is more poignant than sentimental and as such is possessed of uncommon grace and striking rural beauty. The impeccable taste of Sony Pictures Classics in their projects and how they continually reminded us just how good independent films can be never ceases to astound me. Like Take Shelter, this is proper indie filmmaking that doesn't feel the need to rely on crossover elements of what's worked before and in so doing, tells a wholly original and unique tall tale. Quirky without a hint of calculation, Get Low plays Like the Coen Bros best work minus the condescending snarky send-up of their characters. There are no redneck caricatures here, in fact the film is something of a celebration of the playful poetry of Southern drawl – I could feel the smile on my face whenever Duvall's stubborn old kook quipped wise with Bill Murray's dollar-eyed funeral director.
Lucas Black, all grown up now from his memorable turn in the Oscar-winning Sling Blade, delivers another understated picture-serving turn, so authentic they ought to make it mandatory to cast him in any feel set south of Tennessee. It would be all too easy to call this film 'modest' due to its reserved reach and leisurely pacing but it's many pleasures are indeed deep and rich, deserving to be savoured.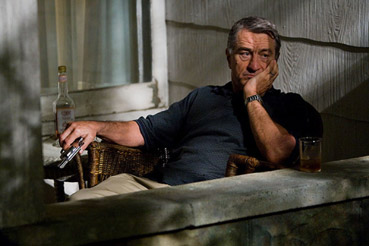 Quaking with spiritual intensity and pointing an accusatory finger across the entire stretch of the booze-sozzled bible belt, John Curran's Stone calls out the hypocrisy of those who religiously attend church on the seventh day only so that they might forget the sins of the previous six. Unfortunately, Stone did indeed sink like one, absent from our cinema screens in 2011 and relegated without fanfare to only the most well stocked video stores. The film's terrible fate is a head-scratcher given that the sparks generated by the second pairing of Edward Norton and Robert De Niro after the fizzle that was Frank Oz's The Score, offer up a bounty of potential Oscar clips. De Niro deftly encapsulates parole officer Jack Mabry's hefty burden of lifelong guilt, mostly through guarded facial expressions and sudden flares of temper in his first noteworthy role since 1997's Jackie Brown – this alone makes it worth seeing just to restore some faith in the value of his far-too-long pissed-upon legacy. Here's a man who never committed a crime but who clearly has more dirt on him than felon, Gerald 'Stone' Creeson (Norton), his final charge before retirement. As the criminal makes increasing demands on the authority figure's accountability and the two men engage in an increasingly uneasy philosophical power struggle, one man's dizzying spiritual freefall is orchestrated in a furious cacophony of evangelical talk radio. It's in this noise (which pervades the film) that the other finds his focus and salvation, becoming, as he believes himself to be, a tuning fork of God. Jack may hold the power afforded him by law, but Stone holds the still greater power of the awful truth about who each of them really is. All it takes is someone else saying out loud what Jack can barely admit to himself, even on the darkest nights of the soul and he's sent toppling over the edge. No longer able to believe the lies he's been living, Jack's habitual church-going and his relationship to God is proved to be as empty as his whisky glass, an awful certainty, consistently blasted at us through the Luciferian drone of Jon Brion's organ-swelling score.
Prior to this, John Curran directed the fiercely probing We Don't Live Here Anymore and almost imperceptibly carved a sense of stoic punishment underneath the "they-don't—make-'em-like-this-anymore" romantic sweep of The Painted Veil. All three of them great films in their own right and unanimously under-appreciated, Stone is yet more sad evidence that Curran might just be the most unheralded filmmaker of formidable talent working today. The director marshals all his technical forces to getting under your skin only seconds into the film with an attention-grabbing flashback so oppressively bleak and suspenseful in its use of stomach-knotting sound design, it's incredible to think this is only the second best opening of 2011. He also elicits career-best work from Milla Jovovich, carnally convincing and every inch a film noir femme fatale worthy of Stanwyck. Watching Six Feet Under's Frances Conroy indulge her dark side as the coolly detached wife who finally stands up to years of psychological abuse and neglect, it's nice to see her walk off with some of the film's best moments in what could have easily been a side-lined role.
Hardly a horror film, but utterly horrifying, this darkly inviting character study has a nasty sting in its tail choosing neither God nor a less dogmatic spirituality but rather, abject nihilism on a highway straight to hell.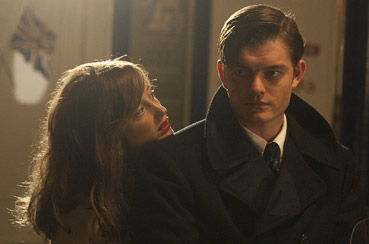 Brighton Rock was never going to have an easy time being taken on its own merits, so forget about awards. The spectre of a literary masterpiece and the original much beloved Boulting brothers adaptation loomed large, but half an hour or so in to screenwriter and first time feature director Rowan Joffe's take on the material, I felt sure this was the definitive version of one of my all time favourite novels which I still find myself relating to far more than I'd like to admit. The earlier 1947 version is rightly held in high esteem for the grandstanding razor-blade glint of Richard Attenborough's performance. His steadily inflating ruthlessness and resentment of everybody around him is so persuasive it paradoxically lends Pinkie a sort of warped heroism. Graham Greene's novel is of course one without a hero. A love story between a sadist and a sadomasochist, this anxious dynamic is a key element the period-shifted update gets absolutely right. As played by Sam Riley and Andrea Riseborough, Pinkie and Rose are two lost souls whose damnation has afforded them their place in the world, a faith felt deep in their bones. I go back and forth on Riley, too runtish to convince as the fallen angel described by Greene, but whose casting nails the sense of profound insecurity that underscores his all-consuming misanthropy. It's Riseborough who's truly astounding here though, the arc of her performance benefiting greatly from the fundamental change Greene purists were up in arms about. As Joffe notes in his foreword to the novel's movie's tie-in edition, "the sixties was an era when women gained a new voice, new power, new identity." Still, Brighton remains a world still severed from London's cultural revolution, so positing the unbalanced Rose as a woman out of step with time itself only heightens the irrational insanity of her love for misogynistic Pinkie, a feverish, fear-fuelled commitment brought home by the noirish fatalism of Martin Phipps' sublime score. This year Riseborough made headlines for being the face of Madonna's latest ill-advised bout of cinematic cluelessness, surviving the critical fallout with dignity and career still very much intact (that feat alone deserves an award), but it's worse to think that critics completely overlooked Riseborough's acute understanding of Rose's unnerving capacity for suffering, being that the knives were already raised. Why was such fuss made over a re-writing of history that perfectly aligned the story with the author's thematic intentions? As a teenager single-handedly sets about disrupting and overthrowing an older generation of gangsters, what better background against which to amplify this conflict than the "youth-quake" of mod-ridden modernity, in which a pre-war order was swept away with the flick of a knife? History is after all, continually re-writing itself and one hopes that from a cinematic perspective, the books might consider making room for two canonical interpretations of an enduring classic.
For the last few years, the month of January has proved a mixed blessing in my film-watching calendar. In 2009, only two weeks into the new year, I saw George Ratliff's unduly neglected Joshua, a film whose ability to chill so impressed me that I immediately declared it the #1 film to beat that year, a position it retained for the entirety of the next twelve months. In 2010, same story; Rod Lurie's gavel-banging ode to journalistic integrity, Nothing but the Truth (whose much hoped journey to Oscar recognition was a financial stillbirth after the Yari Film Group collapsed and were unable to print posters or pay for any kind of advertising) saw off all comers and was never remotely challenged all year long. I had that same 'all downhill from here' sinking feeling, just after picking my jaw up off the floor after viewing the deliciously twisted and thoroughly downbeat Confessions from director Tetsuya Nakashima. While it didn't hold out to rank quite as highly as others of January's past, I'm amazed that during the film's theatrical release, the internet wasn't alight with more talk about the shock and awe this film inspired in the few who saw it. As a revenge thriller it posits on its twists, but surprisingly, when considering this list, the film lost none of its potency on a second viewing. It's the breathless seventeen-minute opening classroom scene that still lingers the most: a sullen and apparently meek-mannered teacher named Yoko caves to the commotion of her disobedient students, some of whom get up and leave right in front of her, knowing she'll do nothing to stop them. Clearly at the end of her tether, but disturbingly calm amidst the disorder, you immediately get the sense that none of this is going to end well. The dreamily morbid music of experimental rock band Boris enshrines the chaos, eerily foreshadowing an announcement from which there will be no turning back for anyone in this room. The music rising up over the commotion and accompanying the gliding camera, as it swoops over desk after desk, passing judgment on every pupil be they guilty or innocent is an action that communally seals their fate, a moment etched in time from which none of them (including the truants) will be able to extricate themselves. As the camera hovers above Yoko and rears back skyward, it's as her human consciousness has floated up to the other side along with the loved one she lost at the hands of some of her pupils. We don't see the exact breaking point, but we sense it somewhere in this extended scene; she's at a molten place, wracked beyond all sense of herself and only now capable of the monumental and in-human endurance necessary to exact her revenge to such pitiless ends. Over the next seventeen minutes, with an icy demeanour as composed as slow-motion shots of the truants beating and bullying a fellow student on the rooftop, she confesses the measures she took to root out her daughter's killers and that the guilty will spend the rest of their lives paying for the senseless murder of her young daughter, only occasionally smiling with lopsided glee at the stunned silence and ensuing panic among her students. All the while that Boris cue plays over as a loop, repetitively lulling the viewer into a swaying trance that dares us to see the extremity of Yoko's actions as the only logical course in a world of innate violence.
The next two hours grind us through the gears of methodical vengeance, skittering into the lives of the principal students, each thread its own confession as we learn what led them to commit such a heinous crime. Although not the principle characters they're treated as such, and spending as much time with them as we do – getting to know what makes them tick – makes their eventual comeuppance and the ruinous effect it has on the lives of their families a morally muddied question mark for much heated discussion once you've regained your senses.
Never has a film this dark been so overbearingly stylised, but the music video rendering is so heightened it seems to allow the cathartic possibility of Greek tragedy for characters who are otherwise hard to get along with. Some films command your emotions, this one overpowers them.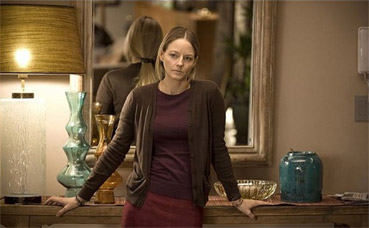 There are too many honourable mentions to highlight, so a word on just a few. I feel I have to include the acerbic zing of Roman Polanski's Carnage, months ago considered an awards frontrunner before spluttering at the Globes. I remember picking this over The Artist the morning that both screened at the London Film Festival and critics I'd gotten to know over the course of various screenings regarded me as if I were deranged for turning down the festival's hot ticket. What can I say, nothing gets me quite as excited as an acting cage match – couple that with a well-regarded stage play which plays to the director's strengths of oppressive interiors and escalating tensions and that's a no-brainer as far as I'm concerned. I love films about nasty people doing nasty things to one another, but rarely does this sort draw as many laughs as it does blood. A lot of this is down to Jodie Foster re-discovering her fire after years of slumming it in high-concept thrillers. She's a dominating blur here, mile-a-minute line deliveries ensuring I never felt the (obvious) staginess the film was accused of by it's detractors. Her she-who-talks-most-talks-loudest incentive steamrolls over each of her co-stars and crowbars her into every frame of the film even when she's off-screen. Her character is a monster of political correctness and as a comedy of absolutely no manners they don't come much better than Carnage.
The Sunset Limited is another notch on Tommy Lee Jones' already impressive directorial belt, adapting de jour author Cormac McCarthy (of whom he has experience after No Country for Old Men) for the small screen. Hermetically sealed in one room, Jones faces off against Samuel L. Jackson, hashing out the old debate of faith verses reason. Turning it over from every angle into the wee hours, the outcome of their discussion will, in the dawn's early light, determine the life or death stakes for one of the two men. The endless barrage of close-ups has the rhythm of a sword fight, the focus on stubble, creases and wrinkles is a repeated gesture of two ideologically opposed opponents baring their souls to one another and together, Jones and Jackson thrill viewers with an acting master class.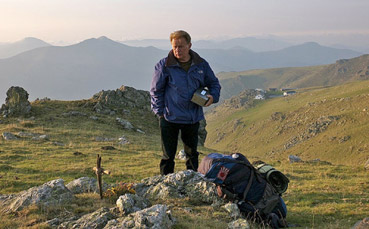 After the shameless Oscar-baiting of Bobby, Emilio Estevez deserves to win "most artistically improved" for his second feature behind the camera, The Way, a frank and sincere weepy. The film's keen and deeply felt insights into a father and son at odds had me laughing in recognition and unable to hold back the tears within the first ten minutes – often at the same time. After his son (Estevez) is killed by freak weather in Pyrenees, estranged father Tom (Sheen) flies out to collect the remains, only to then find himself walking the Camino de Santiago, and attempting to complete his son's journey. Wisely, Estevez makes this more a character essay than a travelogue, tapping into a rich well of humanity through the various walkers Tom meets en route, rendering the on-foot trek an all-walks-of-life attempt to get in touch spirituality, instead of just another cinematic excuse to take in pretty scenery. It's prevailing feel good optimism is punctuated by moments of heart-breaking sadness and is without question, the most life-affirming film I saw all year.
And finally, here's my personal rundown of who should have been nominated in the major categories:
Best Actor
Jack Black in Bernie
Robert Duval in Get Low
Clive Owen in Trust
Michael Shannon in Take Shelter
Martin Sheen in The Way
Best Actress
Elena Anaya in The Skin I Live In
Takako Matsu in Confessions
Andrea Riseborough in Brighton Rock
Tilda Swinton in We Need To Talk About Kevin
Ludivine Sagnier in Love Crimes
Best Supporting Actor
Lucas Black in Get Low
Edward Burns in Nice Guy Johnny
Brad Dourif in Touching Home
Bruce Greenwood in Meek's Cutoff
Christopher Jordan Wallace in Everything Must Go
Best Supporting Actress
Jessica Chastain in Take Shelter
Jodie Foster in Carnage
Chloë Grace Moretz in Hugo
Amy Ryan in Win Win
Kate Lyn Sheil in Gabi on the Roof in July
Best Director
John Curran for Stone
Tetsuya Nakashima for Confessions
Jeff Nichols for Take Shelter
Lynne Ramsay for We Need To Talk About Kevin
Aaron Schneider for Get Low
Best Cinematography
David Boyd for Get Low
Bobby Bukowski for Rampart
Masakazu Ato & Atsushi Ozawa for Confessions
Guillaume Schiffman for The Artist
Adam Stone for Take Shelter
Best Editing
Parke Gregg for Take Shelter
Yoshiyuki Koike for Confessions
Michael McCusker & Spencer Susser for Hesher
Stephen Mirrione for Contagion
Aaron Schneider for Get Low
Best Music Score
Jon Brion for Stone
Carter Burwell for Howl
Cliff Martinez for Contagion
Martin Phipps for Brighton Rock
David Wingo for Take Shelter

Best Original Screenplay
Everything Must Go by Dan Rush
Get Low by Chris Provenzano & C. Gaby Mitchell
Hesher by Spencer Susser & David Michôd
Stone by Angus MacLachlan
Take Shelter by Jeff Nichols
Best Adapted Screenplay
Brighton Rock by Rowan Joffe
Confessions by Kanae Minato
The Skin I Live In by Agustín Almodóvar & Pedro Almodóvar
Submarine by Richard Ayoade
We Need To Talk About Kevin by Lynne Ramsay & Rory Kinnear