The site's relationship with review discs – or check discs as they are sometimes known – has changed over the years and has now come almost full circle to where we came in. When we first started out we just posted reviews of newly released titles that we'd bought or seen ourselves, but over time a number of independent distributors and PR companies started sending discs to us in the hope that we'd review them. At its peak this became almost unmanageable – covering the 20 or so discs that landed on our doormat on a weekly basis was nigh on impossible even when we had a number of writers contributing to the site, in part because our reviews tend to be lengthy, but also because most of those who have written for the site over the years were also holding down full-time jobs or in higher education, and had to squeeze the site work into what little free time they had.
In the past two or three years, however, all that has changed. Review discs are rarely sent out on spec now, and we have to petition the distributors or their PR reps for a disc if we want to cover it on the site. This does make a degree of economic sense to those sending out the discs, as if they send out a title now they can at least be relatively sure that it will get reviewed. The down side is that it effectively eliminates the random factor, where we would try to cover a spread of titles each month from a number of sources and in the process would stumble across and champion titles we might never have even been aware of otherwise. This also saw us cover titles from a wider range of distributors than we tend to now, as we can effectively cherry pick which discs we'd prefer to review. Yet even with reduction in the number of discs that are sent to us on spec, we still end up not being able to cover them all. The same problems persist – our reviews take time to write, there are fewer of us writing for the site than there once were, we're all in full-time jobs and have families to tend to, and you can never plan for the unexpected. As an example, I approached the year's end determined to cover some of the releases that I'd missed from the preceding months, but a serious family illness, daily hospital visits, a string of sleepless nights and the resulting exhaustion instead saw the site essentially put on hold for almost two weeks. We're still not out of the woods yet on the family crisis, but I've already got the next set of titles lined up for review, and watching movies was sometimes the only thing that calmed my nerves.
As a result of us being able to pick and choose what we fancy reviewing, my end of year list of twenty personal favourite Blu-ray and DVD releases of 2015 is made up largely of titles from just three UK distributors, Eureka, Arrow and Second Run. Mind you, given the consistently high quality of the output of all three and their skill for selecting cracking films and doing them proud, even if we were drowning under a waterfall of check discs, I have a feeling they'd still be leading the pack.
It's fair to say that if I was able to devote the sort of hours to the site that I'd love to each week then we'd probably cover every single title that these three magnificent distributors put out, but we just don't have the manpower or the free time at the present. In this dreamy ideal world I've created in my head, we'd also cover a good deal of the output from the BFI (we will be upping out BFI coverage a little in the not to distant future), Network, Artificial Eye, Peccadillo Pictures, Second Sight and Third Window Films, to name but a deeply respected few.
I'll freely admit that a combination of the above detailed issues, the bank-account-draining need to replace a boiler this autumn and that fact that Arrow tend to make review discs available only a week or two before the release date has effectively seen three of the year's most potentially exciting releases excluded from the list because circumstance and chance have conspired to prevent me from seeing any of them yet. We were actually sent check discs for Kiju Yoshida: Love + Anarchism, despite my admission that if we were to review it then we'd never hit the release date (it was less than a week away and we already had other reviews well under way). The timing proved unfortunate. A couple of weeks later I was halfway into the first film in the set  when the first signs of what evolved into a family health emergency threw my film watching and reviewing into complete turmoil. I've still yet to return to this set and finish watching the films contained within.
Next up is the glorious-looking, 13-disc Battles Without Honour and Humanity Blu-ray and DVD box set. The content alone makes this set an object of serious desire, but there are five features here, a number of solid looking extras, the 224-minute Toei cable channel compilation of the first four films, and a 152-page hardback book featuring writing on the history of the yakuza film genre. Once again time constraints made this a non-starter for site coverage this late in the year, and as yet I've been unable to put together the necessary dosh to get my eager hands on the retail release.
Finally there's the Hellraiser Scarlet Box 4-disc Blu-ray set, which features all three of the Hellraiser films, a wonderfully comprehensive set of extras, and the sort of presentation that collectors go weak at the knees over. Once again the timing worked against us on this one, though this time the reason I didn't snag the retail version was simply that I was too slow off the mark – I apparently missed getting my hands on a copy of this fine-looking release by just two days. When it comes to grabbing Arrow Limited Edition releases, you need to get your skates on.
As ever, the list of twenty titles below is a very personal one. Some are titles that I was simply excited to see restored and released in high definition, others I was new to and was seriously impressed by, and a couple tick just about every box on any reasonable qualifying checklist – welcome releases with excellent transfers and a small mountain of absolutely first-rate extras. At the end I'll give a mention to a few of the other worthy titles I enjoyed over the past year, some of which I didn't catch up with until some time after they hit the stores, hence a number of embarrassingly missed reviews. As before, the discs are in no order of preference but listed by their alphabetical position on the shelf.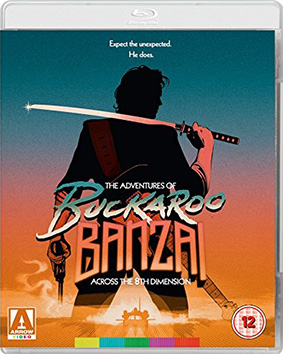 The Adventures of Buckaroo Banzai Across the Eighth Dimension
Arrow Video Blu-ray
Arrow's knack of picking the very films that we've always wanted to see receive a well featured HD restoration was confirmed beyond all doubt when they announced the release of this gem of a genre-bender from writer Earl Mac Rauch and one-time director W.D. Richter. One of our favourite films looked glorious here and the disc was loaded to the gills with excellent extra features, and is one that cult film enthusiasts should all have immediately rushed out and bought.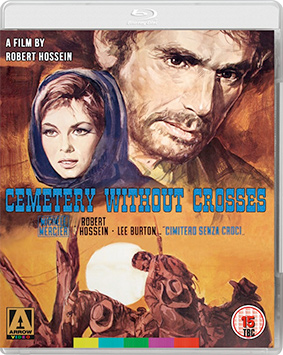 Cemetery Without Crosses [Une corde, un Colt...]
Arrow Video Blu-ray
This is the sort of thrilling rediscovery that prompts film fans to fall in love with the distributors like Arrow and Eureka. The idea of a French spaghetti western may sound a little unlikely, but actor-director and genre devotee Robert Hossein not only knows and loves the films that were his influence but also understands what it is that makes the best of them so special, and here crafts a film that stands sublimely on its own considerable merits. For their Blu-ray release, Arrow have done the best that they could with the sometimes chemically damaged material at their disposal, and while the extra features are brief and small in number, they're all worthwhile.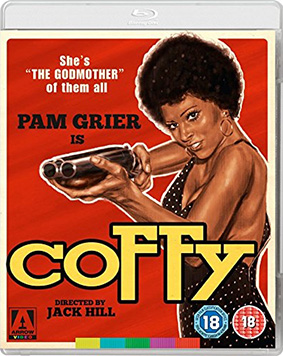 Coffy
Arrow Video Blu-ray
A cult filmmaker whose work has been well served by Arrow over the past two or three years is Jack Hill, the talented and eloquent director of such exploitation classics as Foxy Brown, Pit Stop, Switchblade Sisters and the extraordinary Spider Baby. Perversely, Coffy is the only Jack Hill title that we've covered on the site to date, but it proved a great place to start. The fabulous Pam Grier is "the baddest one-chick hit-squad that ever hit town" in a smartly devised and executed revenge flick in which she takes on local drug dealers and really shows her metal as both actor and what Quentin Tarantino has claimed was the first female action star. As you would expect with Arrow, the restoration and transfer are both delicious and the extras are all terrific, including a typically fine commentary from Jack Hill.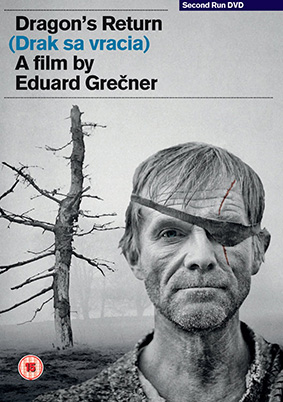 Dragon's Return [Drak sa vracia]
Second Run DVD
It's particularly frustrating that our time constraints mean that we end up not covering every disc released independent UK distributor Second Run. They really are one of the treasures of the British home entertainment scene (they also intermittently organise cinema screenings of their titles), making important and exciting but often little-seen world cinema titles – primarily, though not exclusively, from Eastern Europe – available on DVD, usually restored and looking better than they have the right to on standard definition. Writer-director Eduard Grečner's 1968 Dragon's Return was one of my favourite Second Run releases of 2015, the story of a man whose return to a mountainous village in which the very mention of his name seems to strike fear into the locals. Initially we are misdirected into seeing the eponymous Dragon as a threat, but as the story unfolds, a very different truth is revealed. A compelling and arrestingly shot work with an astonishing experimentalist score by Ilja Zeljenka, it's just the sort of film that we should celebrate being able to have access to after years of unavailability.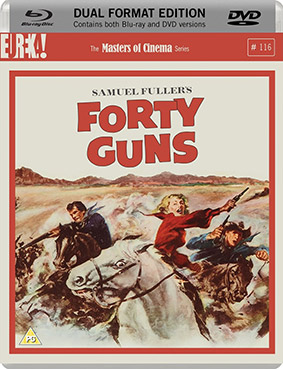 Forty Guns
Eureka Masters of Cinema Blu-ray
I, for one, have been thrilled by Eureka's recent Blu-ray and DVD releases of a number of key films from maverick director Samuel Fuller, a welcome recognition of his importance and influence on the current generation of independent filmmakers. Released on the heels of Fuller's return to the western genre Run of the Arrow, Forty Guns is a film that, in typical Fuller fashion, kicks against expectations and plays inventive games with familiar genre tropes. Key to this is his decision to cast Barbara Stanwyck as toughest hombre in Tombstone, "a high riding woman...with a whip," as the title song assures us, and some sexual innuendo so outrageous for its day that we can presume that the censor was taking a nap when the film landed on his desk. As you would expect from Eureka, the Blu-ray presentation is immaculate, and if the film itself were not a strong enough selling point, the disc includes a 78-minute recording of Fuller holding court at the National Film Theatre in 1969, which could well be my favourite special feature of the year.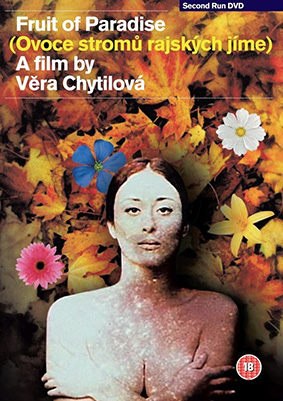 Fruit of Paradise
Second Run DVD
Another Second Run release that I'm including primarily for the quality of the film and the fact that I would probably never seen it were it not for this excellent DVD release. A thematically rich and artistically adventurous work from Daisies director Vĕra Chytilová, its opening sequence is a stand-alone experimentalist triumph in itself, and while the film that follows may represent a challenge for some viewers, for those willing to take the plunge it proves a cornucopia of inventive ideas, storytelling gameplay and lively subtext, one that positively demands an almost immediate second viewing. The transfer is strong, and thrillingly the disc includes Vera Chytilová's 41-minute Prague Film and TV School of Academy of Performing Arts graduation film, Ceiling. Second Run are perhaps the only key UK distributor that has yet to release a title on Blu-ray, but when their transfers are this good and the films they introduce us to are this impressive, we're not complaining.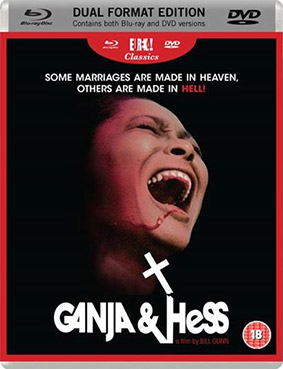 Ganja & Hess
Eureka Masters of Cinema Blu-ray
Director Bill Gunn's first feature was originally planned as a post-Blacula Blaxploitation vampire flick, but was transformed by Gunn into a semi-experimental study of addiction and African-American identity and was severely recut and released under the title of Blood Couple. It was to be another 25 years before the film was restored to its original form, and last year it landed the UK release those who have seen it had doubtless been itching for. I was new to the film but was utterly captivated by Gunn's bold blend of exploitation and experimentation, and it has a further claim to fame in being the only film apart from Night of the Living Dead to feature the charismatic Duane Jones in a lead role. To make the film available on UK Blu-ray and DVD would probably be good enough for this release to make its way onto this list, by Eureka also included a solid collection of very fine extras, elevating the package to the level of must-have.

Arrow 6-disc Limited Edition dual format
There were times throughout 2015 when it felt like the good people at Arrow had somehow gained access to the bit of my brain in which I store past memories, compiled a list of films that made a particular impression me in my younger days, and drew up their restoration and release schedules accordingly. The Long Good Friday had a major impact on me at a time when my life was in a metaphorical toilet and this very film proved to be just the tonic I needed. My relationship with it did not falter one iota over the years, as I snapped up copies on VHS, DVD and DVD Steelbook, but none came close to the gorgeous package delivered by Arrow, a 6-disc dual format Limited Edition, which included brand new restorations of The Long Good Friday and Neil Jordan's Mona Lisa, both with commentaries and additional special features, plus an extra disc unique to this release containing a hugely entertaining Q&A with Bob Hoskins and John Mackenzie, Mackenzie's notorious 1977 farm safety film Apaches, and extended interviews with producer Barry Hanson, cinematographer Phil Méheux, screenwriter Barrie Keeffe, assistant director Simon Hinkly and assistant art director Carlotta Barrow. A superb package that does the film justice, and then some.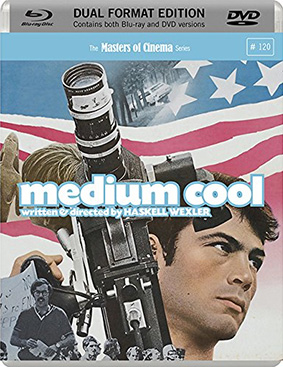 Medium Cool
Eureka Masters of Cinema dual format
When this title was announced I started to suspect that Arrow had passed on the secret of how they were able to rifle through my brain and select key movies from my past for release to Eureka. Whilst the inclusion of Medium Cool on this list would be justified alone as a tribute to the film's director and master cinematographer Haskell Wexler, there was no way in hell that this release was not going to be on it. Medium Cool was one of those films that transformed my perception of what cinema could achieve, one that didn't so much re-write the unofficial rule book by which my lessons at film school were being taught as tear it to shreds and toss it cheerfully on the fire. Famed for a climax in which fiction and reality collide to startling effect, it's a still astonishing cinematic achievement that looked better than ever on the Blu-ray in this Masters of Cinema set, and the extra features are terrific. Haskell Wexler RIP.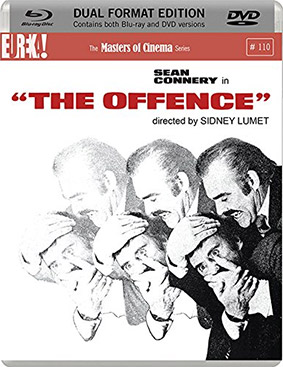 The Offence
Eureka Masters of Cinema dual format
The are some films that make an impression on you when you're young but the passing of time prompts you to forget how great they are, and this year it was Sidney Lumet's 1972 The Offence that took that crown for me. Sean Connery has never been better than as angry and embittered Detective Sergeant Johnson, whose interrogation of a suspected multiple child murderer (an equally superb Ian Bannen) is the tour-de-force centrepiece of this searingly powerful and oppressively downbeat drama. If anything, a good many years of watching so many more films from all corners of the globe made this film seem even better than I remember it being, a memory so strong that it had me extolling the film's virtues for years to those who had neither seen not in some cases heard of it. A very fine transfer of a work whose use of darkness would present a challenge for any restoration, and the extra features are once again strong.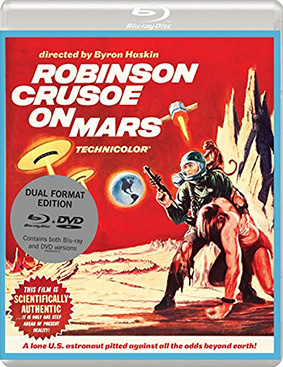 Robinson Crusoe on Mars
Eureka Blu-ray
Arrow may have carved themselves an enviable position as the kings of high-quality cult film Blu-ray releases, but Eureka have expanded their catalogue in recent years and are starting to give them a run for their money. Byron Haskin's 1964 science fiction favourite Robinson Crusoe on Mars is a prime example, a surprise announcement that had my good self and a few of my like-minded friends hopping about with glee at the prospect. Predating the similarly themed The Martian by fifty years, it's a damned sight smarter than its B-movie pitch title might suggest and is handsomely realised, with Death Valley transformed into an alien landscape by Winton C. Hoch's gorgeous Techniscope photography, Lawrence W. Butler's visual effects and Albert Whitlock's matte paintings. It's a bold and rewarding work that gets the restoration and transfer it has for so long cried out for; it loses out to Criterion's US release on its commentary track, but I still salute Eureka for making the film available in such fine condition for UK genre fans who haven't the cash for a multi-region Blu-ray player.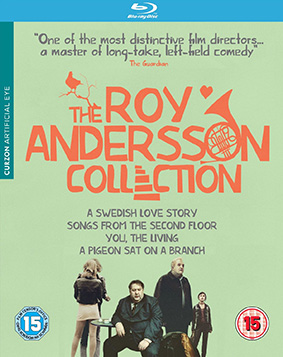 The Roy Andersson Collection
Curzon Artificial Eye Blu-ray box set
This was just impossible for me to resist. I adored Andresson's Songs From the Second Floor, I delighted at every frame of You, The Living, and rejoiced at the release of the wonderfully titled third part of his 'Living' trilogy, A Pigeon Sat on a Branch Reflecting on Existence. The chance to see all three in crisp high definition was a serious draw, as Andersson's sublimely unique approach to cinema – all three films are constructed from vignettes captured in single and largely static wide shots – feels even more richly detailed and expressive on Blu-ray. The transfers here are all top-notch, and the extra features from their previous DVD incarnations have been carried across. But wait, there's more! Also included is Andersson's 1970 feature debut A Swedish Love Story, a more conventionally styled and structured film about two teenagers and their first experience of love, that is still an utterly beguiling work.
Songs From the Second Floor DVD review >>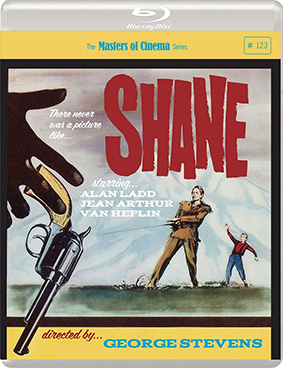 Shane
Eureka Masters of Cinema Blu-ray
This gorgeous Masters of Cinema 2-disc Blu-ray release of George Stevens' superb 1953 western ticks every box for inclusion on this list: It's a brilliantly directed western and one of the great works of 50s American cinema; it's one of my all-time favourite movies and looks terrific on this Blu-ray restoration; the set includes the film in both its original 1.37:1 aspect ratio, its cropped 1.66:1 projected ratio and an optimised 1.66:1 transfer supervised by George Stevens Jnr; the special features are top-notch, and include a commentary by George Stevens Jnr and regular collaborator with the director, Ivan Moffat, a verbal assessment of the film by film scholar Neil Sinyard, the Lux Theatre radio adaptation of the film, the theatrical trailer and the usual high quality Masters of Cinema booklet. I loved this release to bits.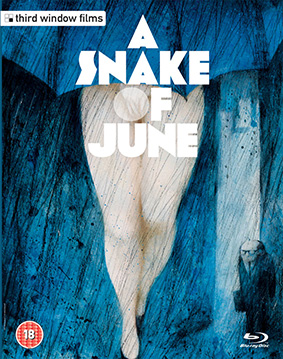 A Snake of June
Third Window Films Blu-ray
As a long-standing and passionate enthusiast for the cinema of Japanese maverick Tsukamoto Shinya, I've been thrilled to bits by the Blu-ray restorations being carried out by Tsukamoto's Kaiju Theatre and released on Blu-ray in the UK by Third Window Films. This year they hit us with one of Tsukamoto's most thematically exciting and visually striking films, an extraordinary and intermittently challenging exploration of gender, female sexuality and physical decay. The inclusion of the entire 1.33:1 image (which was cropped slightly on all sides on previous DVDs) does reveal splice marks that were hidden before, but the image quality is otherwise up there with the previous Tsukamoto restorations, and the DTS-HD surround track is downright superb. Some terrific extras too, including one of the best from the previous Japanese Happinet DVD. Here's hoping for my Tsukamoto restorations from Third Window in the future.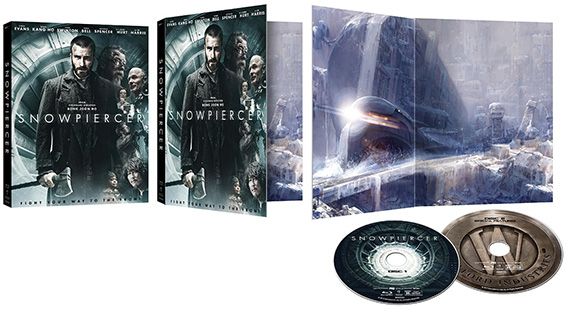 Snowpiercer
Anchor Bay US 2-disc Blu-ray
How frustrating is it that one of the best films of 2013, one from a major international director (and which was produced by another of equally high standing), has yet to receive a full UK release on any format? Bong Joon-ho's gripping blend of science fiction thriller and socio-political satire was adapted by Bong and Kelly Masterson from the French graphic novel Le Transperceneige by Jacques Lob, Benjamin Legrand, Jean-Marc Rochette, produced by none other than Park Chan-wook, has a cast that includes Chris Evans, Song Kang Ho, Ed Harris, Tilda Swinton, Jamie Bell, John Hurt, Ewan Bremner and Octavia Spencer, and is as smart and exciting a film as you'll see all year. So what went wrong? The Weinstein Company, that's what. Having acquired the distribution rights for North America, the UK, Australia, New Zealand and South Africa before they set eyes on the finished product, Weinstein later requested 20 minutes of footage be cut from the film and that opening and closing voice-overs be added. Bong refused to comply, and while an active campaign to get the film released in its uncut form was eventually successful, the film's North American distribution was effectively restricted to art-house cinemas and there are currently no signs that it will have even a bare bones DVD release here. Fortunately for those with multi-region Blu-ray players, the full director's cut was released on Blu-ray in the US by Anchor Bay. Even better, it's 2-disc edition with a strong set of quality special features. Absolutely worth the import if you can play region A Blu-ray discs.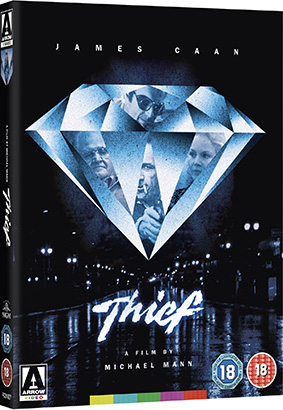 Thief
Arrow Video 2-disc Blu-ray
Did I mention that it felt like Arrow had been ruffling around in my brain for titles to add to their release list this year? Both Camus and I have a long-standing relationship with Michael Mann's first theatrical feature (his 1979 The Jericho Mile had a cinema release outside of the US, but was made for TV), a riveting crime thriller featuring James Caan, Jim Belushi and Robert Prosky at their absolute peak, some luminous night-time photography by Donald Thorin, a hypnotic electronic score by Tangerine Dream and some of the most convincingly realistic robbery sequences in modern American cinema. And Arrow didn't just make the film available on Blu-ray with a first-rate transfer, bless, 'em, they gave if the full 2-disc special edition treatment, with two cuts of the film, a very worthwhile audio commentary, almost 3 hours' worth of additional special features, and a fine accompanying booklet.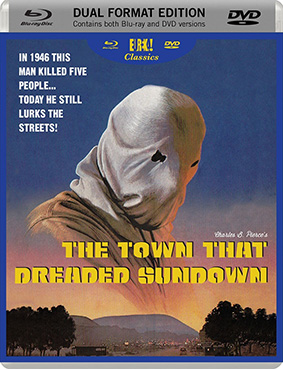 The Town That Dreaded Sundown
Eureka dual format
One of the most intriguing rediscoveries of the year was a film that had somehow flown under my radar, Charles B. Pierce's compelling 1976 serial killer drama was based on a true case, and despite some misplaced comedy relief (from Pierce himself as disaster-prone Patrolman 'Sparkplug' Benson), is striking in its period authenticity, its low-key approach and its sometimes disturbing air of realism. There are more dust spots on the transfer than usual for Eureka, but in all other respects it's a bang-up job and the special features are all most worthwhile. I'll freely admit that there were a good many better featured discs out there last year and a fair number of films I'd personally rate higher than The Town That Dreaded Sundown, but every year Eureka seem to release at least one title that makes me wonder why the hell I've never seen or even heard of the film before now (previous examples include the brilliant Who Could Kill a Child? and Wake in Fright), and this year it was the turn of this fascinating and intermittently troubling slice of early 70s American independent genre cinema.

Videodrome
Arrow Video 4-disc Limited Edition dual format
A strong contender for home entertainment release of the year, Arrow's Limited Edition Blu-ray and DVD of David Cronenberg's sf/horror masterpiece is the sort of package that makes cult film fans weep with gratitude and admiration. A stonking transfer is backed by some of the best special features you'll find on any disc released in 2015, including an insightful commentary, a ton of featurettes and documentaries, Cronenenberg's delightful short Camera, a handsome booklet and four of the director's key early short films, including two rarely seen works from his student days. Topping it off is the deliciously designed and presented packaging, which makes my decision to delay buying the retail package until after every copy had been sold all the more painful (for the record, the same thing happened with Arrow's Withnail and I and Hellraiser Trilogy Limited Edition releases – one day I'll learn).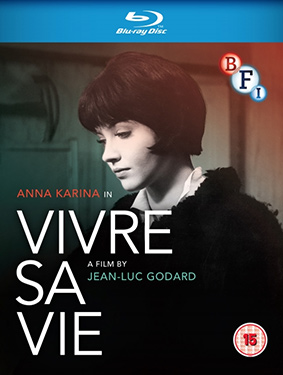 Vivre sa vie
BFI Blu-ray
We've done badly by BFI discs this year, as while there have been a fair few that have really tickled our fancy, release date timing and unexpected issues always seems to have worked against us. As evidence I offer up their Blu-ray Jean-Luc Godard's Vivre sa vie, which our Godard devotee Jerry Whyte begged to cover and then was forced by personal circumstances to delay the review for almost a month. That said, the finished piece was so detailed and so enthralling that there were no real complaints from any quarter. As Jerry says in his review, "Vivre sa vie may be the precisely composed of all Godard's films. It is as exciting, striking, haunting, thought provoking and influential as anything he has made to date. All the pieces fit." What bounces it onto this list is not just the film itself but the gobsmacking job that the BFI have done on the restoration – when a film from 1962 can look this good we have every right to be hyper-critical of discs of more recent films – and the quality of the impeccably selected special features. I look forward to the BFI's upcoming Blu-ray release of Bande à part – a personal favourite – with eager anticipation.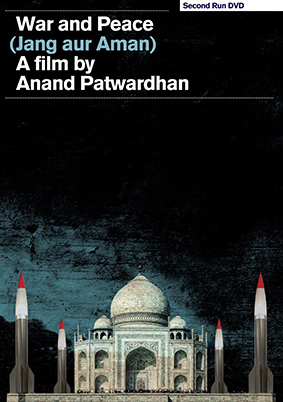 War and Peace [Jang aur Aman]
Second Run DVD
Not the colourful and currently screening Tolstoy adaptation, but Indian filmmaker Anand Patwardhan's moving and heartfelt anti-war documentary. A three-year project begun in 1998 following nuclear tests conducted by the Indian government, the film covers the nationalistic fervour that accompanied the tests and the negative effects on the local population before moving onto America and Japan to explore local views on nuclear weapons. The film was the subject of a high court battle on Patwardhan's part when the Indian censorship board demanded a substantial number of cuts, including the removal all political speeches; happily, Patwardhan won the day and the film was released uncut, which is the version included on Second Run's DVD. The special features, though small in number when compared to the average Arrow release, are superbly targeted and add further to your appreciation of the film.
There were so many other worthy Blu-ray and DVD releases this year, too many for me to easily recall and list here, but I'll give a small cheer for the following from some of our favourite distributors. Many came so close to being included on this list, whilst others were only omitted because I've not finished working my way through the extra features (or in a couple of cases, all of the films) on the titles in question. There are links to reviews when we have covered the disc in question.
Arrow Video
Blood and Black Lace
The Fireman's Ball
Hard to Be a God
Requiescant
The Strange Case of Dr. Jekyll and Miss Osbourne
The Tenderness of Wolves
Thieves' Highway
The Train
Wake Up and Kill
Eureka
The Cruel Story of Youth
A New Leaf
The Shohei Imamura Masterpiece Collection
Peccadillo
Appropriate Behaviour
The Samurai
BFI
Bill Morrison: Selected Films
Eyes Without a Face
Night and the City
The Otto Preminger Film Noir collection
Pasolini: Six Films 1968-1975
Rossellini war trilogy
Second Sight
The Decline of Western Civilisation box set
Midnight Run
Network