I'm always a little intrigued when an actor on whose fame a movie is funded and primarily marketed doesn't make his or her first appearance until a good part of the story's first act has unfolded. The general Hollywood wisdom seems to be that if you're going to preface your story, and if that preface doesn't feature your star, then you deal with it as swiftly as possible and move quickly on to the person whose face is on the poster in order to stop the audience fidgeting and give them as much time as possible to bond with the character in question. In the mid 1970s, there were precious few film stars with more box-office mojo than Charles Bronson, and I seriously doubt that many of the people buying tickets for his 1975 action-thriller Breakout did so chiefly to watch the latest film by director Tom Gries (no disrespect to the director intended). They came to see Bronson, and yet Gries and scriptwriters Howard B. Kreitsek, Marc Norman and Elliott Baker keep them waiting through a most unusual 20 minutes of story set-up before we catch our first glimpse of the man. Given that Bronson by this point had the sort of star power that could easily have forced a rethink of that strategy, it's to his credit that he chose instead to go with the flow. In the end, this proves a positive aspect of a film that had a lot more of them than I was expecting.
So what of this set-up? In the Chilean capital of Santiago, American Jay Wagner is arrested for a murder that he didn't commit and extradited to Mexico, where he is sentenced to 28 years in a Mexican jail. It turns out that he was framed on the orders of his grandfather Harris Wagner – a wealthy but corrupt businessman with shifty connections to American intelligence services – because of Jay's support for interests that could be harmful to his business dealings. It's only this familial connection that prevents Harris's CIA contact Cable from having him killed, which is apparently the agency's usual way of dealing with such problems. Jay's wife Ann manages to smuggle some money into prison to help him fund an escape attempt, but when she talks about going to Harris for help, the indignant Jay angrily dismisses the idea. When Jay's first escape attempt goes horribly awry, however, Ann turns to Harris anyway, and he pledges to fund whatever plan she comes up with to free her increasingly desperate husband. What neither Ann nor Jay are aware of, however, is that anything told to Harris is being fed straight to the jail's corrupt warden, J.V..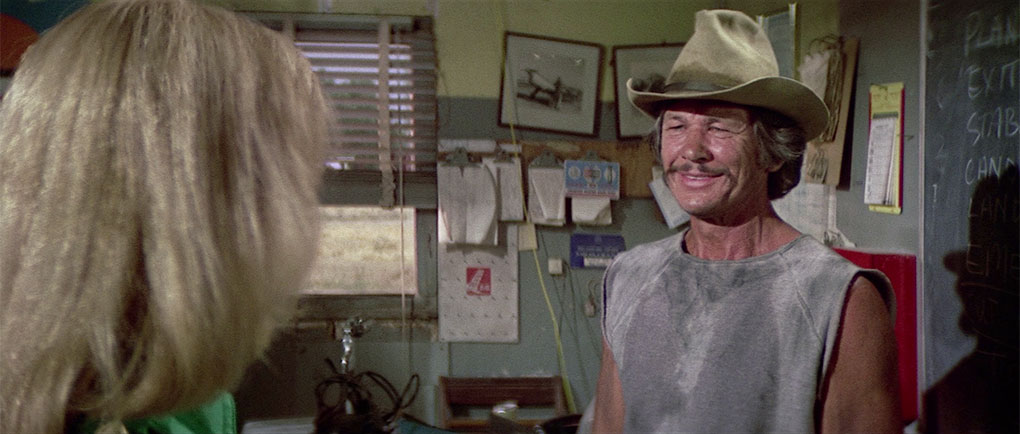 Enter Charles Bronson as cheerfully roguish bush pilot Nick Colton, who with his partner Hawkins is struggling to make ends meet and whom Ann approaches because she's been assured that he's someone who'll do anything for money. It's here the film delivers its second surprise in the shape of Bronson himself, who after years of playing it stoic and serious turns in what may well be his liveliest and – I can't believe I'm saying this – most comedic performance. And aside from his habit of repeatedly throwing his right arm skyward in an overly theatrical expression of indignation, for the most part he pulls it off, breathing energetic life into Nick and making him an easy figure to warm to.
Ann offers Nick $1,000 – a price he then amusingly renegotiates – to fly down to Mexico, land on a specific road and pick up a passenger, though she chooses not to reveal anything about Jay's convict status or that he will be at that location at this time because he's part of a prison work gang. As you might expect, things do not go well, and when the guards start shooting at the startled Nick's plane, he does a smart about-face and flies straight home without his human cargo. Herein lies a key aspect of the film's charm. Over the course of his career, Bronson built a reputation as a stone-face tough guy who would take crap from no-one, and to watch him panicking because guns are being fired and fleeing from danger instead of effecting a preposterously against-the-odds rescue has a novelty factor that I instantly warmed to. This acknowledgement that Nick is not a superhero but regular guy with everyday weaknesses is echoed in Nick's enthusiastic but sometimes ill-conceived approach to rescue plans that stumble and misfire. The simple fact that he's played by Charles Bronson means we know that he'll eventually succeed, but it's still entertaining to watch the fist-fighting hard guy from Hard Times and the vengeful vigilante from Death Wish smilingly con his way into helicopter lessons and end up weaving around the sky like a drunken moth because he just can't seem to master the controls. Yes, he's still Charles Bronson, but there's just a whiff of Big Trouble in Little China's Jack Burton about his bluff machismo and cheerful fallibility. Frankly, I wish Bronson had done more roles like this one – even a running gag about an uncashed cheque that should have fallen on its face is made to work through Bronson's delivery.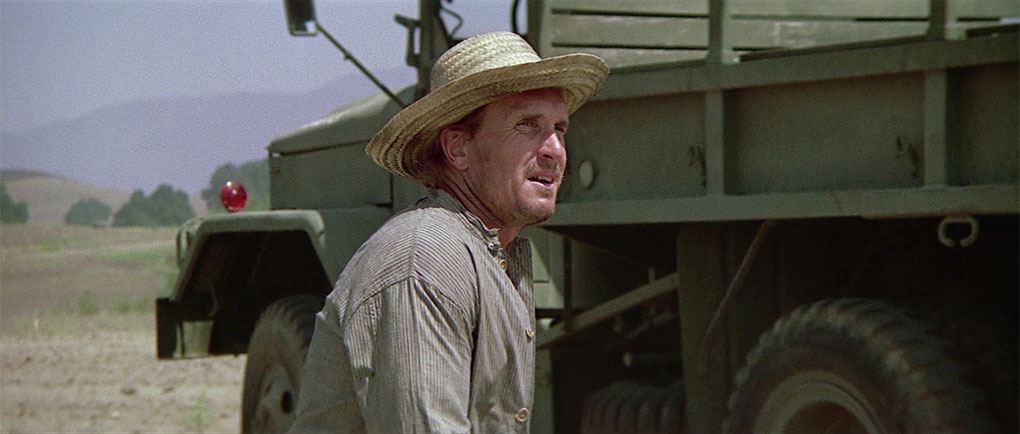 Being a product of 1970s American action-caper cinema, Breakout also boasts a hell of a supporting cast. For a start, we've got Robert Duvall (fresh from his role in The Godfather, Part II) as Jay, Randy Quaid as Hawkins, John Huston as Harris Wagner and Paul Mantee as CIA operative Cable. Sheree North, instantly recognisable from genre favourites Charlie Varrickand The Outfit, plays Myrna, the flirty wife of a local sheriff who aids Nick with his plans, and as corrupt prison warden J.V. we have Emilio Fernández, the celebrated Mexican actor and director who was so memorable as Mapache in The Wild Bunch and El Jefe in Bring Me the Head of Alfredo Garcia for Sam Peckinpah. And no-one familiar with Bronson's 70s output will be surprised to learn that his wife, Jill Ireland, was cast as Ann Wagner on his insistence, or that he had the script altered so that the Nick and Ann would start falling for each other.
The film really shines is in its occasionally hair-raising stunt work, whether it be the pilot who convincingly fakes Nick's dangerous flaky control of the helicopter, the guard who is hit and knocked over by the tail of Nick's plane, or the reckless acrobat who defies death when a he is spun through the air and onto his head when his jeep flips over (I genuinely winced at this one). There's also a moment of sudden and explosive violence at the film's finale, one that I'm not about to outline here but whose convincingly faked extremity prompted me to let out a yelp of startled surprise (it's also one that predates a similar – but less violently realised – moment in a later Spielberg film).
Not every aspect has aged so well. The first scene of (female) visitors being searched before being allowed to enter the prison in which Jay has been incarcerated features the sort of sniggering, lascivious cartoon of a Mexican guard that you'd only see now in a Donald Trump campaign video, and a sequence in which Myrna tries to seduce a distracted Nick by suggesting she rather fancies being raped is one that will likely have all but the insensitive shifting uncomfortably in their seats. Post-production tinkering has also left some plot-points dangling in the wind and even the fate of one significant character oddly unaddressed, while Nick's final plan lacks the "what are they up to?" complexity that characterises the best of such capers, a gripe that I have no right to make when you consider that the story was based on actual events.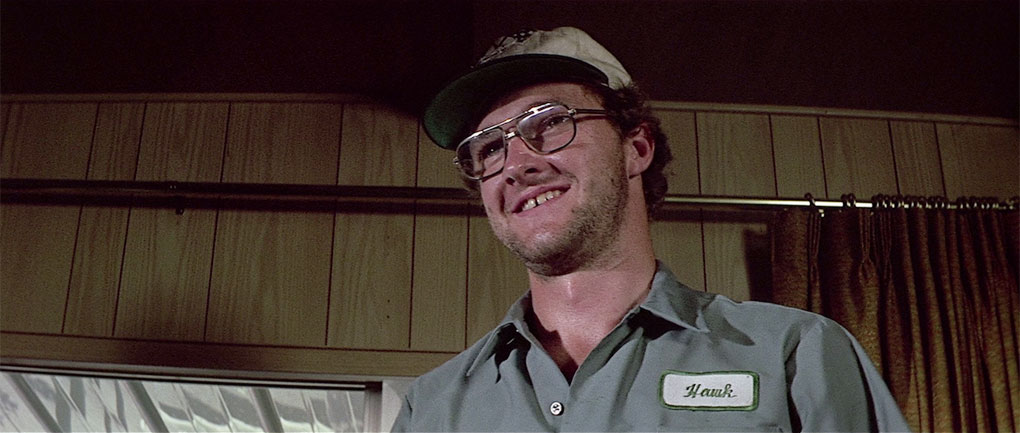 Despite my fondness for 70s American cinema, my lack of enthusiasm for some of Bronson's other films of the period means that I'd never seen Breakout until Indicator's Blu-ray landed on my doormat, and I was genuinely surprised how much I enjoyed it. It's decently scripted, generally well directed, and is energetically performed by a likeable cast, has impressive stunt work, pleasingly old-school practical effects, handsome scope cinematography from Lucien Ballard and a typically fine Jerry Goldsmith score. It's a solid slice of 70s action-thriller entertainment that showcases a rarely seen lighter side to Bronson's screen persona, but not in a manner that overshadows the worthy contributions of his follow performers and those equally talented folks behind the camera.
A strong 2.35:1 1080p transfer from a Sony HD remaster that handsomely highlights work of veteran cinematographer Lucien Ballard, a recognised master of shooting in the scope aspect ratio and one of a handful of cinematographers whose work I studied at film school (his work for Sam Peckinpah in particular is a multi-film masterclass). The contrast is very nicely balanced, nailing the black levels but still boasting a pleasingly generous tonal range, and detail is crisp enough to allow you to count the pores on Bronson's face even in medium closeup if you so choose. The colour feels naturalistic and is attractively rendered, and there is a fine film grain visible throughout, with little trace of dust or damage – I did spot a couple of small scratches at one point, but they are hardly visible.
The Linear PCM mono 1.0 soundtrack is also in fine shape, with clear rendition of dialogue, music and sound effects and a decent dynamic range that avoids that treble crispiness you find on some transfers of films of this vintage.
English subtitles for the deaf and hearing impaired have been included.
Audio Commentary with Paul Talbot
Film historian Paul Talbot, author of Bronson's Loose! The Making of the 'Death Wish' Films and Bronson's Loose Again! On the Set with Charles Bronson, quickly establishes himself here as a human encyclopaedia of facts about everything Bronson, delivering insanely detailed information on just about every imaginable aspect of Breakout, from the expected biographical rundowns to minutia on the props, guns, cars, locations and just about anything else you can see on screen. Most usefully, he also explores the true-life events the film was based on – which were chronicled in the book The 10-second Jailbreak: The Helicopter Escape of Joel David Kaplan by Eliot Asinof, Warren Hinckle and William Tu – as well as ways in which the events in the film differ from (or indeed, are faithful to) how they unfolded in real life.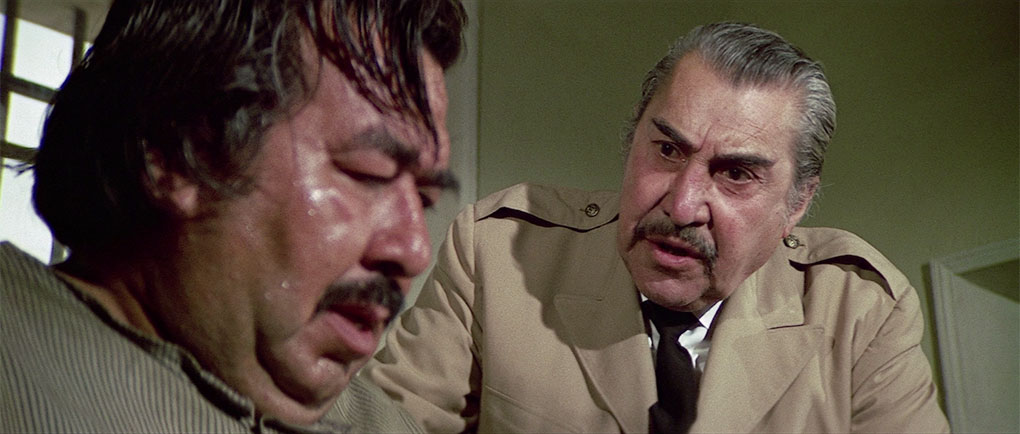 Filming 'Breakout' (5:49)
What looks like a short piece for French television takes a look behind the scenes of filming on location at Fort de Bellgarde, a former barracks in France that stands in for the Mexican prison in the film. Bronson and an unnamed member of the production staff are interviewed, and while Bronson speaks in English, his voice is dubbed in French and then that is translated back into English by (optional) subtitles.
8mm Version (17:08)
You only have to wait three minutes to get to Bronson in this cut-down, 4:3 framed version released on 8mm film for home viewing. Whole swathes of the first half and a couple of key characters have been lopped out, and we've barely had time to get our bearings before we're thrust into to the finale. Fascinating, but as ever this is no way to watch any film for the first time.
Theatrical Trailer (1:32)
"Only two things could help him escape, a lot of money and Charles Bronson" the narrator assures us in this well edited but spoiler-peppered trailer that includes one of Myrna's awkwardly outdated rape remarks.
TV Spots (3:01)
Five well-assembled TV spots in the style of the trailer, two of which have the dramatically delivered line, "Charles Bronson – he's a specialist in impossible escapes." He bloody well isn't. Another claims, "He's brutal, he's beautiful, he's Charles Bronson." For all of Bronson's qualities, I've never thought of him as beautiful.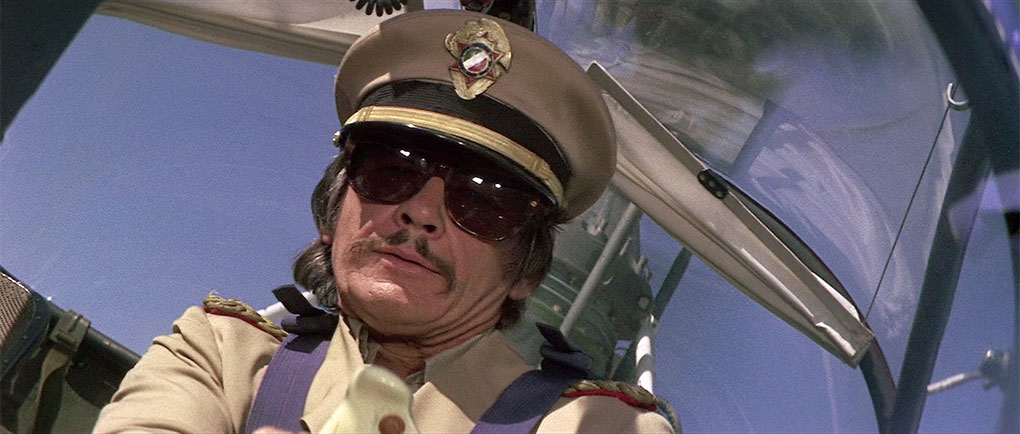 Radio Spots (1:48)
Two radio spots in the style of the trailer and TV spots, which play over the an image of the 7" vinyl record the ads were delivered to radio stations on, one that slowly zooms in to protect your plasma or OLED screen.
Image Gallery
71 slides containing promotional photos, front-of-house stills, the cover of the source book, the case of the German 8mm version and a sprinkling of international posters.
Booklet
After the sheer wealth of information delivered by Paul Talbot on his commentary track, I seriously wondered what more this booklet could possibly offer, especially when I discovered that the lead essay in it was authored by…Paul Talbot. Perhaps inevitably there is some crossover with the commentary, but Talbot also usefully expands on some of the information he delivered there. Following this is another piece by Mr. Talbot in which he outlines details of the real-life case the film was based on – again, this was covered in the commentary, but the story is concisely summarised here and includes more detail on some aspects of it. Finally, there are extracts from two contemporary reviews. Surprisingly (to me, at least), Tom Milne in Monthly Film Bulletin rather enjoyed it, whilst Russell Davies in The Observer was not impressed. Promotional imagery and credits for the film have also been included.
Walter Hill's the Streetfighter aside, I've never exactly been an enthusiast for Charles Bronson's 1970s output, which I can largely take or leave, so I was genuinely surprised how much I enjoyed Breakout, in spite of its dated elements and some narrative untidiness imposed by the post-production tinkering. It's very nicely presented on Indicator's Blu-ray, and while there are fewer special features than we're getting used to seeing on this label's releases, just about everything you could want to know about the film is crammed into Paul Talbot's encyclopaedic commentary or his essays in the accompanying booklet, so I didn't feel short-changed. For fans of American action-caper cinema and especially Mr. Bronson, this is a bit of a must.