I feel I've made all of my most pertinent comments on Burst Angel's sound and visual effects in my review for Volume 2; if you haven't already, please feel free to read it. Also take note of my review of Volume 3.
Burst Angel continues onwards with Volume 4, released 24th July. It's in this volume that we finally learn of how Meg and Jo met each other. Meanwhile, the ongoing Osakan adventure from Volume 3 is resolved, and the gang foil more plots by the ever-lurking sinister organisation that's been setting monsters on the loose. This volume contains four episodes; 13-16 of 24.
13: "Showdown in Osaka"
A corrupt police officer is holding Osaka to ransom, proclaiming himself "The King". But with new upgrades to Jango, and help from Takane, Jo should be able to stop him and save Meg at the same time.
14: "Wild Kids"
Jo fell to earth with a bang, losing most of her memories in the process, and it was left to a hesitant Meg and her gang of orphans to introduce her to life again. This is the story of how they first met.
15: "Slingin' Oil"
The gang visit a newly-opened water park, but are stuck in the park when an oil spillage occurs. The resulting inferno is compounded by the emergence of a giant squid – which isn't quite what it seems.
16: "The Man with No Name"
On a routine mission, Jo unearths hidden and disturbing memories from her past, as well as an anicent destroyed village protected by a silent samurai warrior. He and Jo must join forces to combat an ancient "steel demon" – another malevolent robot.
Having not seen Volume 1, I was both surprised and pleased to learn that Jo's "origin story" had been left to a later episode and not contained solely in the first few – it does make me wonder how critical I might have been on Volume 1, if – I'm guessing here – the whole crew had been introduced without any specific backstory. One thing I dislike in most films and TV shows is having to work out for myself who the characters are and what their purpose is, and the show in question assuming that the viewer knows all this information.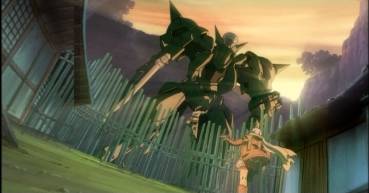 Episode 15 is the most fanservice-laden of the four; it's the obligatory "swimsuit episode". Those looking for an Ikki Tousen-style fix won't come away disappointed – the girls (all except Amy and Jo, whose figures are more modest) seem to defy the laws of physics, squeezed into impossibly revealing swimsuits. Not that a high-class reviewer such as myself cares about such silly things, of course (wink wink)...
I'm continually impressed by the quality of the CGI, and the way it blends almost seamlessly into the traditional animation. It's especially noticable in episode 13, which features two mecha dueling it out on the streets of Osaka, with the human pilots sitting in amidst the CG-animated machinery.
Burst Angel's format is still working well. Instead of putting the focus on the major plotlines (the mysterious shady scientists), the series puts forth self-contained episodes, with only a few large "spectaculars" – the recent 11/12/13 three-part Osakan adventure being one of them. With two volumes still to come, let's hope it can maintain this standard.
The anamorphic 16:9 transfer is, as on the previous Burst Angel releases, a decent enough job – if anything, the picture seems slightly more pleasing here, though this could be partly down to the artwork of the included episodes. Colours are strong, picture detail is good and black levels are solid. Outlines are very distinct.
Once again the English 5.1 dub is superior to the Japanese original, with a more expansive use of sound, especially the music score, and better bass – the voices on the Japanese track are noticeably more tinny. The voices on the English dub tend towards the American South (this is explained in the commentary), and the pronunciation of Japanese place names ("Osaka" is a good example) is particularly American.
Voice director Chris Bevens returns for another audio commentary, this time accompanied by Monica Rial (Jo; sounding nothing like her in real life) and Caitlin Glass (Takane). The yak-track accompanies episode 13, "Showdown in Osaka" - they explain why they had everyone in Osaka speak with a Texan accent, as well as making the usual crazy observations and innuendo.
Once again, the Japanese voice cast are showcased in their own Radio Play; you can watch the textless opening and endings, and trailers for La Portrait de Petit Cosette and another series that I can't identify.