I feel I've made all of my most pertinent comments on Burst Angel's sound and visual effects in my review for Volume 2; if you haven't already, please feel free to read it. Also take note of my reviews of Volume 3 and Volume 4.
Burst Angel goes from strength to strength with Volume 5, released this week by MVM. In this volume, Jo's story with the mysterious samurai is resolved, Takane makes a return with a few new problems to solve, and Kyohei finds an old friend.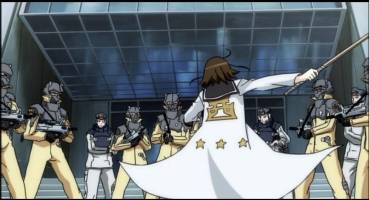 Like the other volumes, this one contains four episodes; 17-20 of 24:
17. Dueling Angels
Jo and the Samurai take on a cybot attacking the village, and Jo's connection to the cybot and its mysterious pilot is revealed.
18. The Immortal Classmate
While out shopping, Kyohei runs into his old friend Akio, and discovers that he's been given extensive cybernetic implants and is now working for the Yakuza.
19. 24-Hour Strategy
Takane heads over to Tokyo for a visit, but winds up in the middle of a plot (by the series' main antagonists) to take control of the minds of children via television.
20. Blood Red Highway
The crew run afoul of Tokyo's new traffic enforcement cybots, which have decided to arbitrarily execute drivers for trivial offenses. There's a hacker at work, and once again Takane's landed in the centre of it all.
This volume is where it all starts to come together. The hints at Jo's backstory, and the real reasons behind the "glowing brain" monsters attacking Tokyo, finally get more than just a cryptic half-scene – I'd imagine that the astute viewer would be able to draw many conclusions from the revelations given in these episodes, and it's clear that the final volume (released in early November) will tie up most, if not all of the various loose ends from throughout the series.
One thing that had me puzzled was episode 18, where Kyohei meets up with his newly-cybernetic friend Akio. The story is wholly about the guest characters, with Kyohei used merely to give the viewer a perspective on events. The girls hardly get a look in – their biggest scene involves them eating pizza! Usually, the standalone stories of Burst Angel provide some insight into the central characters or the ongoing background plot concerning the scientists' plans. I do hope that I'm wrong, and that Akio's situation will factor somehow into the events of the final volume.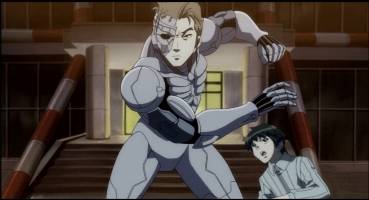 Also, it's nice to see Takane again. It's comparatively rare in most drama serials for guest characters to return, even in a supporting capacity, but Takane does see a little action here too. I'd like to see her stay on through the next four episodes as a sort of honourary teammate, but I'm not sure she'd want to stay in Tokyo any longer than she needs to – she does have her own police department in Osaka to take care of, after all.
Burst Angel remains a series that holds my attention from start to finish – whether it's the action or the slow-cooking plotline, I couldn't say, but whenever I put one of the volumes into my DVD player, I find myself watching all four episodes in a row. Very few animé series nowadays evoke the same reaction.
Another solid 16:9 anamophic transfer with good contrast, colour and black levels. Fans will have no complaints with the image as presented here.
The English and Japanese 5.1 tracks are both clear enough, but the English dub is slightly clearer and more effectively mixed. The LFE channel is well used without being overdone.
Once again, Chris Bevins returns for an audio commentary. This volume's chosen episode is #20, Dueling Angels. Bevins has Monica Rial (Jo) and Colleen Clinkenbeard (new character Maria) in tow for this one, quite relevant seeing as that episode introduces both characters to each other for the first time. If you've listened to any of the previous commentaries, you'll know what to expect – bad jokes, ribbing, and the occasional insight into the production.
There's another radio drama, starring the Japanese voice cast; as with the commentary, it's the same deal as with previous volumes. Something that hasn't yet been seen are interviews – one with the Japanese cast, another with the series' character designer Ugetsu Hakua, and a third with Kaneko Tomoaki, the CGI artist. Also trailers for Tenjho Tenge and Gantz.