In 17th century New England, Roger Chillingworth arrives in the town of Salem just in time to witness a woman named Hester Prynne being hauled before an open court and pressed to name the father of the baby she has born out of wedlock. For the umpteenth year running she refuses. When the town pastor falls into a faint at the trial, Chillingworth, who is a doctor by trade, attends to his well-being and is is welcomed into the community. He appears particularly interested in Hester and her fate, which is not surprising, given that he is her long lost husband, a fact that both he and she agree to keep secret from the townspeople. But just who was the father of Hester's child? Chillingworth clearly has his suspicions.
For all but the most well-viewed Wim Wenders fans, The Scarlet Letter will come as a considerable surprise and for most will feel like an odd one out in the director's oeuvre. Based on Nathaniel Hawthorne's novel of forbidden passions and adultery in 17th century Salem, this seems a strange choice of project for a director more at home in a modern urban environment and was neither the first nor most recent adaptation of the story. Indeed, I've so far counted eight other film and TV adaptations, including an Emmy award-sinning TV mini-series, and Roland Joffé's 1995 feature starring Robert Duvall, Gary Oldman and Demi Moore.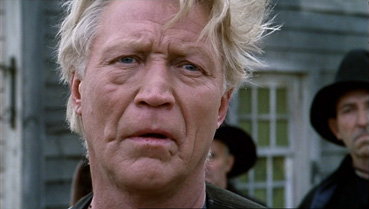 The tale's underlying themes of prejudice, intolerance and hypocrisy have certainly remained relevant and have recurred repeatedly throughout modern history. Religiously-driven intolerance remains an issue to this day, and I have no doubt that parallels could be drawn between the red letter 'A' that Hester is forced to wear and the Star that was sewn onto the clothing of German Jews during the run up to WW2. But The Crucible this ain't, having neither the subtextual urgency nor the dramatic bite of Arthur Miller's classic theatre piece – it's Hester's pride and feelings that are at stake here, not her life or the souls of the community in which she lives. The identity of the father, meanwhile, is made obvious from the opening scenes, and Chillingworth's realisation of this feels later at odds with his angry surprise at having those suspicions confirmed.
It all ambles along in amiable but never compelling fashion, the too-casual narrative given a boost by some fine cinematography (the Portuguese coast stands in surprisingly well for a virginal New England) and an interesting cast of European faces, with Hans Christian Blech in particular nicely underplaying the role of returning husband Roger Chillingworth. The music score, later to prove a Wenders strong point, is sometimes heavy-handed here, and tends to overplay the melodrama.
Wenders himself remains less than happy with the project, and on the commentary track of The American Friend cites it as a contributory factor in his decision to almost abandon filmmaking and return to painting and film criticism. Certainly, this is not the film I would use to convince newcomers of the specific virtues of this particular filmmaker. The US release includes a Wenders commentary, which I'd be genuinely interested to hear.
A very decent anamorphic 1.77:1 transfer that scores on contrast, detail and colour, with prime colours standing out well without looking over-saturated. There are some minor compression artefacts in misty exteriors in the opening scenes – a common problem for digital encoding – but otherwise the picture holds up well.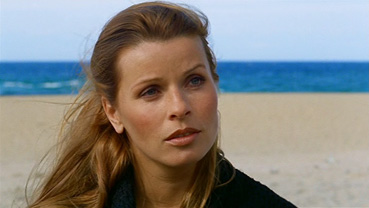 Dolby mono 2.0 and surround 5.1 tracks are available, but there is actually little difference between them, with the sound more centrally located on 5.1.
Nothing here. As mentioned above, the US disc included a Wenders commentary that I have no doubt would have been of interest, especially given his subsequent dissatisfaction with the project.
A Wim Wenders film in name only, this one stab at period drama convinced him that this was not the genre for him, and his lack of enthusiasm is sometimes very visible on screen. But it's a long way from a complete loss, and has both its moments and its supporters, and for anyone following the director's career is still worth at least one look.