| | |
| --- | --- |
| | Blonde is a work of fiction. While many of the characters portrayed here have some counterparts in the life and times of Marilyn Monroe, the characterizations and incidents presented are solely the products of the author's imagination. Accordingly, Blonde should be read solely as a work of fiction, not as a biography of Marilyn Monroe. |
| | Blonde, by Joyce Carol Oates, disclaimer on copyright page |
The novel then spends two pages on an author's note elaborating on this, including a list of the biographies and other works which Oates used for research. The "non-fiction novel" isn't new: Thomas Keneally won the Booker Prize in 1982 for Schindler's Ark, now better known under its US title Schindler's List due to the 1993 Steven Spielberg film, is another such: a novel in which as far as possible every incident actually happened and every character existed. Go back a decade and a half and you find, The Armies of the Night, Norman Mailer's account of the 1967 March on the Pentagon, in which Mailer took part, and in which he appears in his own novel in the third person. Mailer would make a speciality of the "non-fiction novel", with his epic-length book about Gary Gilmore, The Executioner's Song. Pertinent to this review, he also wrote, in 1973, a more conventional biography of Marilyn Monroe. The "non-fiction novel" was inspired by the "new journalism" of Tom Wolfe, Hunter S. Thompson and, earlier in the same decade, Truman Capote's In Cold Blood. Going back even further – that is, to a time when no one featured is still alive – I'm writing this a few days after the death of Hilary Mantel, whose most famous work is a trilogy about the life of Thomas Cromwell at the court of King Henry VIII, beginning with Wolf Hall. Although almost none of the characters are imaginary, and we don't – unlike in the twentieth-century examples – have sound recordings or visual records other than paintings and drawings of the people concerned, these novels use the tools of the novelist not to impart facts, but an interpretation of facts.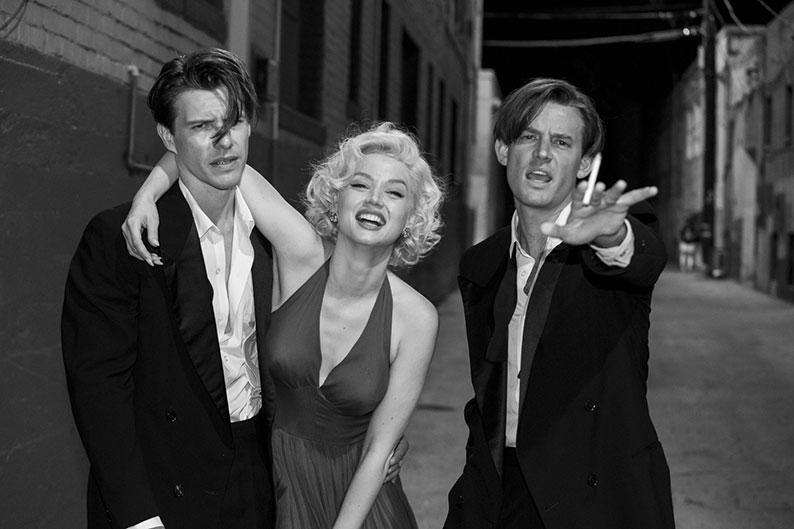 Joyce Carol Oates is a writer known for high productivity*, with many awards following in its wake. Not many writers with any kind of serious reputation (though she certainly has had her fair share of detractors) have published quite so much, nor so much of high quality without falling into the traps of repetition or self-parody, and she is still productive well into her ninth decade.  Looking at a bibliography of this size can be daunting – not can be, is, especially as quite a few of the novels are lengthy. Blonde, published in 2000, is the longest, running to 738 pages of smallish print in the 4th Estate hardback I have to hand, and at my estimate somewhere close to 300,000 words. Inevitably, with the fame and reputation comes the interest from the film, television and nowadays streaming industry, and with Andrew Dominik's film for Netflix, Blonde has become JCO's third novel to have been adapted twice.** The previous version was a two-part TV miniseries with a total length only a few minutes different to the present film, made in 2001. In that version, Poppy Alexander played Marilyn. The director was Joyce Chopra, who had previously made a notable film from perhaps Oates's most celebrated short story, Where Are You Going, Where Have You Been?, in 1985 as Smooth Talk, with a notable lead performance from Laura Dern.
Interestingly, the ending – as in the cause of Marilyn's untimely death – is different from novel to miniseries to film, with the miniseries letting a caption refer to "mysterious circumstances". Also, the miniseries, with  a 15 certificate from the BBFC, is far less graphic at what it can show of Marilyn's off-screen troubles – which include a casting-couch rape. Blonde is the first Netflix film to have been given a NC-17 rating in the US. This rating is rarely awarded, with almost everything else that's not family-friendly in Hollywood being given a R, equally unsuitable for children but you can still accompany them to see it. The NC-17, which replaced the previous X which had become associated with pornography, bars anyone under seventeen, with some cinema chains refusing to show such films and some magazines and newspapers to accept advertising for them. (The most recent big-budget NC-17 release from a major studio was Showgirls, back in 1995.) The NC-17 is mostly, at my guess, due to the late scene where Marilyn sexually services President Kennedy, while rockets and explosions go off on the television set behind them – subtle this is not. The rating has caused some to claim, incorrectly, that Blonde is the first Netflix film to be given an adults-only rating, which, outside the USA, is simply untrue. In the UK, it's far from the first Netflix film to have an 18 certificate. In some countries, the film is not even adults-only: for example, and astonishingly, Ireland, where it has a 16 certificate when an 18 exists.
While the miniseries is a conventionally-structured and made biopic, Andrew Dominik's film, for which he wrote the script, goes for full-on subjectivity, employing all sorts of devices, mainly moving between colour and black and white and switching aspect ratios frequently. For the most part it's 1.37:1, but in at least one shot it's narrower, and in some sequences (roughly speaking, around the time when Hollywood went widescreen), it uses 1.85:1 and sometimes 2.35:1. That said, the film is in more or less chronological order, beginning with the young Norma Jeane (an impressive performance by Lily Fisher), and an early career in modelling taking her into Hollywood. She forms part of a ménage-à-trois with two second-generation Hollywood royalty, Charles "Cass" Chaplin Jr (Xavier Samuel) and Edward G. Robinson Jr (Evan Williams), which ends with her pregnancy and abortion. We see her move from small bit parts to leading roles and major-league sex-symbolism. Even in two and three quarter hours, the film omits quite a bit, and the fact that this is a film based on a novel should alert you to the fact that some of it is factually dubious when not clearly intended fiction. The film is also guilty of overstatement. I've mentioned the Kennedy scene already, but the treatment of Marilyn's abortion and her later miscarriage when married to Arthur Miller (Adrien Brody), with a from-the-womb shot and a CGI foetus, speaking to Marilyn, taking this dangerously close to pro-life propaganda. As mentioned above, this is a long film, and with its emphasis on Marilyn's suffering rather than her (if brief) moments of happiness and her abilities as a singer and actress (though we see reproductions of certain famous moments) will wear many people down before the end. It's certainly true that Marilyn was more intelligent than many gave her credit for – she's mocked in an acting workshop for dropping the name of Dostoyevsky, and astonishes Miller by his interpretation of one of his plays. Ultimately, this is a father-daughter story and one without a happy resolution, from the occasional letters Marilyn receives from her father (or so it seems), and the fact that she addresses both of the husbands we see in the film as "Daddy". Somehow it's not quite enough for all the effort put in to make this film.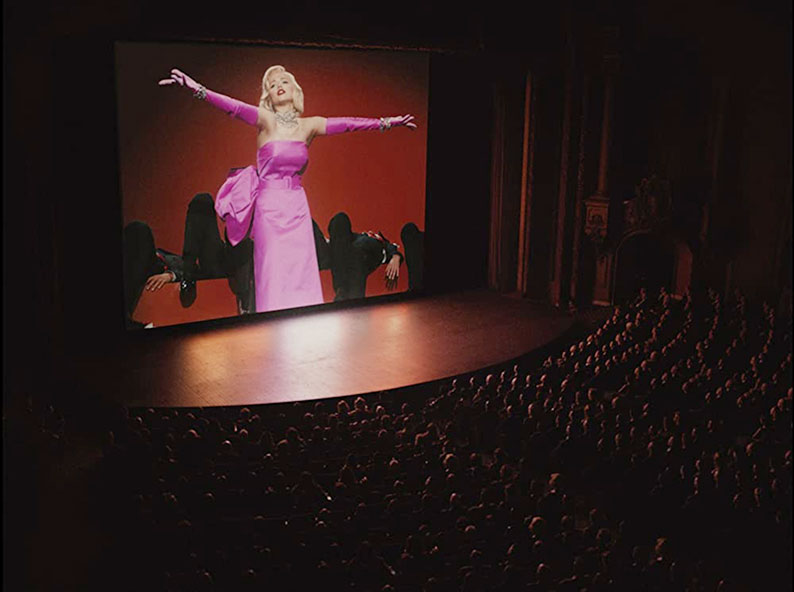 What isn't in doubt is the film's craft, with Dominik assisted by fine cinematography from Chayse Irvin and a music score by frequent Dominik collaborators Nick Cave and Warren Ellis. As "the Playwright", Adrien Brody is Arthur Miller to the life. Many of the other major roles, such as Marilyn's previous husband, "the Ex-Athlete" (Joe DiMaggio, played by Bobby Cannavale), aren't on screen enough to make a great impression. Incidentally, the device of naming these two characters by their occupations rather than their names derives from Oates, who has used it in other novels. Terry Johnson also used it in his play, and later Nicolas Roeg-directed film,  Insignificance, in which versions of Monroe and DiMaggio appear, along with Albert Einstein and Joe McCarthy.
However, this is Ana de Armas's film, and a likelier candidate for a Best Actress nomination at least I haven't seen this year. Naomi Watts was the original choice, but the film spent too long in development and she became too old for the role, which also happened to Jessica Chastain. De Armas isn't obvious casting, with traces of her native Cuban accent leaking through the high, breathy voice she adopts, and she's a good enough if not perfect likeness. Her commitment to a likely very draining role is obvious too.
So this is Blonde. Does it do justice to the story, and Oates's novel? Yes, with definite reservations, I think it does. Will many people hate it? Absolutely certainly. Unfortunately, Netflix seem to be moving away from financing risky projects like this, in the wake of a slump in their subscribers, and you'd have to wonder if this could be made in a few years from now.
---