As ever, we've already nudged our way into the new year before I get around to posting my usua lend-of-year piece. This year, it's partly down to my decision to actually spend my holiday season break from work breaking from work, and that included review and article writing. Since starting the site, it's rare that I get the chance to just leave it along and chill out, at least when I'm in the UK. But it's done now, and I should be back on the review wagon next week, hopefully also with some news of lvely upcoming disc releases fro our favourite labels. And so...
A PERSONAL REFLECTION ON 2021
---
Fuck me. Sorry to kick off with an expletive, but precisely 12 months ago when I was reflecting on what a catastrophic year 2020 had been, I could never have predicted that things were going to get even worse. A year on, the Covid-19 pandemic we hoped might be under control by now continues to rage, and after producing our own variant (now named Alpha – we were first!) by socialising freely when we should have been social distancing and wearing face masks, we went into lockdown, which for the safety of myself, my at-risk partner and my health-fragile sister I chose to observe to the letter. This resulted in my partner and I being separated from each other for almost 14 months, most of which I spent in complete isolation trying my damnedest not to start climbing the walls.
When the lockdown ended, shops, gyms and cinemas opened up and we were encouraged by those self-serving idiots in power to behave as if the virus had somehow magically vanished, I chose to ignore them, keeping my eye on the science instead and continuing to socially distance and wear a face mask in communal areas. I quickly discovered that I was in the minority, and you only had to listen to the scientists and medical professionals to see where this was inevitably heading. The decision by western drug companies not to share details of the vaccines with developing nations and the refusal by so many to observe simple safety precautions eventually gave rise to the Gamma and Delta variants in 2020, and the even more infectious Omicron in 2021. Just a few days ago, I read that a new variant has since been discovered in France (its current classification is B.1.640.2), about which we know precious little at present. The way things are going, the variants will just keep coming until we get the one that laughs at the vaccines and starts wiping out everyone it encounters.
As our increasingly unpopular buffoon of a prime minister bowed to the swivel-eyed loons on the extreme right of his party and refused to take preventative action, or even to impose a few sensible precautions, Omicron landed in the UK and quickly ran riot, and as the year came to an end and the new one began, Covid infections in Britain soared. And it all could have been avoided. Consider this. On a day when Britain was reported to have had a staggering 218,724 new Covid cases, World Health Organisation figures confirmed that Japan – which effectively closed its borders as soon as Omicron was identified and where just about everyone wears a face mask whenever they leave the house – had just 362, and that's in a country with almost twice the population of the UK. Just have a look at the difference between those two numbers and quietly weep. By 16 December, the UK had the highest number of Omicron cases in the world at 2,957, three times as many as South Africa, the next in line. Japan by this point had just seven cases.
I won't pretend that all of this and more hasn't slowly worn me down over the past year because it definitely has. My health issues have continued and now include a hernia that has substantially increased in size over the past few months, but with hospitals once again bristling with Covid patients and afflicted by sometimes staff absences and a substantial backlog, the operation needed to correct it is likely still many months away. I will admit that getting back into my workplace was a definite positive, though only because I have my own small office and am able to keep others at a safe distance as a result. Just to be in a different location during the day is a tonic, and now that energy prices are soaring and my wages are still frozen (12 years and counting now), I've started staying late each day to work on reviews on my office computer to save on rising heating and electricity bills that so many of us can now ill afford. I'm not underestimating the level of luxury that my office represents. I can work in isolation, am able to keep my own hours, and if offers a welcome barrier in a college in which students behave as if the virus is a figment of everyone's imagination. Despite that, our establishment has been lucky and had very few infections. A friend who works at a local school tells a very different story, with something like a third of the staff and students off with Covid in the latter part of last term.
Where the overall impact of the past couple of years is most keenly felt is in my review work for the site, which has slowed up for the simple reason that I'm finding it increasingly hard to just sit and write at the rate that I used to. More and more I find myself getting tired or distracted, and seemingly every sentence I write has to be immediately reviewed for all the typos I've made with fingers that increasingly seem uninterested in the signals being sent to them by my addled brain. I realise I'm getting old, and that's probably a contributor, but there are too many times this year when I just looked at the computer keyboard and sighed, then ended up plonked in front of my Blu-ray player or my PlayStation 4 for a couple of hours instead. I once again entertained thoughts of shutting the site down and spending the time I'd save watching movies and playing games, but know that sooner or later I'd be itching to share my thoughts about a film or a disc and deeply regret the move. What sealed the deal was the arrival of Gary Couzens, a talented writer with even more reviews under his belt than me who joined the small team at Outsider in May of last year and has reviewed just about every disc that has been released by the BFI since he came on board.
I also realised as the year came to an end that my lack of focus and drive, coupled with the restrictions that Covid has created, has resulted in me seeing far fewer films than I would have normally. My overcautious nature is likely to keep me out of cinemas for a good while yet, and too often when new films are made available to stream they come at a price that I struggle to justify, given the tight budget on which I now have to live. I still buy the odd disc, but tend to save up and wait until the sales, and I have occasionally splashed out to stream the odd movie when the price is right – I've had a few unexpected and substantial discounts on this score, probably a matter of fortunate timing. When it comes to review discs, little has changed, and we do tend to favour title from labels that send us discs without us asking them to do so. In normal times, I'd be requesting the odd title from the likes of Arrow, Second Sight or StudioCanal, but I currently struggle to cover all the discs that we do get sent, and as a result a few prominent titles from our favourite distributors have slipped through the review gap. Now there's an opportunity for a New Year's resolution…
With that out of the way, below is my very personal pick of films and discs for 2021. As regulars will know, I care little about numerical tidiness so refuse to be constrained by round numbers, which is why the lists consist of 16 films and 17 disc releases (well, technically 19, but three have been lumped together for reasons that will become clear). As ever, all of the titles listed below are personal favourites from the past twelve months, picked from the limited number of films and discs that I've managed to catch up with. There's nothing definitive about either list, and I am painfully aware that most of the London Film Festival titles that appear on the film list will either not be released until later this year or have yet to find a UK distributor at all. I've even cheated with the first film, which was released for streaming in 2020 but which I only caught up with in 2021, but it just felt like the perfect pandemic isolation movie at the time. Enjoy, and feel free to disagree with every one of my picks and all of the associated comments. Oh yes, and for those twisted few who enjoy my annual political rant, I've followed last year's model and stuck it at the end to make it easy for the unsympathetic to avoid completely if they so choose.
THE FILMS [AND ONE SERIES]
---
As indicated above, I saw far too few films in 2021 and only really started catching most of what I did see in the latter part of a year that I still would like to kick soundly in the goolies. So many of the titles that I wanted to see but was unable to for various reasons I will doubtless catch in the first months of this year instead. As a result, some of those may end up on next year's list instead, as while I do use release dates as a primary guiding factor in drawing up the list, if I saw a film for the first time last year, it qualifies for inclusion whenever the release date might have been or might yet be. A disproportionate number of films on the list were London Film Festival screenings, but it's during that festival that I saw the most films in the shortest space of time, as well as some of my favourites of this year.
Before I get to the list, here are a selection of the titles I really wanted to see but have not caught up with yet but intend to see in the next couple of months.
76 DAYS – Weixi Chen and Hao Wu's documentary chronicling the work of frontline staff during the initial outbreak of Covid-19. I have a feeling this will be essential viewing.

ATTICA– Traci Curry and Stanley Nelson's documentary study of the famed 1971 uprising at the Attica Correctional Facility and the continued need for reform.

AZOR – A political drama from director Andreas Fontana that tells the story of a banker whose partner has mysteriously disappeared in Argentina during a period of dictatorship.

BAD LUCK BANGING OR LOONY PORN – Radu Jude's brilliantly titled comedy-drama, in which a school teacher's life and career is turned upside down after sex tape involving her is leaked onto the internet.

DRIVE MY CAR – The widely championed latest from Japanese director Hamaguchi Ryūsuke, which I really should have seen at the LFF. More on this below.

FIRST COW – A critical favourite from Meek's Cutoff director Kelly Reichardt's, another film that screened at this year's LFF that I was unable to see.

JUDAS AND THE BLACK MESSIAH – I've really no excuse for not having caught Shaka King's widely praised drama yet, but plan to see it in the coming week.

LIMBO – Ben Sharrock's highly praised story of a Syrian refugee stuck on a remote Scottish island while his asylum request is considered is another film I should have caught at the LFF. There are only so many hours…

THE MAN WHO SOLD HIS SKIN – A Syrian refugee turns his body into an exhibitable work of ark in this drama from Kaouther Ben Hania. Seriously, doesn't the title alone make you want to see this one?

MINARI – I've heard nothing but good things about Lee Isaac Chung's film, which is focussed on a Korean family that starts a farm in 1980s Arkansa.

NEW ORDER – A socio-political allegory from Mexican director Michel Franco in which a society wedding descend into a violent class war.

PIG – A heavily bearded Nicolas Cage plays a truffle hunter searching for his kidnapped pig in Michael Sarnoski's drama, which is apparently way more nuanced than that synopsis probably makes it sound.

QUO VADIS, AIDA? – Jasmila Zbanic's story of a United Nations translator who is displaced by the arrival of the invading Serbian army is available on Netflix, so I have no excuses for not catching this yet.

THE REASON I JUMP – Jerry Rothwell's acclaimed film about non-speaking autistic people is another LFF film I was unable to catch but am keen to see.

SHIVA BABY – A college student runs into her sugar daddy at a Jewish funeral in Emma Seligman's critically praised drama.

THE SPARKS BROTHERS – Edgar Wright's documentary portrait to two of the most enigmatic pop stars from my youth.

SUMMER OF SOUL (...OR, WHEN THE REVOLUTION COULD NOT BE TELEVISED) – I've read nothing but enthusiastic praise for Questlove's documentary on the 1969 Harlem Cultural Festival.

TITANE – The highly anticipated (at least by me) latest from Raw director Julia Ducournau is absolutely at the top of my want-to-see list.

THE VELVET UNDERGROUND – Todd Haynes makes a documentary about one of my favourite bands. How could I not want to see this?

THE WORST PERSON IN THE WORLD – The latest from Danish director Joachim Trier – whose first feature Reprise I reviewed back in 2008 – chronicles four years in the life of a woman who goes from one bad decision to another. Has received some very positive reviews.
Right, that's a sampling of what I've not see yet, so it's finally time to get onto the ones I did catch and that made an impression.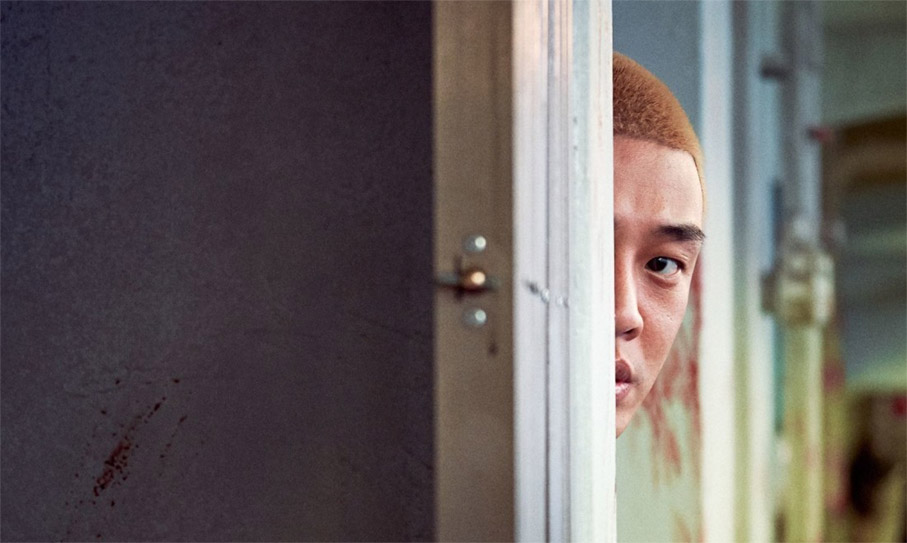 #ALIVE
I care not that this is technically a 2020 streaming release, I first encountered it this year, and it's hard to imagine a timelier metaphor for the Covid lockdown that the country was still experiencing when I first came across it. When an infection that transforms its victims into zombies spreads rapidly throughout a South Korean city, 20-something Oh Joon-woo (Burning's Yoo Ah-in) becomes trapped inside his tower block apartment. It's a simple premise that first time feature writer-director Il Cho works small wonders with, making the most of Joon-woo's attempts to solve the problems created by his enforced isolation before revealing that he may not be the only survivor in this besieged apartment complex. Seemingly every time I think there are no new ideas to be wrung from the zombie subgenre, a film comes along and proves me wrong. A thoughtful, involving, well-made and intermittently nail-chewing work that's proved to be as smart as it was timely.

ALL THESE SONS
One of the highlights of the films I did manage to catch at this year's London Film Festival, this documentary by Joshua Altman and Bing Liu follows two Chicago community groups – one run by pastor Marshall Hatch Jr. and another by former street gang member Billy Moore – over the course of a single year in their efforts to turn around young black lives that might otherwise be destroyed by – or indeed lost to – gang-related gun crime. For someone who lives in a society where even replica guns are banned, the early statistics quoted here alone proved eye-opening and sobering, and early in the programme it seems that both Moore and Hatch have a task and a half of their hands. Yet the commitment of both men and their refusal to give up on even those few who initially come across lost causes ultimately pays dividends that I had not seen coming, while by staying with both groups and gaining the trust of those within them, Altman and Liu get close enough to their subjects for us to become invested in their fates. And these journeys are far from smooth ones, with one recruit slipping back into drug addiction and another initially uncooperative young man drawing inspiration from the teachings only after he is gunned down by a rival gang. Compelling, revealing and ultimately uplifting, it has yet to secure a UK release date, but keep an eye out for it when it does.

BABI YAR. CONTEXT
Quite possibly the best film I saw at this year's London Film Festival, this extraordinary documentary from Russian director Sergey Loznitsa chronicles the massacre of 30,000 Jews in a ravine outside the German occupied city of Kiev in September 1941, exploring in considerable detail the build-up to and aftermath of this heinous war crime. Constructed entirely from restored archive footage shot by army units, newsreel crews and amateurs, it has no narration and a sparing use of captions, the exception being the extraordinary poem, Ukraine Without Jews by Vasily Grossman, which is reproduced in its entirety at a point when its words have the most impact. Equally important is an understated and naturalistic soundtrack that feels as if it was recorded on location, which together with the observational footage creates the sense that we are not so much watching a film record as bearing witness to the unfolding horror. The overall effect is genuinely devastating.
London Film Festival review >>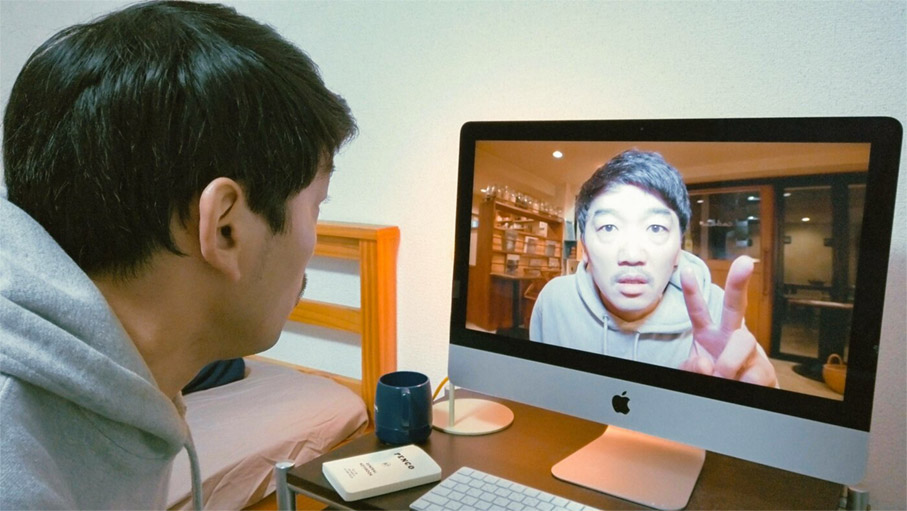 BEYOND THE INFINITE TWO MINUTES [DROSTE NO HATE DE BOKURA]
Two years ago, my pick of the year included One Cut of the Dead, an ingenious, micro-budget Japanese horror gem from first-time feature director Ueda Shin'ichirō, made in collaboration with Tokyo's Enbu Seminar drama school. In 2021, it's the turn of Beyond the Infinite Two Minutes, the feature debut from director, cinematographer and editor Yamaguchi Junta, an ingenious, micro-budget, time-travel gem born of Junta's work with the Kyoto-based Europe-Kikaku theatre company. The film's premise is intriguingly simple. Café owner Kato (Tosa Kazunari) discovers that the computer in his upstairs apartment provides a two-minute window into the future via a webcam in the café below. It's a straightforward concept that plays out in real time and ostensibly as a single shot (the joins between the segments can be spotted if you look, but the illusion is still effective) and that quickly complicates, as Kato and his friends dart between the two computers to deliver messages to their past selves that they as recipients then have to act on and repeat to the downstairs monitor to pass on to the next in the timeline. Shot entirely on an iPhone and with the aid of Apple TVs, it's a small miracle of planning and organisation, a joy to watch unfold, and at a tight 70 minutes in length, it never labours or exhausts the intriguing concept around which it is built.

BROTHER'S KEEPER [OKUL TIRASI]
Another compelling work from this year's London Film Festival that's crying out for a UK release that it has frustratingly yet to secure, this third feature from director and co-writer Ferit Karahan had my attention from its opening shot and never loosened its grip. Set in a strictly authoritarian boarding school in the wintry snowscape of the Anatolian mountains, the film revolves around 12-year-old Yusuf (Samet Yildiz), whose concern for the failing health of his good friend Memo (Nurullah Alaca) is initially dismissed by the school's intolerant and bullying staff. With no improvement in Memo's condition and transport in and out of the school prevented by heavy snowfall, the suddenly concerned staff members start pointing accusatory fingers at each other in a search for the cause of the boy's malaise. Shot in a handheld documentary style and boasting a string of naturalistic performances (Yildiz is particularly impressive in the lead), it's a downbeat work with moments of unexpected but nicely timed humour that builds to an emotional kicker of a final reveal.
London Film Festival review >>

DON'T LOOK UP
The latest feature from Adam McKay of The Big Short and Vice is a gleefully inventive and all-too-relevant tale of the problems faced by astrophysics professor Dr. Randall Mindy (Leonardo DiCaprio) and his grad student Kate Dibiasky (Jennifer Lawrence) as they try to convince self-absorbed and shallow US President Orlean (Meryl Streep) and a distracted public that a huge comet is on a life-destroying collision course with Earth. A spot-on satire on both governmental responses to the threat represented by the climate crisis and the initial reaction of certain world leaders to early warnings about the current pandemic, it's a sublimely cast work, with the hair and wardrobe department working wonders to make DiCaprio look as humdrum as possible (his casting also makes his later elevation to social media science poster boy easy to swallow), while the 30-year-old Lawrence convinces completely as spiky grad student Kate, who ultimately proves to be the true point of audience identification. Possibly the funniest performances come from Jonah Hill as Orlean's contemptuously jolly son and aide, Jason (Hill claimed that he played him as a human embodiment of the Fyre Festival), and Mark Rylance as billionaire entrepreneur Peter Isherwell, a spaced-out, helium-voiced stand-in for Elon Musk. There's even an enjoyable late film supporting role for the almost ubiquitous Timothée Chalamet as a skateboarder with a religious background who hooks up with Kate after she's been effectively silenced by the FBI. The satire is sometimes enjoyably on the nose – the comet deniers who realise too late that they've been duped is a peach – but the film is so busy with ideas and so briskly paced that it all just works – I caught it at a time when I really needed cheering up, and despite its apocalyptic trajectory, Don't Look Up proved to be the perfect medicine. Only later did I learn to my considerable amusement that the film has been pissing off right-wing climate crisis deniers, and that none other than Professor Brian Cox made a video praising the accuracy of the film's comet science.
Brian Cox breaks down the science behind Don't Look Up (includes spoilers) >>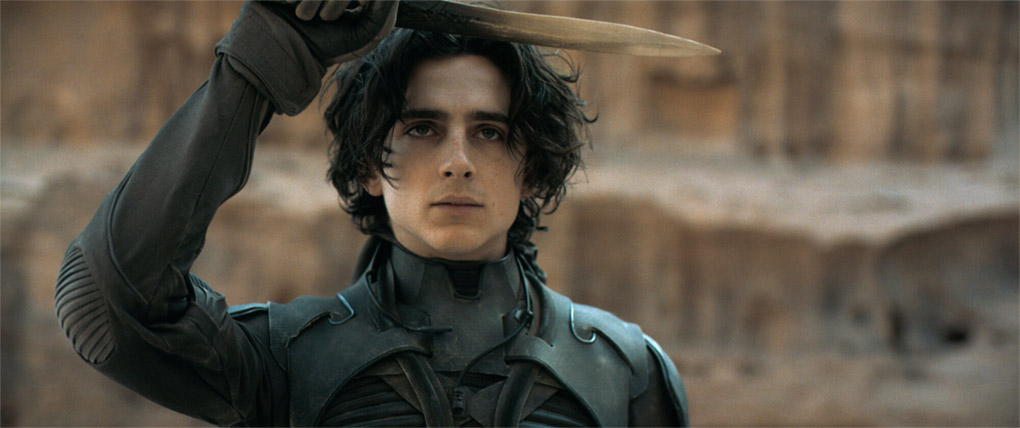 DUNE
When this third stab at adapting Frank Herbert's science fiction epic for the screen was announced (I'm including the never completed but fascinating-looking Alejandro Jodorowski project), I was in two minds. I never really got into the books, and flawed though it may be, I have a real affection for the 1984 David Lynch adaptation. Working against this new take was that it felt part of the current trend for remaking works from not so long ago and giving them a more serious tone, which often strips them of what made them entertaining in the first place. Working for it, however, was the news that it was to be directed by Denis Villeneuve, a genuine visionary who can't seem to put a cinematic foot wrong. Counterbalancing that was the news that this would only be part one of an adaptation whose second part had not yet been greenlit, reviving memories of The Empire Strikes Back, which ended midway through a story that we then had to wait three bloody years to see concluded. So I was in no hurry. When I did see it, I was blown away. Sure, tonally it shares DNA with Villeneuve's Blade Runner 2049, but it's still a visually and aurally stunning work, and as a friend of mine cannily observed, it does a masterful job in clarifying every aspect of a famously convoluted story. I'll be even happier when I can watch Part 2 immediately after re-watching this majestic opener, but it was still one of the most satisfying viewing experiences of my year. I've since learned that Villeneuve is also slated to direct an adaptation of Arthur C. Clarke's Rendezvous with Rama. Now that I'd like to see.

FLEE
Yet another London Film Festival entry that deserves – indeed demands – a full UK release, Jonas Poher Rasmussen's beautifully handled, moving and timely documentary has already won a slew of awards at a wide range of international festivals, so surely it's only a matter of time before it gets more widely seen here. It tells the story of gay Afghan refugee Aminwho fled his homeland with his family when he was a child following the rise of the Taliban, and who, after many perilous years, now lives in Denmark with his fiancée. The story is told in Amin's own words and plays out on screen in animated form, an approach that recalls Ari Folman's Waltz with Bashir, and that proves to be crucial to visualising a story whose protagonist still has to hide his true identity. It's a genuinely remarkable and tenderly realised work that brings home just how difficult it is to abandon all you know and make such a sometimes traumatic and life-threatening journey with no guarantees of a positive outcome. One for UK distributors Peccadillo or Dogwoof, perhaps?
London Film Festival review >>

MOTHERS OF THE REVOLUTION
Finally, a London Film Festival title that secured a UK release in 2021, albeit via internet streaming rather than cinemas, but that's fine by me as long as it's out there. Directed by Briar March, Mothers of the Revolution is a slickly made, thrillingly paced and cheerfully partisan recounting of the formation and activism of the Women's Peace Camp protests against the deployment of cruise missiles at the US military base at Greenham Common in the 1980s, built around interviews with three of the protestors and illustrated with archive footage and well-handled dramatic reconstructions. I'll admit I have a personal connection to the subject matter here, as the Women's Camp was central to the anti-nuclear protest movement that I and most of my friends were actively involved in during the 1980s, and my girlfriend at the time made several trips to the camp to attend specific protests. An important historical document and an ultimately uplifting hymn to the dedication and commitment of the protestors, it's also one of the timeliest films on this list – as our increasingly authoritarian government makes moves to outlaw all public protests, we're here reminded that these protests were cited by former Russian president Mikhail Gorbachev as a key inspiration for his decision to effectively dissolve the Soviet Union, a move that saw the reunification of East and West Germany and ultimately brought about the end of the Cold War.
London Film Festival review >>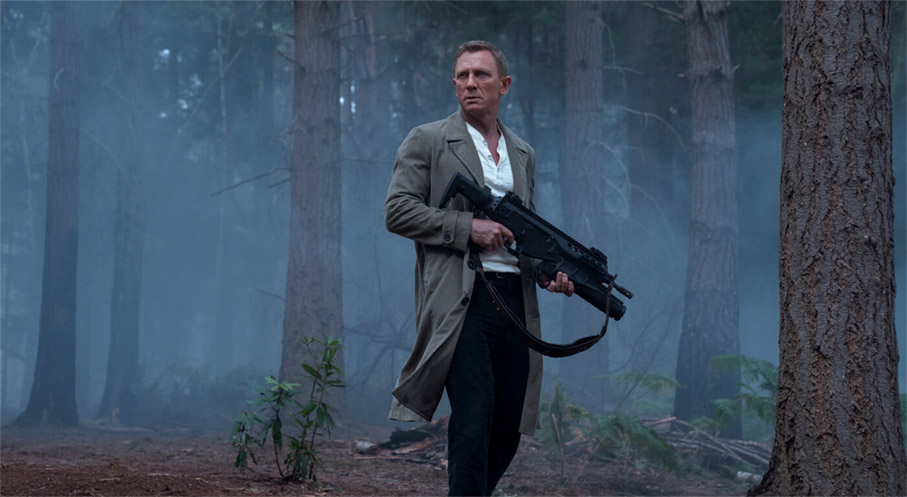 NO TIME TO DIE
Daniel Craig's swansong as James Bond proved a fascinating conclusion to the story that began in Casino Royale and was developed over the course of the films that followed. Both a Bond movie in the traditional sense – the actions scenes are top-notch – and a musing on what might happen if a top government agent with a licence to kill put his morally dubious talents use in the service of personal vengeance. It also asks what might happen if a man with Bond's history of state-sanctioned murder reaches a point when he wants to put this past violence behind him, then questions whether that is even possible for the tortured Bond that Craig has shaped the character into. It's not without its issues – Remi Malek's supervillain is probably the dullest of the Craig era, and why after all these years are we still associating facial disfigurement with evil villainy? – and I could happily have watched a whole film built around of Bond's too-brief partnership with Ana de Armas's wonderful CIA agent Poloma. And while it's not hard to pick a few logic holes in the much-discussed finale, it made perfect sense as sign-off for the Daniel Craig Bond cycle, which began with his birth as an agent and concludes here with, well, you should all know by now, but I'll avoid stating it outright in case you've not seen it yet. By closing the circle of this particular Bond story, No Time to Die leaves the way open for future films to reshape the character and the series however its makers choose. Personally, I'll be intrigued to see what they come up with.
As a related aside, I was also greatly amused by the reaction to the film of those whiney white males who like to gripe that anything in which a person of colour or (especially) a woman figures prominently, or in which a male character shows some real-world sensitivity, is somehow ruined because it's 'woke'. Fuck me, am I sick of seeing that word wielded as an emasculated moan against equality and fairness, often by people who spent years complaining about things being 'politically correct'. I may not always agree with critic Mark Kermode, but when watching him respond to viewer comments on No Time to Die on the Simon Mayo show, I genuinely applauded his glorious dismissal of one comment complaining about the film's "endless wokeness and feminism." After laughingly cutting the comment short, he curtly dismissed the validity of 'woke' as a criticism and described it as "an utterly meaningless word, used by nitwits." Sir, I salute you.

PALM SPRINGS
On the surface, Palm Springs should not have appealed to me. The 'trapped in a time loop' storyline continues to be owned by the 1993 Groundhog Day, and every subsequent spin on the notion tends to be negatively compared to that movie. Add to this, Palm Springs is at its core a romantic comedy, a subgenre I tend to avoid like the plague. But it kept cropping up on film-of-the-year lists, and when I was at a loss one evening and it was on my Netflix recommendations, I opted to give it a try. To my surprise and joy, I thought it was terrific. The fiction feature debut from director Max Barbakow and screenwriter Andy Siara, this take on the story has Myles (Andy Samberg) and Sarah (Cristin Milioti) trapped in the same recurring day, that of Sarah's far more popular sister's wedding. The key difference here is that when the film begins, Myles has been already been reliving this day for some considerable time, while Sarah is drawn into it by chance after following Myles as he is stalked by Roy (the ever-wonderful J.K. Simmons), another victim of the phenomenon who holds a furious grudge for reasons that later become clear. Wittily scripted and inventively developed (that Myles has been endlessly reliving the same day is first signalled by a dance that anticipates the moves of everyone he encounters), its breezily paced and the performances of the three leads are a constant delight. Even the more the expected romantic comedy clichés are given an amusing twist, as when Sarah gives Myles a single sentence to make his climactic case for their reunification, and he has to get creative with the punctuation to fit everything in. Oh, and if you (as I did) get a little irked that one particular plot thread is left hanging as the film concludes, stick with the closing credits to see it cheerfully resolved after all.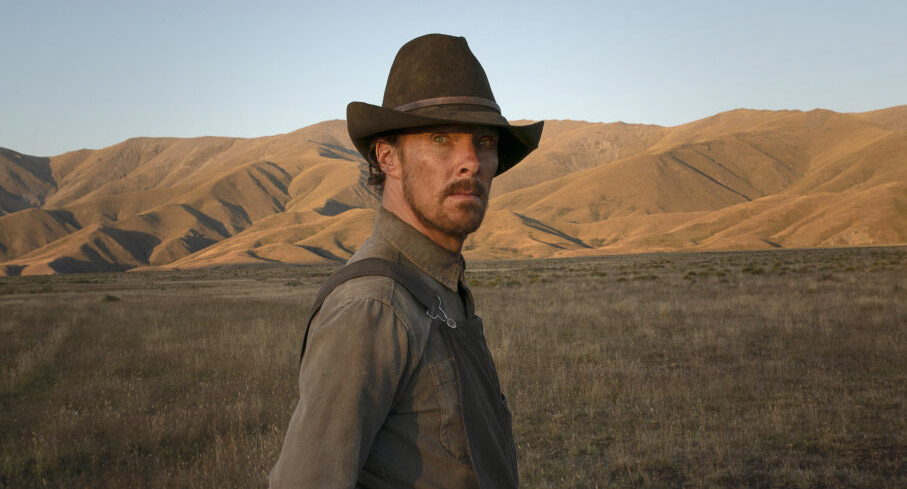 THE POWER OF THE DOG
I have to admit to having developed a soft spot for those modern westerns that don't play to genre tradition. Think Jim Jarmusch's Dead Man, John Hillcoat's The Proposition, Kelly Reichardt's Meek's Cutoff or John Maclean's Slow West. Joining these titles in 2021 was The Power of the Dog, adapted from the novel by Thomas Savage and the first feature from Sweetie and The Piano director Jane Campion in 12 years. Set primarily on and around a ranch run by the tough and acerbic Phil Burbank (Benedict Cumberbatch) and his quieter and more refined brother George (Jesse Plemons) in the mid 1920s, it explores how their relationship is impacted when George brings home his new wife Rose (Kirsten Dunst) and her sensitive son Peter (Kodi Smit-McPhee). Phil is hostile to both newcomers from the start and misses no opportunity to offend them, but after watching Peter mocked for his effeminacy by other ranchers one day, he unexpectedly takes the boy under his wing with the aim of passing on what he has learned about his way of life. Benedict Cumberbatch is another actor who seems to be in every other film at the moment, and as the charismatic but supremely unpleasant Phil he initially seems like odd casting. But Campion clearly knew just what she was doing, and so completely does the actor become immersed in the role, and so different does he look here to his more polished norm, that I genuinely forgot I was watching Cumberbatch and instead found myself twitching with nervous anticipation and what Phil was going to say or do next. It's a downbeat but compelling character study, and start deconstructing the true nature of Phil's relationships with George, Rose and (especially) Peter and you'll have enough material for a sizeable essay.

7 PRISONERS [7 PRISIONEIROS]
At no point this year did I become more wound up than whilst watching Brazilian-American director Alexandre Moratto's punishing but essential second feature, 7 Prisoners. It begins with 18-year-old Mateus (Christian Malheiros, from Moratto's first feature, Socrates) sharing a goodbye meal with his poor rural family before being driven to São Paulo for a new job arranged by friendly recruiter Gilson (Maurício de Barros). His aim is to make enough money to enable his ageing mother to retire, but reality proves to be very different from his dreams, and he and three other equally unprepared recruits soon find themselves working as unpaid prisoners at a junk yard run by amoral gang boss Luca (Rodrigo Santoro). Moratto's background in documentary shorts is evident from an early stage here, and it's this sense of realism, coupled with the knowledge that we're watching what is clearly based on well-researched true stories and an awareness that by the halfway mark we're still three prisoners short of that title total, that makes 7 Prisoners such a harrowing but consistently riveting watch. Adding to the wind-up factor is the journey Mateus later takes, when what may start as a plan to bargain for better treatment increasingly distances him from his comrades and grimly explores how an essentially good person could be drawn into such a world that is devoid of all human decency.

SQUID GAME
I came to this Korean series after it had already become a talking point all over the world and had even become the subject of a Ryan George Pitch Meeting (which you should only watch if you know the series), seeking it out on the recommendation of friends and with only scant knowledge of the content. From what I had heard, I'd managed to form a picture in my head of how the series would play out, but just one episode in I knew I'd vastly underestimated the imagination and storytelling skills of writer-director Hwang Dong-hyuk. He builds the first few episodes (which have more than a hint of Stephen King's The Running Man about them) by focussing on a small but diverse collection of characters, all of whom have been offered the chance to escape their monetary woes by participating in a mysterious game with a huge cash prize. It's held at a secret offshore location and built around a variety of childhood games with very strict rules, and as the participants discover to their horror, any failure leads to instant execution. It's propelled forward by Hwang's inventive script and purposeful direction and a string of fine performances, while production designer Chae Kyung-Sun's eye-popping sets – the crisscrossing stairways to the game arena have the look of an M.C. Escher drawing recreated in the colours of a child's nursery – are worth watching the series for alone. Despite a Battle Royale-style premise that makes it unlikely things will work out well for all of the lead characters, I was still unready for the huge emotional gut-punch delivered by the sixth episode, Gganbu, which currently holds a 9.3 user rating on IMDb and reduced me to a blubbering wreck.

THE STORMS OF JEREMY THOMAS
A second work screened at the 2021 London Film Festival that has landed a UK release (a limited one, but still…), Mark Cousins' disarmingly intimate documentary portrait of celebrated producer Jeremy Thomas – whose CV is genuinely jaw-dropping – is built around a 1,000 mile car journey that Thomas takes each year to the Cannes Film Festival. Blending biographical information with conversation, interviews with actors Debra Winger and Tilda Swinton, and extracts from (and details of) key films in Thomas's long career, it's a fascinating work whose offbeat approach left me with the feeling that I'd accompanied the two men on their journey and hung out with them at Cannes on their arrival. It's a beguiling portrait of a key figure of the British film industry, one whose name deserves to be as widely recognised as the extraordinary range of esteemed directors he has worked with over the years. If film is your passion, this is a must.
London Film Festival review >>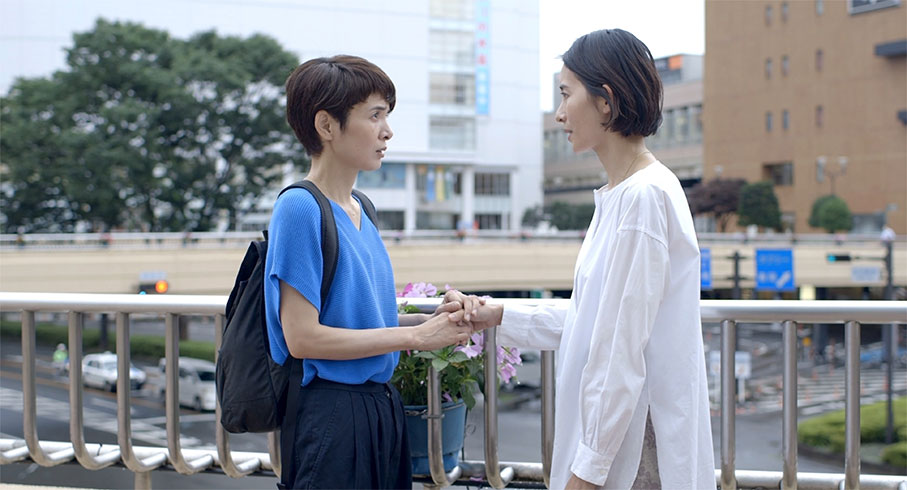 WHEEL OF FORTUNE AND FANTASY [GŪZEN TO SŌZŌ]
One of the most pleasant surprises at last year's London Film Festival was also at the root of one of my biggest regrets. As someone unfamiliar with the films of acclaimed Japanese director Hamaguchi Ryūsuke, I was presented with the rare chance to see his two most recent features, but limits imposed on my free time by my daytime job meant that I could only fit one of them into my viewing schedule. Due to my fascination with chance and coincidence, I chose Wheel of Fortune and Fantasy (the Japanese title translates more accurately to Coincidence and Imagination, but the English language title is close enough) over the director's three-hour Drive My Car and have been kicking myself ever since, as the latter has made found itself on or close to the top of so many 'Best of 2021' lists. Yet had I watched that instead, I would have missed what was absolutely one of my favourite films of the 2021 festival. Comprised of three stories in which chance plays a key role in ways that should not be read about in advance of a first viewing, it's one of those rare films that breaks the golden rule of 'show, don't tell' by unfolding almost exclusively as a series of conversations between no more than two people at a time. It nonetheless compels through its characters, its impeccable performances, and Hamaguchi's own smartly written and carefully layered dialogue. For some, this will be a hard sell, but for me it proved enthralling and enchanting cinema, a film focused exclusively on its characters and their relationships with each other, with others, and even with their own past selves. Happily, this one is set for a limited UK release in February.
London Film Festival review >>


HONOURABLE MENTIONS
A few titles that I also really liked that didn't quite make this list, and why:
CENSOR – There's only one reason Prano Bailey-Bond's ingenious and atmospheric horror work isn't on the above list, and that's that I've only seen it once and really need a second viewing to fully digest and process what I saw. I have a feeling that when I do, I'll want to amend the list above and add this to it.

THE GREEN KNIGHT – It's exactly the same story for David Lowery's haunting low-key retelling of the famed folk tale, Gawain and the Green Knight, which I've only seen once and need to see again to fully make my mind up about. It looks amazing, has moments of haunting brilliance, but I need that second look to make up my mind about whether its unhurried pacing enhances the atmosphere or merely pads out the plot. I strongly suspect the former.

NATURAL LIGHT – Another slowly paced and even more gloomily low-key drama, director Dénes Nagy's sobering wartime tale of an Axis-aligned Hungarian soldier's experience during WW2 is a captivating work once you adjust to its tempo, though its biggest shock can be seen coming from some distance away.
London Film Festival review >>

The Odd-Job Men – A winningly naturalistic and comedic faux-documentary from director Neus Ballús that revolves around three workers at a small plumbing and electrical contracting firm on the outskirts of Barcelona – the grouchy Valero, old hand Pep and Moroccan immigrant newcomer Moha. A gem of dry, low-key comedy that I have a feeling I will hold in even higher regard when I get to see it again. It has no UK distributor yet, however.
London Film Festival Review >>

The Real Charlie Chaplin – There may not be too many surprises in Peter Middleton and James Spinney's smartly assembled portrait of the famed comedian, but it still makes for a most enjoyable and comprehensive watch, and some of its archive footage is a treat. Happily, this one is being released in UK cinemas by Altitude on 18 February.

Undine – The captivating latest from Yella and Barbara director Christian Petzold tells the story of a museum historian whose life is impacted by an ancient myth after she is deserted by a man that she loves. I can say no more. This is another that I have a feeling will richly reward a second viewing, as then early pointers to an element of the story that I can't reveal here will be easier to spot.
More than ever before, last year I felt that I only sampled a small number of the lovely-looking Blu-ray and UHD discs that were released in the UK and that in an ideal world I'd have sat and watched and written about. That we tend to favour covering releases from Indicator, Eureka and (too infrequently) Second Run is down to the simple fact that they send review discs to us unsolicited, which by default moves those titles to the front of the queue, and even then we struggle to find the time cover all of the titles from each distributor. If I had more time and more money in my disc budget, I have little doubt that this list would be considerably longer, but for now, here are a few personal favourites from the past 12 months, and I make no apologies for including a couple of titles from previous favourite film lists, as the quality of their disc releases justify their inclusion here.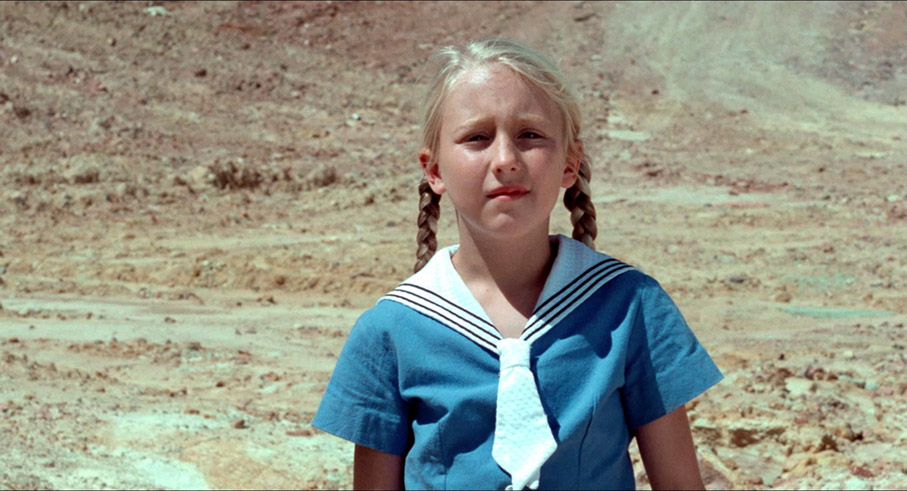 CELIA [Second Run Blu-ray]
Due to a combination of health issues, departing reviewers and unfortunate timing, we covered far too few of Second Run's releases this year. Seriously, if I could go back and start the year again, I'd cover them all (including the three-film Hungarian Masters set that's currently sitting on my desk and hopelessly overdue). Probably the most absurd victim of these outside pressures was the Blu-ray release of Maria Saakyan's The Lighthouse, as the DVD edition was covered for the site by L.K. Weston back in 2011, and it would just have been a matter of updating that review with the new special features and updated sound and vision specs (seriously, it's excellent and comes highly recommended). I was starting to get control of my free time again when I realised I'd already missed the release date of the Blu-ray of Ann Turner's 1989 Celia, but wanted to see it anyway, and after doing so just had to write about it for the site. An extraordinary debut feature that captures the traumas and adventures of the childhood in a way that chimed unsettlingly with some of my own experiences, then laces it with a subtle layer of psychological horror that chillingly underscores the visually sunny finale. I was new to the film and really blindsided by it, and the disc sports an excellent transfer and a terrific set of special features.

CINEMATIC VENGEANCE: 8 KUNG FU CLASSICS BY JOSEPH KUO [Eureka Blu-ray]
What more to say about this glorious collection of martial arts movies from Taiwanese genre specialist Joseph Kuo? I grew up on such films, but all eight of these were new to me, and while I wasn't a fan of one of them, I was impressed as hell by the remainder and some really do qualify for that title-suggested classic status. All eight films were wonderfully restored, and all were accompanied by excellent commentary tracks from knowledgeable and enthusiastic genre experts. And if you're wondering why Arrow's mouth-watering Shawscope Volume 1 isn't on this list, it's because we didn't seek review discs for that one and the cost of buying it is, at present, a little prohibitive. But I still dream…

COLUMBIA NOIR #3 / #4 / #5 [Indicator Blu-ray]
I could not have predicted when I put Indicator's first Columbia Noir box set on my 2020 list that I would see the release of three more such collections during the year that followed. What didn't come as a surprise is that all three were of a similarly high standard, which is why I've not been able to single one of them out and have instead elected to include all of them on this list. These really are superb box sets, and along with Indicator's collections of lesser-known Hammer titles and another, even larger box set detailed below, they are amongst the best and most comprehensive releases from a label that has yet to really put a foot wrong. Each set features six features produced at Columbia Studios that either go the full noir hog or are influenced by it, and each title has the sort of quality special features you'd expect to find on a stand-alone special edition on that film. For what they are, they are phenomenal value and should be considered essential purchases by anyone with a fondness for such cinema.
Columbia Noir #2 Blu-ray review >>
Columbia Noir #3 Blu-ray review >>
Columbia Noir #4 Blu-ray review >>
CRIMEWAVE [Indicator Blu-ray]
From the sublime to the ridiculous, perhaps, as this second feature from the team that brought us The Evil Dead ran into a whole series of problems and ended up being disowned by director Sam Raimi, who cites it as the worst moviemaking experience he has had. His first dealing with a studio was an unhappy one from an early stage, with the money men rejecting Bruce Campbell for the lead role, insisting on changes that altered the film's tone, then taking the editing out of Raimi's hands and demanding reshoots to add new opening and closing scenes. Seemingly dismayed with the finished result, the studio then elected to only open it briefly in Kansas and Alaska in order to qualify it for HBO screenings. The resulting film, which one IMDb reviewer described colourfully as "a wonderful mess," is a structurally ramshackle and spectacularly silly cross-genre work that is nonetheless brimming with inventive scenes, genuinely funny gags, fabulous production design, mad performances, and energetic camerawork, and as a result has developed an enthusiastic cult following. I discovered the film on VHS and fell in love with it for all of its faults, so was genuinely overjoyed when Indicator picked up the rights for a fully featured Blu-ray release. And what a release. Four versions of the film are included, plus a commentary by Michael Felsher and Bruce Campbell (who produced the film and has a riotously funny role as 'The Heel'), a second commentary by writer and disc producer James Flower, and… oh, there's tons more. If you're a fan of the film, this is a dream release.

THE FIFTH HORSEMAN IS FEAR [A PÁTÝ JEZDEC JE STRACH] [Second Run Blu-ray]
As is usually the way with Second Run releases, I was new to Zbyněk Brynych's dramatically and thematically riveting slice of Czech New Wave cinema from 1965, which was unquestionably one of the finest films I saw in 2021. Set in Second World War Prague under Nazi occupation, the story revolves around meek Jewish former doctor Armin Braun (Miroslav Machácek), who has escaped transportation to a concentration camp by working for the grimly titled Registration for Confiscated Goods. Although now banned from practicing medicine, when he is persuaded by a neighbour to use his former skills to assist an injured partisan, it starts him on a dangerous road to self-rediscovery. A masterpiece of subtextual suggestion and waste-free filmmaking, it's an impeccably directed and performed work whose every sublime shot and edit feels infused with secondary purpose. Its presentation on Second Run's Blu-ray is of a very high order, and is backed by an excellent collection of special features.

THE GREAT SILENCE [Eureka Blu-ray]
Sergio Corbucci's 1968 Italian western is one of the genuine greats of this distinctive subgenre, and is unique (I think) in being set entirely in and around a snowbound mountain town. French heartthrob Jean-Louis Trintignant stars as mute gunslinger Silencio, who has built a reputation for avenging the wrongs committed by bounty hunters. When he falls in with Pauline (Vonetta McGee), the widow of a recently killed outlaw, he finds himself pitted against ruthless by wily bounty hunter Tigrero (an excellent Klaus Kinski), and for the first time for many years, things do not go his way. It's a film I knew only by its reputation when this disc landed on my doormat and which I was blown away by, captivated by its filmmaking and lead performances but startled by its bleakness. It's also one of Eureka's best-featured single-disc releases of 2021, boasting three audio commentaries and a slew of other impressive extras. That said, I still wince a little now when I recall my review, as a combination of lateness of posting, real-world distractions, and a cloud synchronisation failure resulted in me posting the penultimate draft instead of the final one, which contained some howling errors that I was sharply pulled up on and had to quickly correct. Lessons learned, I would hope.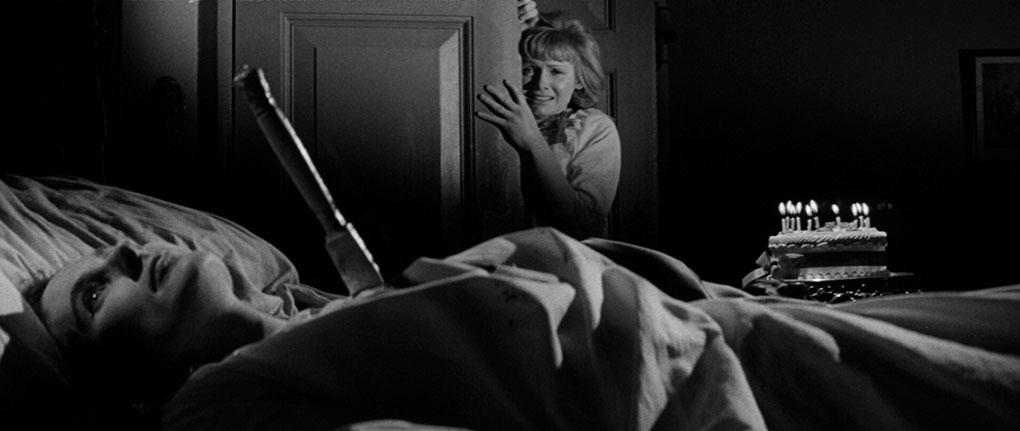 HAMMER VOLUME SIX: NIGHT SHADOWS [Indicator Blu-ray]
Was there really any doubt that this latest collection of lesser-seen titles from Britain's Hammer Studio was going to be on this list? This one includes gripping psychological thrillers The Shadow of the Cat (1961) and Nightmare (1964), horror-tinged pirate adventure Captain Clegg (1962), and a visually captivating and involving take on the classic The Phantom of the Opera (1962). All four titles have been impressively restored and are backed by a bevy of top-notch special features, including commentaries on each film, two in the case of The Phantom of the Opera. There's enough here to keep the average life-busy cineaste in viewing material for a week or two, and if you're a Hammer fan, this is another absolute no-brainer – it's getting to the point where these box sets are demanding their own shelf in my collection.

THE HOWLING [StudioCanal 4k UHD]
Joe Dante's witty, visually arresting and referential 1981 werewolf movie famously had the release date jump on John Landis's An American Werewolf in London and in doing so stole some of that film's transformation effects thunder. That's a little ironic when you consider that makeup effects master Rick Baker passed on The Howling to work on Landis's film and left the creation of the effects in the hands of his young assistant, a certain Rob Bottin. Of course, The Howling is so much more than a transformation effects showcase, sharing with American Werewolf a skill for lacing the horror with well-judged moments of character comedy, much of which can be attributed to screenwriters John Sayles (yep, that John Sayles) and Terence H. Winkless. Previously released on a fine Blu-ray, also by StudioCanal, this new UHD features a 4K restoration from the original negative, and it looks superb, boasting a fine level of detail and glorious colour that really showcases cinematographer John Hora's outstanding work. This was released both as a regular dual format set, with the film and some new special features on both 4K UHD and Blu-ray, and as a 3-disc Collector's Edition, which includes a poster, a booklet and postcards, as well as a disc containing most the special features from the previous Blu-ray release (it's still missing the commentary by original novel author Gary Brandner). As I have the earlier Blu-ray, I opted for the (cheaper) dual format edition. Either comes recommended.

IRREVERSIBLE [Indicator Blu-ray]
I was genuinely surprised when I heard that Indicator had bagged the rights to release Gasper Noé's notorious reverse-narrative rape-revenge drama on Blu-ray, and that it was getting the full Special Edition treatment. In some ways, it was one of the easiest reviews I had this year because I was merely updating one of the toughest DVD reviews I've ever had to write, and thus had already been through that particular literary ordeal. Initially, it was as hard a film to write about as it is to watch, but also one that I felt passionate about defending at the time of that original Tartan DVD release, and watching it again triggered the exact same responses in me as a viewer and reviewer. For all is controversy, it remains a brilliantly executed and acted example of extreme cinema at its most creative and purposeful. The Tartan DVD was good for its day, but the Indicator Blu-ray feels genuinely definitive, with something like five hours' worth of special features, the 'Straight Cut' of the film (which I'm not a fan of but whose inclusion I nonetheless salute) and an 80-page book crammed with essays and other related material. It's all handsomely presented in a solid cardboard slipcase, and one of my favourite single-film releases from Indicator in 2021.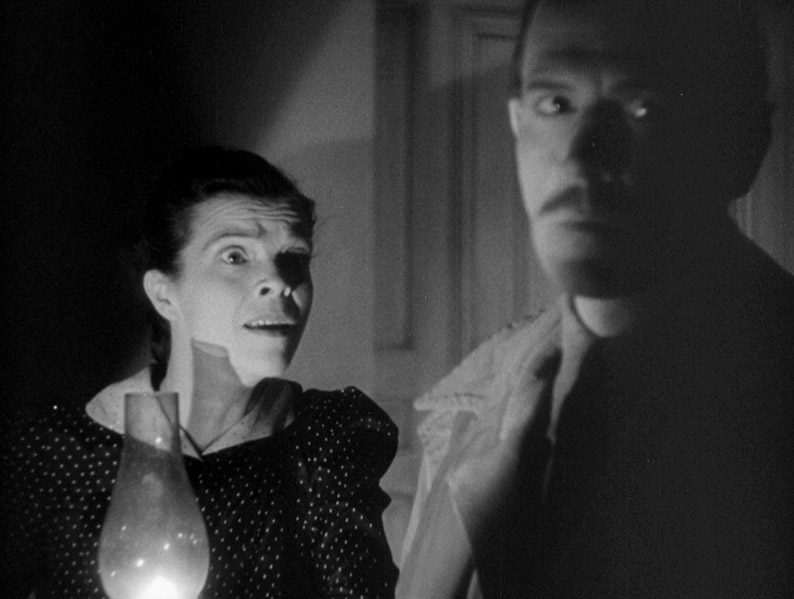 KARLOFF AT COLUMBIA [Eureka Blu-ray]
When it comes to themed box sets, Eureka really has been knocking out of the park of late. Take this glorious collection of films made at Columbia and starring horror legend Boris Karloff, which not only features all six of the films he made at the studio, but each title is supported by an entertaining and informative commentary track, and the set includes a selection of Karloff's appearances in horror-themed radio plays of the period, plus the usual excellent booklet. Despite being a fan of Karloff's work, I was new to all of the films in this set and enjoyed every one of them, while the commentary tracks – by genre experts Stephen Jones and Kim Newman on three of the films, and Kevin Lyons and Jonathan Rigby on the others – are an educational joy. A terrific set that can still be picked up at a very decent price. Mind you, when it comes to themed, multi-film box sets…

MAE WEST IN HOLLYWOOD 1932-1943 [Indicator Blu-ray]
Long before the fat jiffy bag (it might have been a box, I can't recall) containing the six discs in this set landed on my doormat, I knew this was going to swallow at least two weeks of my free time and probably more. I'm used to time-hogging Indicator box sets by now, but this set a new record for the label, containing as it did all ten films that Mae West made during the golden period of her film career, plus four commentary tracks, trailers, animated shorts, interviews, Super-8 versions, image galleries, a booklet, and most surprising of all, a feature-length made-for-TV biographical dramatization of West's life and career. It's an amazing set that wonderfully showcases the considerable talent and appeal of a woman who was able to call the shots in an industry dominated and controlled almost exclusively by men.

THE NIGHTINGALE [Second Sight Limited Edition Blu-ray]
Second Sight has been really upping its game in recent years, to the point where just about every announcement they make has film fans twittering with anticipation. I've yet to get my hands on the label's UHD of Jennifer Kent's The Babadook, but I snapped up the Limited Edition Blu-ray of her follow-up feature The Nightingale as soon as I had the necessary funds. Not an easy viewing experience by any means (a close friend of mine has yet to find the nerve to sit down and watch it), it's still a beautifully executed work featuring a searing central performance from Irish-Italian actor Aisling Franciosi. That said, when the violence comes, it's horrifyingly graphic and a genuinely tough watch, but always feels right for the story and never remotely gratuitous. The transfer is immaculate and the disc is loaded with special features, and is accompanied by postcards and a handsomely produced booklet that includes some production design artwork. I also like the fact that we're warned about any pandemic or source material-enforced drop in technical quality at the start of each affected extra.

ONE ARMED BOXER [Eureka Blu-ray]
It's a tad ironic that after being sent more review discs by Eureka than we can find time to cover, one of the few didn't receive was one I was itching to write about. So bad was this itch that I bought it on the day of its release and reviewed it anyway. Eureka has been doing a brilliant job of putting out well-featured Blu-ray editions of classic martial arts movies, but only a few of them have been from the period that saw me fall in love with the genre after repeatedly lying about my age to get into cinemas to see them. Jimmy Wang Yu's One Armed Boxer was just such a film, and despite not having seen it for decades and fearing that my memory was playing rose-tinted tricks on me, for the quality of its action sequences alone it still had me bouncing around the sofa with glee. A glorious restoration and transfer, a fact-crammed commentary by Asian film expert Frank Djeng, and a typically fine booklet made this a must for fans of first wave kung fu movies.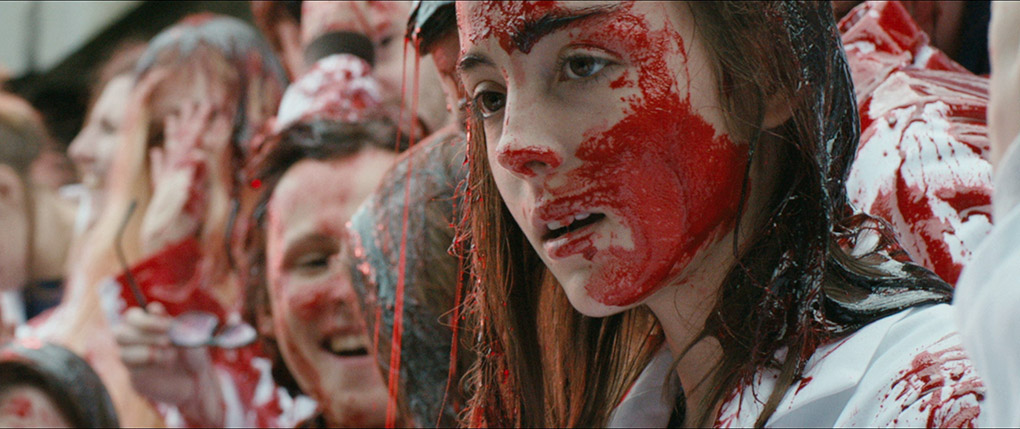 RAW [Second Sight Blu-ray]
The second film from a previous pick of the year that has also earned a place on this year's disc list, Julia Ducournau's extraordinary cannibal-horror debut feature Raw was first released on Blu-ray in 2017 by Universal as an HMV exclusive, but this was effectively a film-only release. I still bought it, but in April of 2021, the rights were acquired for a new Blu-ray edition by Second Sight. The resulting release was a very different beast, boasting a spanking new HD transfer, an improved 5.1 soundtrack, a commentary by director Julia Ducournau and critic Emma Westwood, a second commentary by writer Alexandra West that avoids duplicating the content of the first track, a slew of interviews, an hour-long discussion panel, a 42-minute long Q&A session, a handsome booklet, art cards, and more. A glorious disc.

LE SAMOURAÏ [Criterion Collection Blu-ray]
There have been plenty of worthy titles released by The Criterion Collection (in partnership with Sony Home Pictures Entertainment) in the UK this year, but I tend to buy Criterion discs when they go on sale, which usually restricts me to releases from previous years. When it came to Jean-Pierre Melville's 1967 neo-noir masterpiece, Le Samouraï, however, I had two copies on pre-order, one for myself and another as a Christmas present for my partner, who adores this film. The story of an emotionless hitman (played with iconic cool by Alain Delon), the detective determined to bring him in and an assassination that doesn't go completely to plan is a masterclass in minimalist filmmaking and was a huge influence on a range of future films and directors, from Walter Hill to the Coen Brothers and Nicolas Winding Refn. A lovely restoration and transfer is the key attraction here, but the included extras, though not of the usual Criterion quantity, are still of real interest. I'm just overjoyed to have a favourite film looking this good.


THE SEVENTH SEAL [DET SJUNDE INSEGLET] [BFI 4K UHD]
While there's a strong case to be made for putting the BFI's two Ingmar Bergman Blu-ray collections on this list, I've yet to free up the funds to purchase either, but by happy chance the BFI's first UHD release was also the first 4K disc that I was offered the chance to review. It's another favourite film that I took an offbeat approach to covering in an effort to avoid duplicating anything that Gary might write in his coverage of the full set, and as perhaps Bergman's most visually striking and iconic film, it seemed a perfect title for the BFI's first step into the UHD arena (its second, John Hillcoat's brutal and downbeat western, The Proposition, is an altogether more surprising choice). The transfer, as you might expect, is gorgeous, and the disc is only missing one of the special features found on the Blu-ray in the Bergman box set. I'll be excited to see what other UHD titles the BFI have lined up for 2022.
4K UHD review >>
Ingmar Berman Volume Two Blu-ray review >>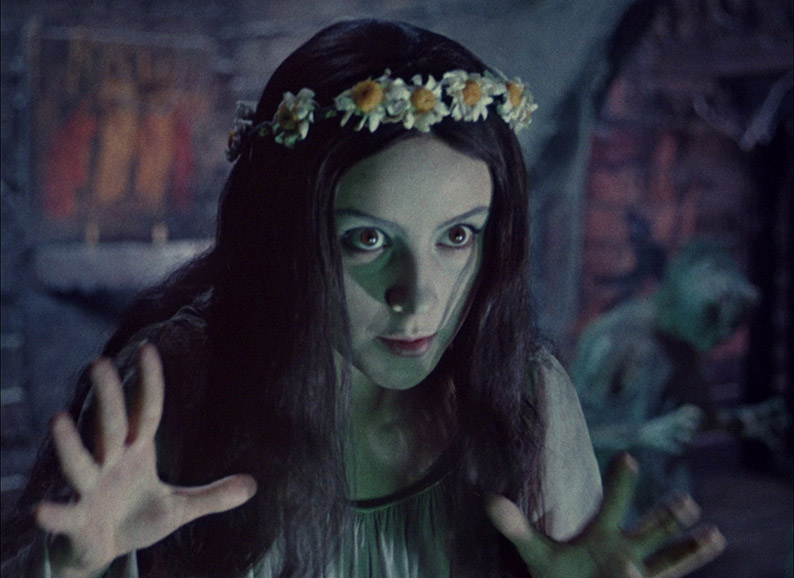 VIY [Eureka Blu-ray]
Konstantin Yershov and Georgiy Kropachyov's 1967 one-of-a-kind supernatural gem is a film whose title I became aware of many years ago but never got around to tracking down and seeing, at least until I popped Eureka's review disc into my player and sat down for what turned out to be 77 of the most imaginative and entertaining minutes of my year. The story revolves around seminary student Khoma Brut (Leonid Kuravlev), who while on summer break inadvertently kills an amorous old witch, who in death transforms into a beautiful young woman (Natalya Varley). It turns out she's the only daughter of a wealthy local Sotnik (see the footnote in my review for an explanation of the term), and wouldn't you know it, Khoma has been selected to observe her funeral rites, which involves him spending three nights in the family chapel with an enchanted corpse that refuses to stay dead. Although the film is so layered and loaded with detail that it rewards multiple viewings, nothing can match seeing it for the first time and being unaware what is about to unfold. Each night in the chapel ups the ante on the last, and builds to some of the wildest and most inventive imagery and effects work of any films from the late 60s and some time beyond. Eureka's disc sports a lovely restoration by Cinema Concern MOSFILM, a hugely informative commentary by Michael Brooke, an audio essay by Samuel Goff, and archival documentary on original author Nikolai Gogol, surviving fragments from three Russian silent films, a booklet, and most astonishing of all, director Djordje Kadijević's 1990 feature-length remake, A Holy Place [Sveto mesto], plus an interview with Kadijević in which he talks about that film. An amazing 2-disc set.
And now it's time for…
A PARTING BIT OF POLITICS
---
I famously go on an annual political rant in these end-of-year round-ups, but seriously, this year where do I start? Perhaps more pertinently, where would I stop? It's certainly become a frightening time for democracy and hard-won freedoms. Over in America, a story made up by a narcissistic ex-president when he realised he might lose an election has taken such a hold it's become a widespread religion, despite a seemingly endless series of investigations that have established his claims are complete baloney. The long-term impact of this is potentially terrifying, with Republicans seemingly poised to claim that every seat in every election that they lose in the future has been won fraudulently by the opposition, while the extreme right of the party has sunk back into 1950s rhetoric and has started labelling anything and everything they dislike (and they dislike a lot) as communist without having a clue what the word actually means.
In the UK, a series of bungles and scandals have seen our buffoon of a prime minister finally exposed for the awful corrupt gobshite that he is. I say exposed, but to anyone who had their eyes open this was obvious even before he conned so many people into voting him into office, yet for so long a sizeable portion of the populace remained completely blind to his and his government's corruption and incompetence. Almost 150,000 deaths from Covid? No problem. Billions of pounds of our money given away to Conservative party friends and donors? That's fine. Lie after easily disprovable lie told in parliament and in interviews by minsters? Go for it. Somehow, it took a story about Christmas parties held by government ministers when the rest of us were in lockdown to finally open many people's eyes. Johnson's days are now numbered, but I've no doubt at all that the whole stupid process will start again with whichever nasty, self-serving git is picked to replace him.
More frightening is that hidden behind this cavalcade of buffoonery, the government has started the country on a dangerous slide towards authoritarianism. The right to protest – so wonderfully celebrated in Mothers of the Revolution – is effectively being crushed by a bill that can put protestors in jail for 51 weeks if a single person regards the protest as annoying or disruptive, which is exactly what fucking protests are supposed to be! You could even be jailed for helping to arrange a protest, promoting it or communicating information about it on social media. And thanks to our home secretary, Priti Patel – a woman so appallingly evil she has a good chance of being the villain in the next James Bond film – you can also be jailed for rescuing someone you see drowning at sea if they turn out to be a refugee fleeing from a war that we probably helped fuel with lucrative arms sales. That this breaks international maritime law doesn't seem to bother this lot at all. It's also prompted those on the extreme right to try and demonise the brave volunteers of the RNLI, which pleasingly backfired when it prompted a record number of public donations to this vital service. A bill has also been proposed that would effectively put government minsters above the law and make them immune to any legal judgements made against them, and plans are currently afoot for voter suppression and boundary changes that would artificially increase the number of Tory seats in an attempt to ensure that they can never be removed from power. And get ready for the scrapping of the Human Rights Law, to be replaced with one of this government's own devising that I have no doubt will protect the rights of certain individuals to the detriment of others.
Recently, I've seen a number of commentators draw comparisons with past dictatorial governments in Europe, noting how we tend to look back at them and ask, "why did people allow this to happen?" They then point out that we are currently at the stage where, at some future date, the same question will be asked of a country I increasingly don't recognise as the one I was born and grew up in. If you're not familiar with Dr. Lawrence Britt's 14 Defining Characteristics of Fascism, give it a look. Our government currently meets seven of these criteria and is certainly dipping its toes it a couple more. And if you think none of this will affect you, you may well be given cause in the not too distant future to think again. As one political commentator recently observed, you may not believe the criminalisation of protests will ever affect you, but just wait until plans are drawn up to put a highway outside your house or a nuclear power station on nearby fields, and you discover that you could be jailed for too loudly objecting. And don't get me started on the absolute calamity that Brexit has proved to be, with seemingly every prediction made by so-called Project Fear coming to pass (no surprise that it's now known as Project Reality). Two new trade deals have been signed (the rest are just carry-overs of existing EU deals, some of which – comically – still included clauses that tie the UK to EU laws) that give the other side exactly what they want and give the UK next to nothing in return, and the Australian one looks set to all but wipe out British farming in a few years. There are sizeable gaps on supermarket shelves, staff shortages in key industries, rising inflation, massive jumps in energy prices, higher taxes for the poor, and millions of families now living below the poverty line. Teething troubles, my arse.
And on that happy note, have a purposeful 2022. Watch good movies, resist, protest, and stand up for your and all of our slowly but steadily vanishing rights. As Joni Mitchell tunefully reminded us back in 1970, you don't know what you've got 'til it's gone…