If you're an even casual visitor to this site then it's safe to say that Eraserhead needs no formal introduction. The debut feature of one David Lynch, it remains one of the most imaginative, disturbing and blackly comical first films in modern cinema and a darkly beautiful expression of film surrealism at its most potent.
Hardcore fans of the film will already be aware of its re-release history. Supervised by Lynch himself, the cleaned up, digitally remastered DVD was originally released in 2000 exclusively through Lynch's own web site and to US residents only. Copies were changing hands internationally for terrifying prices, with signed ones going for considerably more. All this came to an end in 2005 when Lynch discontinued the web site and this new Eraserhead disc was licensed for wider release by Subversive Cinema Inc. and released at a price that we were happy to call reasonable, along with a collection of Lynch's short films, also previously exclusive to davidlynch.com.
If you haven't caught up with either of these US discs yet then fear not, as both are to be released in the UK on 20th October 2008 by Scanbox Entertainment.
For those of you genuinely new to Lynch's masterpiece, here is the press release outline, which sums it up rather well:
David Lynch's first full-length feature film, Eraserhead, hardly needs any introduction. Having delighted, disturbed and confounded audiences and critics in equal measure during the three decades since its release, the film has achieved almost unparalleled cult classic status and is still regarded by many as David Lynch's most remarkable work.

Now, Eraserhead is coming to DVD having undergone a brand new transfer, presenting the film exactly as the director wanted home audiences to see it. For this DVD release version, Lynch personally underwent the painstaking process of cleaning, restoring and remastering the film frame-by-frame in order to 'obtain the best image and sound quality possible'. The result is Eraserhead as you've never seen it before.

Starring Jack Nance (Twin Peaks, Blue Velvet, Dune), Charlotte Stewart (Twin Peaks, Tremors), Allen Joseph (Raging Bull, Marathon Man), Jeanne Bates (Mulholland Drive, Grand Canyon) and Judith Roberts (Choke), Lynch's dystopian, nightmare vision was completed over a five year period between 1972 and 1976 and has been described astutely by the director as 'a dream of dark and troubling things'.

Jack Nance (credited as John) stars as Henry Spencer, a young man living in a dilapidated apartment located in a sordid industrial town polluted by steam, smoke and noise. When his girlfriend, Mary X (Charlotte Stewart), gives birth to their illegitimate and freakishly premature, quasi-foetus child, Henry takes them both in. But their domestic situation soon proves to be too much for Mary, who leaves Henry to care for the 'baby' on his own.

A disturbing surrealist fantasy combing elements of horror and black comedy Eraserhead is a truly unique cinematic experience that is open to many interpretations and virtually defies description. Only one thing is certain, over 30 years on, Lynch's acclaimed classic still retains the power to shock, astonish and entertain.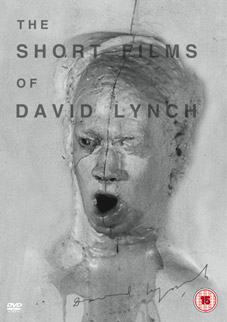 Prior to the DVD release, on 12th September the film will begin a three-week run at London's ICA Cinema. See it on the big screen if you can.
The Eraserhead DVD will also contain 'Stories', an interview with David Lynch on the making of the film. Now an interview may not sound like much of an extra, but this particular interview runs as long as the film itself and is absolutely crammed with interesting background detail and includes stills and video footage from the set.
If you want to read an insanely detailed preview of the film and this DVD then click here for Slarek's exhaustive review of the US DVD release.
The Short Films of David Lynch brings together all of the director's short films on one DVD, including his one minute contribution to the feature film Lumiere and Company. The films are: Six Men Getting Sick; The Alphabet; The Grandmother; The Amputee; The Cowboy And The Frenchman; Lumiere. Each of the films features and introduction by the director.
Eraserhead will retail at £19.99, The Short Films of David Lynch at $15.99.