A tragic tale of rural passion and survival, This Filthy Earth is inspired by Emile Zola's novel The Earth and John Berger's Pig Earth and is co-written by director Andrew Kötting and comedian Sean Lock.
This Filthy Earth is the tragic story of sisters Kath and Francine whose lives are disrupted by two men – a brutal villager greedy for the girls' land and a gentle stranger who offers the possibility of escape. Amidst a landscape of rural hardship and a community consumed with superstition, events unfurl which threaten their sibling bond.
The film features an exciting line up of acting talent including Rebecca Palmer (Intimacy, Quills), Shane Attwooll (Porgy and Bess), Demelza Randall in her feature film debut, Dudley Sutton (Up at the Villa, The Devils) and French actor Xavier Tchili (La Perme).
This Filthy Earth is the second feature from director Andrew Kötting, whose debut film, Gallivant, also released on DVD by the BFI, won him Channel 4's Best New Director Award at the Edinburgh International Film Festival 1996. It is produced by Ben Woolford of Tall Stories who previously produced Gallivant and the award-winning Beautiful People.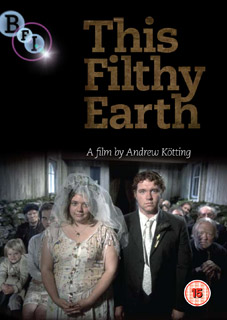 This Filthy Earth will be released on UK DVD by the BFI on 22nd June 2009 at the RRP of £19.99 with the following special features:
This Filthy Earth installation (31 mins) – This single screen presentation is a reworking of a three-screen installation first presented at the LAC Gallery in Sigean, France;
This Filthy Earth trailer;
Shadows Across Baked Earth (An investigation into the Local Heritage through Contemporary Art) (20 mins) - Made during a year when Andrew Kötting was Artist in Residence at Cat'Art in Sainte Colombe sur l'Hers;
Illustrated booklet.