As the current wave of zombie movies continues without varying the formula too much, the search for new words to precede "of the dead" continues unabated with Apocalypse of the Dead, a rare Serbian genre piece directed by Milan Konjevic and Milan Todorovic and starring one of the original zombie slayers, Dawn Of The Dead's Ken Foree.
In the aftermath of a catastrophic ecological disaster, a group headed by Interpol Agents Reyes and Milius desperately attempt to transport a valuable human cargo of state prisoners across a hazardous war zone. Miles from help and civilization, the group find themselves besieged by a vast army of rampaging, blood-thirsty mutants who will stop at nothing to devour every morsel of human flesh in sight. As Reyes and Milius fight not only for their lives but also to protect their precious cargo, they realize their only hope is to join forces with the treacherous criminals in their care; men as deadly and terrifying as the ravenous monsters out for their blood.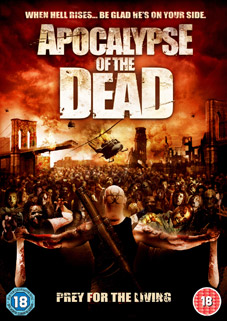 Apocalypse of the Dead (aka Zone of the Dead) will be released on UK DVD on 1st March 2010 by Metrodome at the RRP of £12.99.