We're very fond of London based distributor Peccadillo Pictures, who have for ten year now been bringing some of the best gay, lesbian world and independent cinema to the UK – we've covered a few of their releases in the past but a few problems with iffy preview discs saw this lapse. Which is a shame, because they are just the sort of label whose efforts we like to promote here at Outsider. We're thus rather pleased to be able to provide a list of their upcoming DVD and Blu-ray releases. We've no information on extra features yet, but there are certainly some interesting titles here.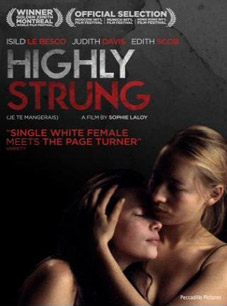 Highly Strung (Je te mangerais – France 2009) – DVD release on 29th March 2010
Directed by Sophie Laloy
Starring Isild Le Besco, Judith Davis, Edith Scob

Moving away from her family is a big step for young Marie. Shy, inexperienced in life and immature, she nonetheless embraces this exciting opportunity to fine-tune her piano skills at a prestigious music school. Marie gets more than she bargained for upon moving in with mysterious childhood friend Emma. Both women have changed vastly since their younger years, and what was once an intimate bond soon develops into something much more intense, and a power struggle ensues. Emma fascinates, dominates and devastates Marie, who struggles between her desire for Emma and the urge to escape. With this draining obsession having an adverse effect on her piano recitals, Marie decides to put an end to Emma's advances - but Emma won't give her up without a fight...
Highly Strung combines heady passions of unrequited adolescent love with sinister overtones of jealousy, lust and envy, to the tune of classical symphonies from Mozart, Ravel, Bach and Chopin, starring Isild Le Besco from Girls Can't Swim and Edith Scob (Eyes Without A Face).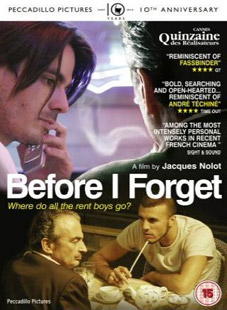 Before I Forget (Avant que j'oublie – France 2007) – DVD release on 29th March 2010
Directed by Jacques Nolot
Starring Jacques Nolot, Bastien d'Asnières, Marc Rioufol, Jean Pommier, David Kessler
Pierre (Jacques Nolot) is a one-time gigolo reflecting on a life of wild parties, multiple boyfriends and hedonistic impulses in present day Paris. His attempts to complete a book are constantly derailed by numerous visits from hustlers and a heavy writer's block. Embarking on a series of visits to see friends old and new, Pierre attempts to piece together memories of the past and future prospects, all through the lens of an ever deepening solitude. He and married, closeted friend Jacques (Pommier) compare the price of flesh and gossip about financial security. Psychiatrist Manosky (Kessler) listens to his complaining about the endless medication he must take. He tells lunch partner Paul (Rioufol) that his rich benefactor passed away without leaving him anything in his will. Finally, it is a discussion about the desires of rent boy Marc (d'Asnières) that lead Pierre's life in a totally different, but not entirely unexpected, direction.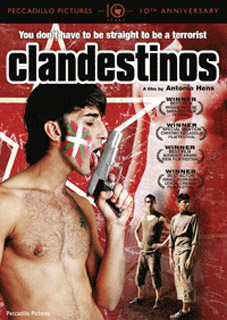 Clandestinos (Spain 2007) – DVD release on 19th April 2010
Directed by Antonio Hens
Starring Israel Rodrigues, Hugo Catalan, Pepa Aniorte, Luis Hostalot
Rebellious wild child Xabi (Israel Rodriguez) has been in and out of reform schools and prisons since he was a child. Once, while out on the streets, he meets and falls in love with hot-headed militant Iñaki (Luis Hostalot), a middle-aged Basque separatist who teaches him the ways of his revolution. Along with his two friends, Mexican Joel and Moroccan immigrant Driss, Xabi dramatically escapes from prison and hitches a ride to Madrid. On the hunt for his revolutionary lover, Xabi picks up a trick at a mall, steals his gun, breaks into an empty apartment and sets up a small bomb factory, all so that he can impress Iñaki. However, Joel and Driss unwittingly scupper his plans...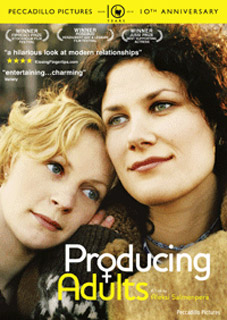 Producing Adults (Lapsia ja aikuisia – Kuinka niitä tehdään? – Finland 2004) – DVD release on 12th April 2010
Directed by Aleksi Salmenperä
Starring Minna Haapkylä, Kari-Pekka Toivonen, Minttu Mustakallio
Longtime couple Venla and Antero come to a serious impasse. After years with Antero, Venla wants to start a family, but her boyfriend, worried that parenthood will stifle his speed-skating career, secretly gets a vasectomy. Determined to have a child, Venla seeks help from a female fertility doctor, a decision that breeds new possibilities for the prospective mother when she falls in love with her.
Sex/Life in L.A. (USA 1998) – DVD release on 19th April 2010
Directed by Jochen Hick
Starring Rick Castro, Tony Ward, Kevin Kramer, Matt Bradshaw, Cole Tucker, Vin Nolan
Sex/Life in L.A. is a collection of two eye-opening and at times disturbing documentaries from Jochen Hick, who spent years infiltrating the highly secretive pornography industry in the Hollywood hills. The documentary shatters any illusions people may have about the porn industry. Instead of portraying the stars to be glamorous models living the dream life, it exposes exploitation and the messed up lives that many porn actors experience. It tells tales of AIDS, alcoholism and drugs. It tells tales of desperation of being kicked out of "the hotel". It tells that actors do not make money out of it, while producers and distributors pocket all the money. Sex/Life in L.A. offers a unique insight to the other side of what people do not normally see.
Boys on Film 4: Dangerous Encounters (Multiple Countries) – DVD release on 26th April 2010
Multiple directors
Starring Elliott Tittensor, Roeland Fernhout, Scott Hislop, Julien Zeitouni, Naveed Choudhry
Where 2009 saw the birth of the hugely popular Boys on Film brand, 2010 picks up where Boys On Film 3: American Boy left off, with nine award-winning and hotly anticipated short films about objects of desire, and whether the attaining of them is worth the struggle. Elliot Tittensor (TV's Shameless) stars as Daz in headlining film Protect Me From What I Want, a gripping British film debut that sees him woo a young lad in an underpass, only to be threatened with a break-up the following morning. Passive and submissive roles are tackled and tugged in gay graffiti tale Vandals and Icelandic grapple-fest Wrestling, while Postmortem, My Name is Love, and Iris Prize winner Steam look at promising encounters that turn awry. Rounding out the collection are Heiko, an alternative ode to foot fetishes, Breath, where 12 year old Erik swims out to sea to make a daring move on his best friend's father, and the Oscar-winning short film Trevor.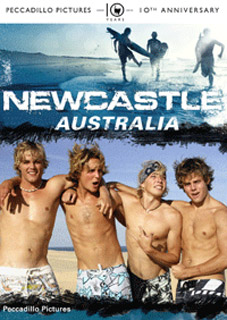 Newcastle (Australia/Japan 2008) – DVD and Blu-ray release on 10th May 2010
Directed by Dan Castle
Starring Lachlan Buchanan (Arcadia Lost), Xavier Samuel (Twilight Saga: Eclipse)

17-year-old Jesse (Lachlan Buchanan) and his brothers live in the small port town and surfing hot-spot that is Newcastle. Rising surf star Jesse spends time chasing waves and girls, all the while living in the shadow of older brother Victor (Reshad Strik), who insists he compete and win at the town's annual surfing competition. Younger brother and emo teen Fergus (Xavier Samuel), in the meantime, has a major crush on Jesse's surf buddy Andy (Kirk Jenkins). When Jesse, Fergus and their beach bum friends go on a camping trip out on the dunes, confrontations arise and the youngsters are forced to come to terms with burgeoning emotions, life-changing decisions and a tragedy they didn't see coming.

A huge hit upon its release in Australia and subsequently on indie circuits in Japan and the USA, Newcastle now comes to the UK on a wave of acclaim. Featuring upcoming stars with a bright future ahead of them, music from established indie bands The Cloud Room and The Lemurs, and stunning cinematography from Richard Michalak, Newcastle is the perfect antidote should you be feeling that summer just won't come soon enough...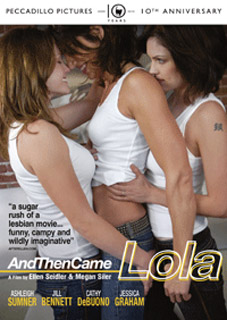 And Then Came Lola (USA 2009) – DVD release on 24th may 2010
Directed by Ellen Seidler and Megan Siler
Starring Ashleigh Sumner, Jill Bennett, Cathy DeBuono, Jessica Graham
In this sexy, lesbian romp, inspired by the art house classic Run, Lola, Run, a talented, but distracted photographer, Lola, on the verge of success in both love and work, could lose it all if she doesn't make it to a crucial meeting on time. But, as usual, Lola is late. With her job and girlfriend on the line, she has three chances to make it right. In a desperate race through the streets and backrooms of San Francisco, time grows short--will Lola make it? Will she come at all? With a pop sensibility that mixes live action, animation and still photography, And Then Came Lola, explores love's age old question in a fresh new way; "If you try, try again, will you finally get it right?" Starring Ashleigh Sumner, Jill Bennett (Dante's Cove, 3Way), Cathy DeBuono (Out at the Wedding, Star Trek: Deep Space Nine), Jessica Graham (2 Minutes Later).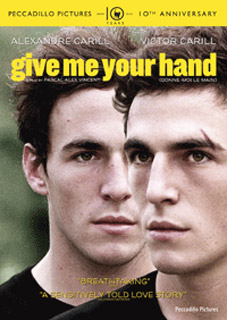 Give Me Your Hand (Donne-moi la main – France 2008) – DVD release on 14th June 2010
Directed by Pascal-Alex Vincent
Starring Victor Carril, Alexandre Carril, Katrin Sass
Twin brothers Quentin and Antoine escape from their father's bakery to attend the funeral of the mother they never knew. As they hitchhike towards Barcelona, old grudges between the two teenagers resurface. Antoine resents the friendships that his brother makes on the road, while sensitive Quentin is frustrated by his brother's jealous and possessive behaviour. Increasingly hostile, Antoine cruelly ditches Quentin but he soon realises that he can't make it to Spain without his brother by his side.
Pornography: A Thriller (USA 2009) – DVD release July 2010
Directed by David Kittredge
Starring Matthew Montgomery, Pete Scherer, Wyatt Fenner, Dylan Vox
Pornography: A Thriller is a Cronenberg-meets-David-Lynch psychological thriller set in the world of adult films. A famous gay model disappears at the height of his fame. Rumours about murder and blackmail abound for years until a young journalist decides to investigate the strange events. His investigation brings back the paranormal energy that destroyed the missing model, and now his own life as well. Years pass, and now a new model has decided he wants to recreate both the disappearance of the missing model and journalist on film, with horrifying results.
Soundless Wind Chime (Switzerland/China 2009) – DVD release August 2010
Directed by Kit Hung
Starring Bernhard Bulling, Yulai Lu
Ricky, a new Chinese immigrant in Hong Kong; and Pascal, a 27 year old Swiss rebel escaped from his traditional boundaries, are a young couple in Hong Kong. Although Ricky makes it easier for Pascal to immerse himself into local culture, the pair are tortured by the dilemma of whether their relationship is built on true love or only dependency on each other and the fear of being lonely. When Pascal tragically passes away in an accident, Ricky carries his grief and sorrows to Switzerland, looking for hints of Pascal in a nameless village. When he visits a beautiful thrift store, Ricky meets Ueli, a man that looks identical to Pascal, but has a totally different personality.