Sabine, a high school French teacher (Arsinée Khanjian), gives her class a translation exercise based on a real news story about a terrorist who plants a bomb in the airline luggage of his pregnant girlfriend. The assignment has a profound effect on one student, Simon (Devon Bostick), who lives with his uncle (Scott Speedman). In the course of translating, Simon re-imagines the news item as his own family's history, with the terrorist standing in for his father (Noam Jenkins), who years earlier crashed the family car, killing both himself and his wife (Rachel Blanchard), making Simon and orphan. Simon always feared that the accident was intentional...
This 2008 film from Canada-based director Atom Egoyan (he of Calendar, Exotica and Felicia's Journey) is being touted as his finest film since the exquisite The Sweet Hereafter (1997) and won him the Best Canadian Feature Film at the Toronto International Film Festival and a nomination for the Palme d'Or at Cannes.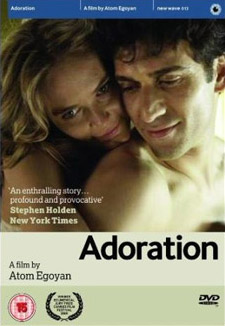 Adoration will be released on UK DVD on 10th May 2010 by New Wave Films at the RRP of £15.99. The included extras are:
Trailer;
Interview with Atom Egoyan (18 mins).