With their marriage in tatters Anna (Isabelle Adjani) and Mark's (Sam Neill) tense relationship has become a psychotic descent into screaming matches, violence and self-mutilation. Believing his wife's only lover is the sinister Heinrich, Mark is unaware of the diabolical, tentacled creature that Anna has embarked on an affair with. The unhinged woman visits her monstrous lover in a deserted Berlin apartment and will stop at nothing to protect him.
Part horror, part political allegory Possession was directed by avant-garde Polish helmer Andrzej Zulawski, whose films banned in his homeland during the Communist era, Zulawski self-exiled to France, and, eschewing mainstream commercialism, his contentious works have earned him numerous awards and accolades. Possession was a hugely controversial film but was nominated for a BAFTA and the Palme d'Or, and Adjani's astonishing performance earned her Best Actress awards at the Cannes Film Festival and the French Césars. It also features striking special creature effects by Carlo Rambaldi of E.T. and Alien fame.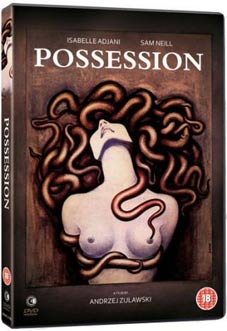 Possession will be make its UK DVD debut on 25th October 2010 by Second Sight at the RRP of £19.99. Extra features will include:
The Other Side of The Wall – The Making of Possession;
Interview with Andrzej Zulawski.