For 25 years, a murder case has remained indelibly etched on lawyer Benjamín Espósito's mind. Now retired, he decides to return to the story and in doing so take another look at a past full of love, death and friendship. But those memories, once unlocked and replayed a thousand times over, will change his view of the past and rewrite his future.
The Secret in Their Eyes (El secreto de sus ojos) is a gentle, strikingly shot, winningly performed and consistently involving thriller, this critically acclaimed feature from Argentinian director Juan José Campanella surprised everyone by beating Michael Haneke's The White Ribbon and Jacques Audiard's Un prophète to win the Academy Award for Best Foreign Language Film. It has, however, attracted some very positive critical reaction, being described by Roger Ebert as "a complete, engrossing, lovingly crafted film" and Maria Delgado in Sight & Sound as a film that "genuinely keeps the viewer guessing to the very end."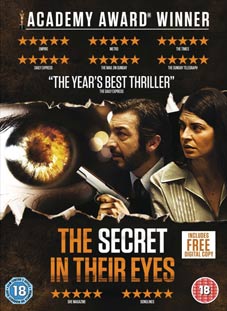 The Secret in Their Eyes will be released on UK DVD on 10th January 2011 by Metrodome at the RRP of £19.99. The following extras will be included:
Cast & Crew Interviews;
Behind The Scenes featurette;
Theatrical Trailer;
UK Trailer.