Kenji Mizoguchi looms over the history not only of Japanese cinema, but of world cinema altogether. Now Masters of Cinema have announced the release of a box set containing all four of their previously released Mizoguchi double-bills, eight films from the last decade of his career and eight of his greatest works.
Oyu-sama (1951) is an adaptation of Tanizaki Jun'ichiro: a poignant tale of two sisters and their ill-fated relationship with the same man: a tale of the social mores and affairs of the heart that might destroy siblings.
Ugetsu monogatari (1953), a ghost-tale par excellence and one of the most highly acclaimed works of the cinema, is an intensely poetic, sublimely lyrical tragedy of men lured away from their wives which consistently features on polls of the best films ever made.
Gion-bayashi (1953) is a drama set in the world of the geisha, a subtle masterwork that yields myriad insights into the lives of Japan's "service-class" in the early '50s.
Sansho-dayu (1954) recounts an unforgettably sad story of the 11th century involving kidnapping and indentured servitude – and figures, again, with its exquisite tone and purity of emotion as one of the most critically revered films of any era.
Uwasa no onna (1954), another Mizoguchi picture set in a modern geisha house, pits mother against daughter, with the ensuing drama forcing both to confront their attitudes toward family and business in what is one of the filmmaker's most astute filmic examinations of oppressed femininity.
Chikamatsu monogatari (1954), the tragic story of a forbidden love affair between a merchant's wife and her husband's employee, was hailed by the legendary Akira Kurosawa as "a great masterpiece that could only have been made by Mizoguchi."
Yôkihi (1955) recounts an 8th-century Chinese story of a widowed emperor and his imperial concubine, filmed in sumptuous, hallucinatory Agfa-stock colour.
Akasen-chitai (1956), aka Street of Shame, is Mizoguchi's final masterpiece and one of the greatest last films ever made, depicting the goings-on in a Tokyo brothel carrying the name "Dreamland," where dreams are nevertheless shattered beneath the weight of financial necessity and all questions of conscience – a last testament which inspired the great French critic Jean Douchet to proclaim: "For me, along with Chaplin's Monsieur Verdoux and Renoir's La Règle du jeu, the greatest film in the history of the cinema."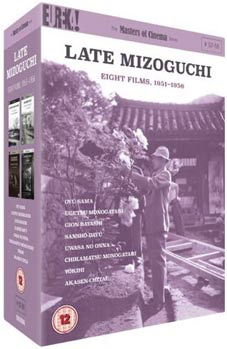 Late Mizoguchi – Eight Films 1951-1956 will be released as an eight disc box set on 24th January 2011 by Masters of Cinema at the RRP of £49.99. Featuring new and improved English subtitles, the set will have the following extra features:
4 Lavish booklets featuring writing by Keiko I. McDonald (author of Mizoguchi) and much more;
Video discussions by acclaimed Japanese film expert/critic, festival programmer and filmmaker Tony Rayns;
Original theatrical trailers.
You can find reviews of all of the above films below:
Chikamatsu monogatari / Uwasa no onna