Second Run continue their mission to revive and release choice but too little seen examples of Eastern European cinema with the upcoming release of the 1965 Czechoslovakian film A Blonde in Love (Lásky jedné plavovlásky), of which the venerable Ken Loach said in The Guardian's Movie Heaven, "If I had to pick just one film, it would be A Blonde in Love," while John Mortimer in The Observer as "the most pleasurable and human film you'll see."
A subtle and beautifully observed social satire which maintains a remarkable balance between despair and hope, A Blonde in Love is widely regarded as one of the great films of the 60s. This bittersweet romance from Miloš Forman, the multiple Oscar-winning director of One Flew Over the Cuckoo's Nest and Amadeus, unfolds as a sweetly seductive film but also provides a wry critique of life under totalitarianism. Forman is able to distil universal truths from the simplest of situations and present them with a sharp yet compassionate eye. Aided by Miroslav Ondriček's wonderful camerawork, and with Ivan Passer (director of Intimate Lighting and Cutter's Way) as assistant and co-scriptwriter, the pleasures to be gained here are immense.
A Blonde in Love won the CIDALAC Award at the 1965 Venice Film Festival, was nominated for the 1966 Best Foreign Language Film Oscar and was included on Empire magazine's 100 Best Films of World Cinema list.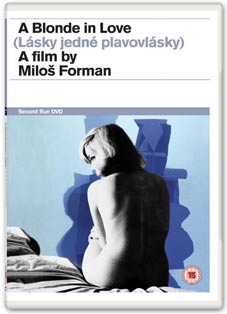 A Blonde in Love will be released on UK DVD by Second Run on 24th January 2011 at the RRP of £12.99, featuring a digitally re-mastered transfer with newly restored picture and sound, new and improved English subtitle translation, plus a 20-page booklet with a new appreciation by writer and film historian Michael Brooke.