Last year Eureka's Masters of Cinema label gave those who'd not already done so five excellent reasons to upgrade to Blu-ray with five examples of world cinema at its best, fabulously restored and released exclusively on high definition. Well if you've chosen to stick with DVD there's good news afoot, as Eureka have announced upcoming DVD editions of all five of these Blu-ray exclusives, complete with all of the extras from the Blu-ray editions, including the excellent booklets.
After the visual fireworks of Sunrise and the now-lost splendour of 4 Devils, F.W. Murnau turned his attention to this vivid, painterly study of an impulsive and fragile marriage among the wheatfields of Minnesota.
During a brief stay in Chicago, innocent farmer's son Lem falls for and weds Kate, a hard-bitten but lonely waitress. Upon bringing her home at the start of harvest time, the honeymoon soon turns into a claustrophobic struggle as they contend with the bitter scorn of his father and the invasive, leering jealousy of the farm's labouring community.
Tenderly romantic and tough-minded in equal measure, City Girl is one of cinema's great pastorals, featuring some of the most delicate performances Murnau ever directed and influencing filmmakers such as Terrence Malick and Jean Vigo.
New to DVD, a restored high-definition transfer of the silent version by 20th Century Fox, with a new score, composed and arranged in 2008 by Christopher Caliendo.
Special features:
Exclusive full-length audio commentary by film scholar David Kalat;
40-page illustrated booklet with new writing and reprints.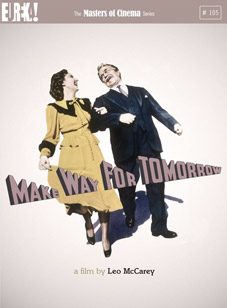 Make Way for Tomorrow
Of Make Way for Tomorrow, Orson Welles told Peter Bogdanovich: "Oh my God that's the saddest movie ever made." Long unavailable for home viewing, Leo McCarey's personal favourite among all his films (which included The Awful Truth and An Affair to Remember) is sad, yes, but it also stands as cathartic affirmation of the dignity of human feeling, and in the testament of such achieves a subtle complexity of characterization on par with Renoir, Ford, and Hawks.
Victor Moore and Beulah Bondi, two of the great Hollywood character actors, appear makeup-aged beyond their actual years to portray the couple whose house the bank has foreclosed upon (the film was set and produced in the midst of the Great Depression), and who are forced subsequently to move into their children's homes in the city. A near-musical restructuring of gratitude and debt ensues once the offspring deem the couple's lodging an imposition: the two are separated, then reunited weeks later... as they glide inexorably into an uncertain future.
Unrelentingly unsentimental, yet maintaining a balance of pathos and levity unseen in not only American studio pictures but most of the rest of world cinema, Make Way for Tomorrow exerted a powerful influence on Yasujiro Ozu's Tokyo Story and several other key entries in the Japanese master's body of work. It is a film profoundly concerned with questions of filial obligation and the way we treat one another as human beings; it is a film that, to give Welles the last word, "could make a stone cry."
Featuring a gorgeous high-definition transfer of the film in its original 1.37:1 aspect ratio and the following extras:
20-minute video piece with filmmaker Peter Bogdanovich (The Last Picture Show; The Cat's Meow) discussing the film and Leo McCarey's career;
21-minute video piece with writer Gary Giddins discussing McCarey's work and the social and political contexts of the film;
Lengthy booklet featuring a new essay on the film by writer and Library of America editor Geoffrey O'Brien, and an excerpt from Josephine Lawrence's source novel Years Are So Long.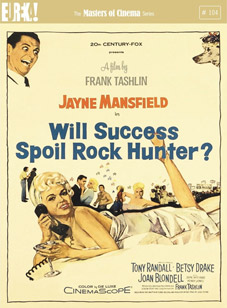 Will Success Spoil Rock Hunter?
Unsold on celebrity? Congested with consumption? Addled by status? You're in The World, kiddo, brought to you by Frank Tashlin — "Because Someone's Got to Live in It." And now a brief word on our latest fine product, the one that gives you the answer to that nagging question: Will Success Spoil Rock Hunter?
Ladies and gentlemen, no-one does straight-and-narrow quite like Tony Randall, and we guarantee his turn as lovable ad-man Rockwell P. Hunter will leave you in so many stitches you'll be just silly with sc-HAH-rtissue! And speaking of tissue: once you see Jayne Mansfield bob and weave as starlet Rita Marlowe, the ambidextrous angel who takes Hunter under her "wings" to launch his agency into the $trato$phere, you too will coo her trademark "ooo"! But that's not all! You'll also get Ms. Joan Blondell, star of Nightmare Alley and of Opening Night, who rounds out the package as Ms. Marlowe's assistant and handler – as they say in Paris, quel package!
A gorgeous high-definition transfer of the film in its original 2.35:1 aspect ratio is joined by:
A new and exclusive video introduction to the film by director Joe Dante (Gremlins 1 & 2, InnerSpace, Looney Tunes: Back in Action);
Vintage Movietone short which captures Jayne Mansfield on tour promoting the film;
Alternate music & effects track with a different musical score for the opening of the picture and other 'temporary' effects-placement;
Original theatrical trailer.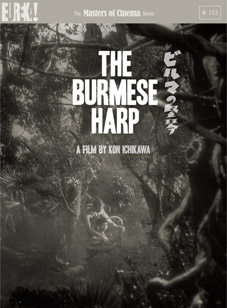 Arhapsodic celebration of song, a brutal condemnation of wartime mentality, and a lyrical statement of hope within darkness; even amongst the riches of 1950s' Japanese cinema, The Burmese Harp, directed by Kon Ichikawa (Alone Across the Pacific, Tokyo Olympiad), stands as one of the finest achievements of its era.
At the close of World War II, a Japanese army regiment in Burma surrenders to the British. Private Mizushima is sent on a lone mission to persuade a trapped Japanese battalion to surrender also. When the outcome is a failure, he disguises himself in the robes of a Buddhist monk in hope of temporary anonymity as he journeys across the landscape – but he underestimates the power of his assumed role.
A visually extraordinary and deeply moving vision of horror, necessity, and redemption in the aftermath of war, Ichikawa's breakthrough film is one of the great humanitarian affirmations of the cinema.
A new, restored high-definition transfer officially licensed from Nikkatsu and ndewly translated English subtitles are backed by the following extras:
Exclusive video interview with scholar and filmmaker Tony Rayns;
Original Japanese theatrical trailer;
A 40- page booklet with an essay by Keiko I. McDonald and rare archival stills.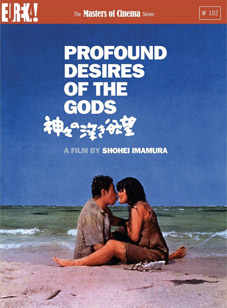 The culmination of Shôhei Imamura's extraordinary examinations of the fringes of Japanese society throughout the 1960s, Profound Desires of the Gods was an 18-month super-production which failed to make an impression at the time of its release, but has since risen in stature to become one of the most legendary — albeit least seen — Japanese films of recent decades.
Presenting a vast chronicle of life on the remote Kurage Island, the film centres on the disgraced, superstitious, interbred Futori family and the Tokyo engineer sent to supervise the creation of a new well — an encounter which leads to both conflict and complicity in strange and powerful ways.
A tragic view of a passing epoch that teeters on the edge of grotesque farce, Imamura's merciless gaze combines with spectacular colour 'Scope photography to create a mythic saga convulsing with earthly impulses.
A beautiful high-definition transfer, with exclusive digital image restoration, is joined by the following extras:
New video introduction by film scholar Tony Rayns;
Original theatrical trailer;
New English subtitle translation;
Extensive booklet with a new essay by Rayns (to accompany his introduction), rare stills, reprinted statements by Imamura, a lengthy 1994 career interview and a transcript of Imamura's introduction and Q&A session at the 1994 Edinburgh International Film Festival's screening of the film.
All of the films will be released on UK DVD on 21st February 2011 by Eureka as part of the Masters of Cinema label, except City Girl, which will be released on 11th April 2011.