The third release from the BFI's Adelphi Collection is a vintage double bill of drama and comedy from British director John Guillermin (Death on the Nile, The Towering Inferno), released for the very first time, in a Dual Format Edition, containing Blu-ray and DVD versions of both films.
The Crowded Day (1954) sees five young women's lives intertwine in a bitter-sweet tale of shop-floor intrigue. Set against the busy backdrop of a department store in post-war London, and with interiors shot at Bourne & Hollingsworth on Oxford Street adding authenticity, this engaging, tightly-written ensemble piece is bustling with familiar faces from the golden era of British cinema, including John Gregson, Joan Rice, Thora Hird, Vera Day, Edward Chapman, Rachel Roberts, Dora Bryan, Dandy Nichols, Prunella Scales, Sid James and Richard Wattis. A high-quality comedy-drama aimed squarely at the women's market, and billed as "a story of shop girls and their men," The Crowded Day was perhaps the most ambitious production of the family-run Adelphi film company. Still resonant today, it offers both top-drawer entertainment and a fascinating insight into women's lives, experiences and aspirations – from fashions to family – in the post-war period.
Song of Paris (1952) is a delightful romantic comedy which sees an archetypal Englishman – suavely played by debonair Dennis Price – return from a jaunt abroad to face a dastardly foreign count in a screwball duel for the hand of a beautiful mademoiselle.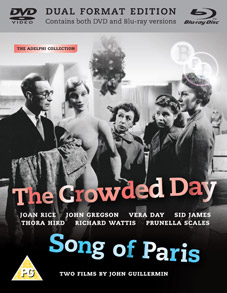 Digitally restored and with new High Definition transfers taken from the original elements preserved at the BFI National Archive, the films are presented in a Dual Format Edition (Blu-ray and DVD) and packaged with an illustrated booklet that includes film notes, original promotional materials and new essays by John Guillermin, actresses Vera Day and Prunella Scales, author Mary Cadogan and BFI Curator Vic Pratt. The Crowded Day and Song of Paris will be released on 14th Fabruary 2011 at the RRP of £19.99.