Not to be confused with the 1987 Gabrielle Beaumont film of the same title, He's My Girl (whose original title is the slightly less snappy La folle histoire d'amour de Simon Eskenazy), or at least the version announced for release here, is a 2009 film directed by Jean-Jacques Zilbermann that stars Eurotrash and Rapido presenter Antoine de Caunes as French Jewish musician Simon Eskenazy, who was first introduced to audiences in Zilbermann's 1998 feature Man is Woman (L'homme est une femme comme les autres).
The film opens at the point of Simon's life where everyone important to him in his life appears to be crossing paths, not always in the most pleasant of ways. He is under the pressure of a deadline to finish his record; his mother is wheelchair-bound and shows up suddenly at his door with a suitcase and no plans to leave any time soon; he is utterly bewitched by the amazing and unpredictable, exciting Naim, a young Arab who seems to flit between the persona of a man and a femme fatale with incredible ease and his ex-wife Rosalie suddenly announces her imminent visit with the 10-year old son Simon has never met. There are also his musicians and agent to content with and to top it all off, the cross-dressing, seductive and deeply Muslim Naim is developing a rather close friendship with Simon's glamorous mother; not to mention Simon's current lover Raphael, who also drops in for a visit...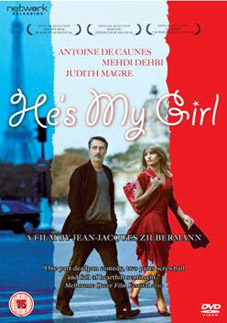 He's My Girl will be released on UK DVD on 14th February 2011 by Network Releasing at the RRP of £15.99.