Dublin's seedy criminal underworld, the world of illegal immigration, laptop dancing clubs and enforced prostitution, is the main character in Irish film noir Trafficked, released on DVD in UK and Ireland in March. Filming guerrilla-style on the streets and rooms of mainly night-time Dublin, Ciaran O'Connor and his cameraman Ruain O'Brien capture the spirit of the classic Hollywood gangster movies and French film noir in this searing tale of trust and betrayal, entrapment and exploitation.
Spotting the chance of a regular earner and a step up the criminal ladder, small-time crook Keely (Karl Shiels – Eden, Intermission, Batman Begins, Veronica Guerin) lures seemingly-innocent escaped illegal immigrant Taiwo (Ruth Negga – Breakfast on Pluto, Isolation, Criminal Justice, Love/Hate) under his wing and finds her a job as waitress in a seedy laptop dancing joint. Here, the proprietor Tony (Martin Dunne) and his partner Cherry (Nelly Conroy) gradually threaten and entice her into having sex with the customers. Meanwhile, Taiwo's beauty, innocence and vulnerability have worked on Keely until he realises he has fallen in love with her. But then violent gangboss McManus (Niall O'Brien – Braveheart, Single Handed), who originally trafficked Taiwo into Ireland, discovers where she is and demands her back via the manager of his upmarket callgirl racket Leslie (Jasmine Russell – Guiltrip, Widow's Peak).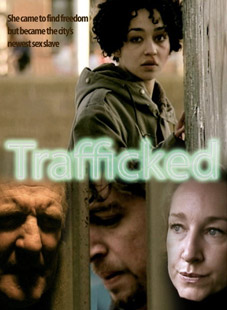 Trafficked (originally known as Capital Letters) is distributed, in a version greatly enhanced technically, by Stoney Road Films with assistance from the Irish Film Board. The DVD of the movie, produced by New Decade Productions, will be released in Ireland on Friday 4th March 2011 and in the UK on Monday 7th March 2011 at the RRP of £14.99. No extras have been detailed as yet.