Over ten years after his popular but controversial television adaptation of Oliver Twist, acclaimed BAFTA Award winning writer Alan Bleasdale (G.B.H.; The Monocled Mutineer; Boys From The Blackstuff) makes a long overdue return with The Sinking of The Laconia, a powerful two-part wartime drama telling an epic story of the unexpected gallantry and amazing heroism shown by ordinary people in the face of extraordinary adversity.
Brian Cox stars as Captain Sharp, captain of the RMS Laconia, a luxury cruise ship turned troop ship carrying civilians, children, wounded soldiers and Italian prisoners of war, which, on 12th September 1942, was unexpectedly attacked by a German U-boat and hit by two torpedoes while sailing 130 miles off Ascension Island in the South Atlantic Ocean. As the ship began to sink, meaning almost certain death for the passengers, the commander of the U-156, Werner Hartenstein (Duken), decided to contradict the orders of the Nazi High Command and instructed his crewmen to save as many of the shipwrecked survivors as possible. During the next few days, the crew of the U-156 saved a total of 400 people, with 200 crammed on to the deck of the surfaced submarine and another 200 in lifeboats towed behind it. As Hartenstein arranged for messages to be sent to German U-boat Command and the Allies to organise a full rescue of the survivors, in a terrifying twist of fate, a U.S. B-24 bomber was already moving in to attack…
Directed by Uwe Janson and based on true events that took place during World War II, The Sinking of The Laconia features an international cast of actors that includes Brian Cox, Lindsay Duncan, Ken Duken, Andrew Buchan, Franka Potente, Matthias Koeberlin, Frederick Lau, Thomas Kretschmann, Jodi Balfour and Morven Christie.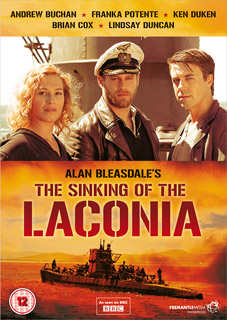 The Sinking Of The Laconia will be released on DVD by Fremantle Media Enterprises on 14th March 2011 at the RRP of £15.99. Special Features include the 30-minute documentary The Sinking Of The Laconia: Survivors' Tales.