During Japan's late Muromachi period, two brothers, Naomitsu and Nobutsuna Hatakeyama, born into a wealthy and powerful family are both destined for greatness. However, when the father of their lifelong friend and Naomitsu's love interest Ako dies, a decree is made that has a profound effect on all their lives.
The conditions of the decree force Nobutsuna to betray his brother by taking Ako as his own in order to inherit her late father's wealth and position. However, driven by his love for Ako, Naomitsu gives up his life of privilege and instead flees with her into the remote forested mountain region where he believes they will be safe. During the journey, the lovers are ambushed and attacked by a bandit calling himself Tajomaru who intends to kidnap Ako. Fortunately, she escapes and runs away before Nobutsuna manages to kill the bandit, whose identity he assumes. Now calling himself Tajomaru, Nobutsuna sets out on a dangerous and adventurous quest in search of Ako.
Meanwhile, back at the Hatakeyama home, an unlikely protagonist has decided the time is right to make a treacherous move that will place him within striking distance of the country's most powerful positions of leadership...
Loosely based on Ryunosuke Akutagawa's short stories Rashomon and In A Grove (most famously adapted for the screen by Akira Kurosawa in 1950), Tajomaru: Avenging Blade is, we are assured, "an epic tale of greed, betrayal, deceit, tragedy and revenge," directed by Hiroyuki Nakano (Stereo Future) and starring Shun Oguri (Sukiyaki Western Django), Kyosuke Yabe (Samurai Zombie) and Hiroyuki Ikeuchi (Ip Man).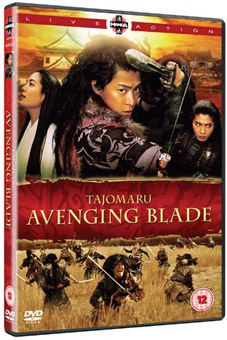 Tajomaru: Avenging Blade comes to UK DVD on 31st January 2011 from Maga Entertainment at the RRP of £15.99. Special features will include:
The Making Of Tajomaru featurette;
UK trailer;
Original Japanese trailer.