In a high-definition sampling of cult television from years past, Network have announced the upcoming release of three Blu-ray discs entitled retro-ACTION!, each containing single episodes from a number of iconic programmes from the ITC library.
The programmes contained on these discs have rarely, if ever, been seen at their full technical potential and certainly not on the medium they were originally designed for. It is the legacy of both producers and contributors who aspired to high production values but only now can their work be fully appreciated. These new high definition transfers and restorations from the original 35mm elements herald a new era for these iconic shows for both loyal fans and new audiences.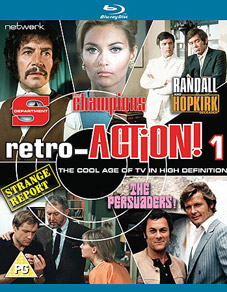 retro-ACTION! VOLUME 1
The Persuaders!: Chain Of Events
Starring Roger Moore and Tony Curtis plus special guest stars Peter Vaughan and George Baker
Randall and Hopkirk (Deceased): When Did You Start To Stop Seeing Things?
Starring Mike Pratt, Kenneth Cope and Annette Andre
Department S: A Small War Of Nerves
Starring Peter Wyngarde, Joel Fabiani and Rosemary Nichols with special guest stars Anthony Hopkins, Frederick Jaeger
The Champions: The Invisible Man
Starring Stuart Damon, Alexandra Bastedo and William Gaunt with special guest star Peter Wyngarde, James Culliford and Aubrey Morris.
Strange Report: Kidnap
Starring Anthony Quayle, Kaz Garas and Anneke Wills with special guest stars Ian Ogilvy, David Bauer and Sally Geeson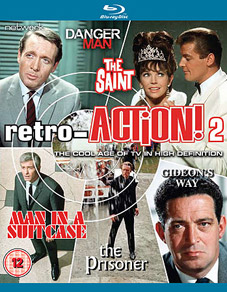 retro-ACTION! VOLUME 2
The Saint: Queen's Ransom
Starring Roger Moore with special guest stars Dawn Addams and George Pastell
Danger Man: No Marks For Servility
Starring Patrick McGoohan with special guest stars Mervyn Johns, Francesca Annis and Howard Marion Crawford
The Prisoner: Arrival
Starring Patrick McGoohan with special guest star Guy Doleman, Virginia Maskell, Paul Eddington and George Baker
Gideon's Way: The Tin God
Starring John Gregson and Alexander Davion with special guest stars John Hurt and Derren Nesbitt
Man In A Suitcase: Somebody Loses... Somebody Wins?
Starring Richard Bradford with special guest stars Jacqueline Pearce, Godfrey Quigley and Philip Madoc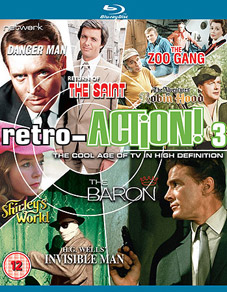 retro-ACTION! VOLUME 3
The Adventures of Robin Hood: The Sheriff's Boots
Starring Starring Richard Greene with special guest star Joan Sim
Shirley's World: The Rally
Starring Shirley Maclaine and John Gregson with special guest stars Neil Hallett and Aimi MacDonald
The Invisible Man: Secret Experiment
Starring The Invisible Man, Lisa Daniely and Deborah Watling with special guest star Michael Goodliffe
The Baron: Something For A Rainy Day
Starring Steve Forrest and Sue Lloyd with special guest stars Patrick Allen, Lois Maxwell and Derek Newark
Return of the Saint: One Black September
Starring Ian Ogilvy with special guest stars Prunella Gee and June Bolton
The Zoo Gang: Revenge: Post Dated
Starring Brian Keith, John Mills, Lilli Palmer and Barry Morse with special guest star Walter Gotell
Danger Man: View From the Villa
Starring Patrick McGoohan with special guest stars
All three retro-ACTION! titles will be released on Blu-ray only, exclusively from Network DVD (visit their web site at www.networkdvd.net) on 28th February 2011 at the RRP of £19.99 each.