Dubliner Paul Graynor (Healy) works as a freelance press photographer, visually documenting the day-to-day events of a vibrant city that, like many others, is becoming increasingly hostile and threatening. What Paul doesn't realise is he is about to become front-page tabloid news himself. Walking home alone at night after a date with Michelle (Noone), the care worker who is responsible for looking after his ailing father, Paul is accosted and violently assaulted by two youths. Left unconscious by his attackers, he awakes several days later in hospital where he learns the shocking truth about his injuries. Recovering at home, Paul struggles to come to terms with both the physical and psychological scars the attack has left on him. But his fear and insecurity slowly but surely turn to anger, a process that will ultimately transform him from cowering victim into ruthless avenger.
A powerful and unflinching study of the perceptions of masculinity, the effects of random violence on an individual and the moral ambiguities of what can be judged to be an acceptable response to such acts, Savage is the debut feature from writer-director Brian Muldowney and stars Darren Healy (Disco Pigs; Layer Cake) and Nora-Jane Noone (The Descent; The Magdalene Sisters). The Sunday Times claims that it "confronts the ugliness of the rage within us," while The Irish Times states that it "reveals a distinctive directorial voice." Sounds intriguing.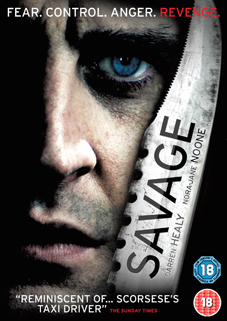 Savage (cert. 18) will be released on UK DVD by High Fliers Films on 14th March 2011 at the RRP of £12.99. Special Features include:
Audio commentary by director Brendan Muldowney;
Q&A with Brendan Muldowney;
cast auditions.