At school, getting into the right fraternity can be a matter of life or death. Keith and AJ need to hire a stripper to entertain the brothers or their college days are over. In a shady after hours joint they find an adult entertainer like no other when they step into the world of sharp-fanged Katrina. Have these two freshmen bitten off more than they can chew? Stuck on the wrong side of town, on a dark night and surrounded by a plague of alien blood suckers the answer is definitely yes!
One of the too-often forgotten vampire movies from the genre's third wave, Vamp stars Chris Makepeace, Sandy Baron, Dedee Pfeiffer (the younger sister of Michelle) and a sexually imposing Grace Jones, and while it never found the commercial success of its 80s bedfellow The Lost Boys, it nonethless has attracted a devoted cult following, which makes it an ideal candidate for an Arrow Films revival.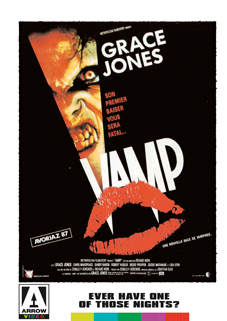 Vamp (cert. 18) will be released on DVD (£17.99) and Blu-ray (£22.99) by Arrow Video on 21st February 2011. Special features will include:
Four panel reversible sleeve options with new artwork and original posters;
Double-sided fold-out poster;
Exclusive collector's booklet by Jay Slater, critic and author of Eaten Alive;
Brand new audio commentary with star Robert Rusler and critic Calum Waddell;
Introduction by Robert Rusler;
Vamp it Up – Dedee Pfeiffer remembers the After Dark Club;
Vamp Stripped Bare – an interview with director Richard Wenk;
Back to the 80s – producing a campy cult classic;
Scrapbook of Scares – Richard Wenk looks over his collection of Vamp memorabilia;
Easter Egg;
Behind the scenes rehearsals;
Blooper reel; Dracula Bites the Big Apple – short film by Richard Wenk;
Original trailer.