Surprisingly few of the 33 films directed by Akira Kurosawa, one of the most celebrated directors in cinema history, are available on DVD here in the UK. The BFI is soon to make a notable dent in that with the upcoming release of a 4-disc box set entitled Early Kurosawa, containing six films made at the start of his career that demonstrate the emergence of a profoundly influential directorial vision.
This fascinating collection spans 1943 to 1947 and features Sanshuro Sugata, Sanshuro Sugata Part Two, The Most Beautiful, They Who Step on the Tiger's Tail, No Regrets For Our Youth and One Wonderful Sunday. The films have been transferred to High Definition from the best available film elements and are packaged with a fully illustrated booklet featuring essays by Philip Kemp.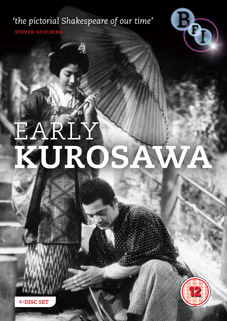 Disc One
Sanshuro Sugata (Sugata Sanshiro), 1943, 79 mins
Kurosawa's assured debut about a young man's spiritual journey through the study and practice of judo. the film stars Denjirô Ôkôchi, Susumu Fujita and the man who was to become Kurosawa's most regularly used actor, Takashi Shimura.
Sanshuro Sugata Part Two (Zoku Sugata Sanshiro), 1945, 83 mins
This sequel reunites most of the principal cast from the original and follows Sanshiro face a new set of enemies whilst continuing his quest to become a judo master.
Disc Two
The Most Beautiful (Ichiban utsukushiku), 1944, 85 mins
An artful propaganda film that anticipates the social realism of Kurosawa's post-war films, The Most Beautiful provides a fascinating portrait of female volunteer workers in an optics factory manufacturing lenses for binoculars and gunsights. Stars Takashi Shimura, Sôji Kiyokawa and Ichirô Sugai.
They Who Step on the Tiger's Tail (Tora no o o fumu otokotachi), 1945, 58 mins
Adapted from Noh and Kabuki theatre, this classic tale of deception sees a lord and his bodyguard disguise themselves as monks to bypass an enemy roadblock. The film reunites some of the main cast of Sanshuro Sugata and features Denjirô Ôkôchi, Susumu Fujita and Takashi Shimura.
Disc Three
No Regrets For Our Youth (Waga seishun ni kuinashi), 1946, 110 mins
Kurosawa's first post-war film stars Ozu regular Setsuko Hara as Yukie, a privileged daughter of a professor who takes a soul-searching journey through rural Japan and comes to question her values. The film also stars then Kurosawa regulars Susumu Fujita, Denjirô Ôkôchi and Takashi Shimura.
Disc Four
One Wonderful Sunday (Subarashiki nichiyobi), 1947, 108 mins
A bitter-sweet story of young love set in the devastation of post-war Tokyo reminiscent of Frank Capra's social realist comedies. The cast includes Isao Numasaki, Chieko Nakakita and Atsushi Watanabe.
Early Kurosawa will be released on UK DVD on 28th March 2011 at the RRP of £39.99.