When five friends – Sara, Mel, Cory, Bruce and Sal – decide to turn a trip out of town to see Coldplay in concert into a weekend getaway, rookie pilot Sara offers to fly them there in a rented plane. Shortly into the flight, the plane's instruments inexplicably begin to malfunction and a mechanical failure results in the plane heading into a steady, unstoppable climb. Worse, a massive electrical storm is closing in on their flight path, their fuel is rapidly running out and emotional tensions within the confines of the small aircraft are beginning to rise. But the problems onboard prove to be the least of the friends' worries. Outside, hidden in the depths of the storm clouds, a mysterious and monstrous force is lurking. Its sole purpose is to destroy the plane and its passengers. However, unknown to the others, one of the group has the power to stop prevent the disaster from ever happening.
The debut feature from award-winning comic book writer and illustrator Kaare Andews (The Incredible Hulk; Ultimate X-Men; Amazing Spider-Man), the supernatural thriller Altitude features 90210 star Jessica Lowndes (The Haunting Of Molly Hartley; Autopsy) heading a cast of up-and-coming young talent that includes Julianna Guill (Glory Daze; 90210; that Friday The 13th remake), Ryan Donowho (The O.C.), Landon Liboiron (Life Unexpected; Degrassi: The Next Generation) and Jake Weary (Fred: The Movie; As The World Turns).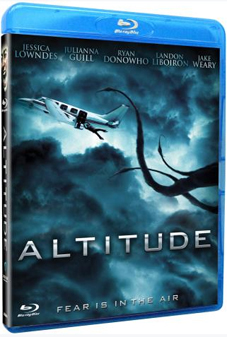 Altitude will be released on DVD (£15.99) and Blu-ray (£19.99) by Anchor Bay Entertainment on 14th March 2011. Special features include:
Audio commentary by director Kaare Andrews;
Behind-the-scenes featurette;
Green Storm featurette;
Original concept gallery;
Trailer.