Every now and then – well, quite a lot actually – we get alerted to a title that could either build a small cult following or prove a painful misfire. Such is certainly the case for Zonad, an oddball Irish comedy from co-directors and writers John Carney (Once, On The Edge, Bachelor's Walk) and Kieran Carney (Bachelor's Walk, The Last Furlong), and which the press release claims filters the nostalgic community of The Quiet Man through a 1950's sci-fi B-movie with Mel Brooks and Billy Wilder providing the laughter track.
Zonad (Simon Delaney) is from space...probably. Or so the Cassidy family assume when they discover an apparent alien in a shiny red space suit and helmet passed out on the living room floor beside the drinks cabinet. The Cassidy's and the people of Ballymoran make the intriguing visitor feel very welcome (and in the case of mother Mary (Donna Dent) and teenage minx Jenny (Janice Byrne) they make him feel very welcome indeed. Or at least they do until fleet Commander Bonad arrives...
Some have groaned, but was called "Gleefully unhinged" by Variety and "Uproariously funny" by The Irish Times, so here's hoping.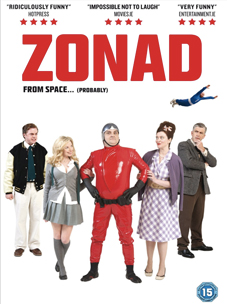 Zonad will be released on UK DVD on 14th March 2011 by Element Pictures Distribution at the RRP of £12.99. Special features will include:
Directors and writers Commentary;
Deleted Scenes;
Outtakes;
Love songs by Zonad;
Short Film.