The release of the lovely Video Nasties: The Definitive Guide has helped to highlight how times of changed, as films that were once banned or severely cut by the BBFC are appearing uncut and restored on DVD and even Blu-ray for us horror fans to bask in the sickening glory of. Key players in this process are Arrow Video, who are set to continue their work in March with the release of the 1977 Island of Death (Ta paidia tou Diavolou), aka Island of Perversion, aka A Craving for Lust, aka Psychic Killer 2. Now we can see Nico Mastorakis' notorious and long censored video nasty in all its uncut and full strength glory.
In Island of Death, Greece is transformed into a bloodbath of sex, death and sadism when an English couple arrives for a perverse rampage of lust and murder through the sleepy streets of a quiet island. No taboo is left unbroken as the feral pair screw and slice through the local population and their livestock, driven by a combination of libido and twisted morality to slay those they see as unfit to exist.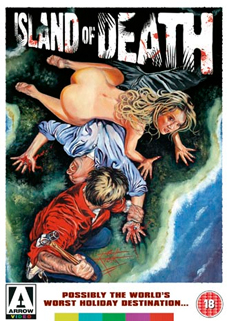 Island Of Death (cert. 18) will be released on DVD by Arrow Video on 21st March 2011 at the RRP of £15.99. Special features will include:
Brand new audio commentary with director Nico Mastorakis and author and critic Calum Waddell;
Q&A with director Nico Mastorakis;
Interview with Nico Mastorakis;
Original trailer;
The Music of Island of Death;
2010 re-recording of "Destination Understanding" from "Island of Death";
Double-sided fold-out poster;
Collector's booklet featuring brand new writing on the film by critic David Hayles.