Between 1970 and 1988 British filmmaker Richard Woolley created a body of exciting and challenging work, variously seen in cinemas, on television and in international film festivals, but almost impossible to see since. These seven films have been collected together and will be released as a four-disc DVD box set by the BFI in March.
Tackling controversial themes, such as class, race, sexuality and the human instinct for violence, Richard Woolley directed a number of radical and uncompromising films, which explore the ways we relate to, and ultimately destroy, one another even as we strive to develop the means to better understand and communicate with those around us.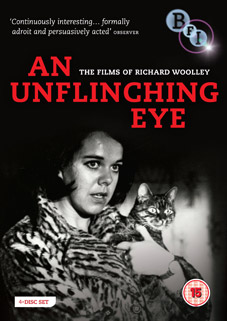 This collection offers the long-overdue opportunity to experience first hand the power of such extraordinary and unique films as: 1976's Illusive Crime, which caused outrage upon its release; Telling Tales, the much acclaimed soap-meets-Straub debut feature from 1978; 1981's controversial and critically-acclaimed Brothers and Sisters, set against a backdrop of Yorkshire Ripper-style murders; and Woolley's final film, Girl from the South (1988) which views black Britons through the prism of an interracial relationship.
The films included in the set are as follows.
Kniephofstrasse (1973, 35 mins): A complex but compelling formalist film, which investigates the relationship between sound and image.
Drinnen und Draussen / Inside and Outside (1974, 40 mins): An experimental narrative film exploring conformity in East and West Germany.
Illusive Crime (1976, 50 mins): An uncompromising, originally structured drama in which a violent sexual act is committed.
Telling Tales (1978, 90 mins): A deft interweaving of stories, set against backdrop of failing marriage, provides platform for dissection of class and gender roles.
Brothers and Sisters (1981, 96 mins): Radical politics meet alternative thriller in the story of a prostitute's murder in a Yorkshire city.
Waiting for Alan (1984, 45 mins): An unconventional, minutely observed domestic drama centred on ritualised boredom of a middle-class housewife.
Girl from the South (1988, 84 mins): Young girl from rich family falls in love with unemployed black boy and tries to persuade him they are equals.
Also included are new video interviews with Richard Wolley.
An Unflinching Eye – The films of Richard Woolley will be released as a 4-disc set on UK DVD on 28th March 2011 by the BFI at the RRP of £29.99.