Clelia (Eleonora Rossi-Drago) embarks from Rome to set up a fashion-salon in Torino. Shortly after arrival, she finds herself caught up in the (melo)dramas of a bourgeoise circle of acquaintances (including the iconic Valentina Cortese), and their attendant attempts at suicide, their class prejudices, and the romantic alliances that threaten to transform the social clique into an emotional tar-pit.
A key film of Michelangelo Antonioni's middle-period, Le amiche (The Girlfriends) finds the Italian master expanding his palette in the realm of traditional narrative cinema by way of his powerhouse direction of an ensemble cast, while entrenching his devotion to expressing the emotional makeup of the modern woman. In the process it lays the groundwork for such '60s breakthroughs as L'avventura and La notte.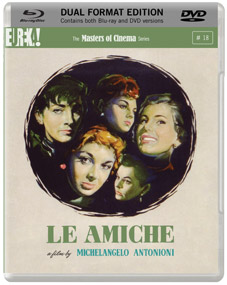 Le amiche will be released for the first time ever on UK home video as a dual format edition (containing the DVD and Blu-ray) by Eureka as part of the Masters of Cinema series on 21st March 2011 at the RRP of £23.48. Featuring a beautiful new transfer of the film in its recent restoration by Cineteca di Bologna, L'Immagine Ritrovata, and Martin Scorsese's Film Foundation, in its original 1.37:1 aspect ratio, and presented in a 1080p AVC encode on the Blu-ray, optional English subtitles, and the fiollowing extra features:
A new and exclusive video introduction to the film with critic and teacher Gabe Klinger;
A new and exclusive video featuring Gabe Klinger discussing the arc of Antonioni's entire career;
A lengthy booklet containing newly translated critical pieces about the film, excerpts of interviews with Antonioni, and more!