A British Screen Film Finance and Film Four production from British director Ron Peck (Night Hawks, Fighters), the 1987 Empire State blends gangster action with the high camp of the eighties East End club scene at The Empire State nightclub in London's newly developed Docklands, a place where disparate lives intersect. Illusory, dangerous and glamorous, it is both the playground of the rich, and an escape from the poverty and squalor of the toughest reaches of the city. The Empire State is also the arena for a fierce struggle between the hard men who for decades ran the East End, and the new breed of racketeers. They're prepared to do anything to get control, and the fight for power will end with one of the most brutal orgies of violence the East End has ever seen. Against the backdrop of gathering menace, Chuck, an American with £3 billion to spend, toys with potential investments, while a young boy, Pete, comes to London to find his friend, who has disappeared in the entrails of the Empire State...
With a cast that includes Ray McAnally, a young Jamie Foreman, Martin Landau, Cathryn Harrison, Perry Fenwick, and an early screen appearance from Sadie Frost, the film also features a fine soundtrack from the likes of New Order, Jimmy Somerville and Yello.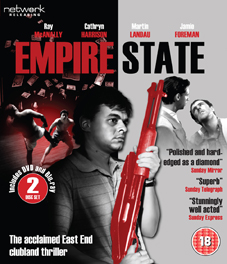 Empire State will be released in a dual format package containing the film on both the DVD and Blu-ray by Network Releasing on 14th March 2011 at the RRP of £19.99. The following special features have been confirmed:
Blu-ray:
Blu Ray version of Film + Commentary with Ron Peck and Mark Ayres;
Original theatrical Trailer;
HD Image Galleries: Costume research (Polaroids) plus design artwork.
DVD:
SD version of Film + Commentary with Ron Peck and Mark Ayres;
Screen tests, rehearsals & improvisations: Jimmy Flint (x3), Jason Hoganson, Lee Drysdale and Stephen Thrower;
Nightclub tests (x3);
Deleted Scenes (x2):

Scene 1 - Danny and Hen Party;
Scene 2 - Harry and his wives;

One of the audio research interviews for Empire State made by Ron Peck;
Right To Reply, Channel Four;
PDF material: Annotated Screenplay and Storyboards, cast list, Duty Log, front titles, Press coverage 1, press coverage 2, Ron Peck's Journal Notes, screenplay, character synopsis plus VHS Cover (Unused).