If your new business venture is sited on the cursed gateway to the hell dimension of The Beyond, then maybe it's time to move elsewhere, but Liza (Catriona MacColl) is determined to make her New Orleans hotel work, until strange things start happening. People vanish and her waking thoughts are haunted by a ghostly blind woman who seems to hold the answers to the whole bizarre fever-dream. As reality breaks down and the plot explodes, Liza must journey far from everything she understands and descend into The Beyond...
And yet another film once banned under the UK's 1984 Video Recordings Act as a so-called "video nasty" is to be released uncut and remastered on Blu-ray, courtesy of Arrow Video, as Lucio Fulci's masterpiece of face-chewing spider action, milky-eyed psychics, face melting embalming fluid and rotted, flesh-crazed Zombies returns in all its blood splattered, surreal and grossly disturbing glory.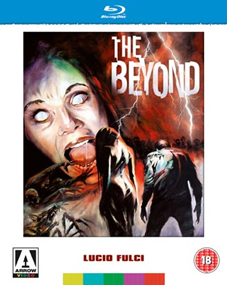 The Beyond (cert. 18) will be released on DVD (£19.99) and Blu-ray (£24.99) by Arrow Video on 14th March 2011. Even by Arrow standards this is a particularly well featured release. Cop this lot:
Four option reversible sleeve with original and newly commissioned artwork;
Double-sided fold-out poster;
Collector's booklet featuring an introduction to the film by Eli Roth, director of Cabin Fever and Hostel;
Beyond Bombast – an interview with Al Cliver by author and critic Calum Waddell;
Reprints of original lobby cards, stills and behind the scenes photographs from the collection of star, David Warbeck;
Introduction by star Cinzia Monreale;
Audio commentary by Antonella Fulci and Calum Waddell;
Audio commentary by David Warbeck and Catriona MacColl;
AKA Sarah Keller: Cinzia Monreale remembers The Beyond;
Catriona MacColl Q&A from the Glasgow Film Theatre;
Open Your Eyes Easter Egg;
One Step Beyond: Catriona MacColl Remembers a Spaghetti Splatter Classic;
Beyond Italy – Louis Fuller and the Seven Doors of Death – interview with US distributor and editor of 'The Beyond' Terry Levene;
Butcher, Baker and Zombiemaker – The Living Dead Legacy of special effects wizard Gianetto Di Rossi;
Fulci Flashbacks – Dario Argento, Daria Nicolodi, Sergio Stivaletti, Antonella Fulci and others remember The Godfather of Gore;
Alternative colour pre-credits sequence;
Original International Trailer.