Scarred by traumatic events resulting from his past, former special agent Tae-shik (Bin Won) lives in solitude running a pawnshop in a rundown neighbourhood. His only contact with the world is through his customers and his next-door neighbours, a young girl named So-mi (Sae-ron Kim) and her mother, an exotic club dancer and drug addict. Neglected by her mother and shunned by the kids at school, So-mi gradually forms a bond of friendship with the loner Tae-shik.
But one day, So-mi and her mother disappear. When it becomes apparent that mobsters connected to So-mi's mother's drug dealing have kidnapped them, Tae-shik is forced to leave his private sanctuary and to go out into the world in search of his one and only friend. In a bid to ensure So-mi's safety, Tae-shik agrees to perform a one-off job for the gangsters holding the girl. The job turns out to be a set-up that makes him the target of both a rival gang and of an intense police manhunt. On the run from both sides of the law, and risking him life every step of the way, Tae-shik moves ever closer to discovering So-mi's whereabouts, but in doing so, he also risks revealing the hidden secrets of his past...
Described by Twitch as having "Truly impressive action. Taken meets Oldboy," the second feature from Jeong-beom Lee (Cruel Winter Blues), the writer-director who is being hailed in some quarters as Korea's answer to Takeshi Kitano (Zatoichi; Sonatine; Boiling Point). The Man From Nowhere (Ajeossi) is an action-packed revenge thriller that owes as much to the influence of blockbusters Taken, Man On Fire and Leon as it does to the heroic bloodshed movies of John Woo (Hard Boiled; A Better Tomorrow). A brutal, fast paced movie that balances scenes of violence with moments of emotional depth, the film boasts a number of stylish action set pieces, including what New Korean Cinema described as "arguably the best knife fight ever put on screen".
A box office smash in Korea, where it became the highest grossing movie of 2010 and swept the board at the Korea Film Awards taking honours for Best Actor, Best New Actress, Best Cinematography, Best Music, Best Lighting, Best Visual Effects and Best Editing, The Man From Nowhere is one of the hottest Korean movies to arrive on UK shores in recent years.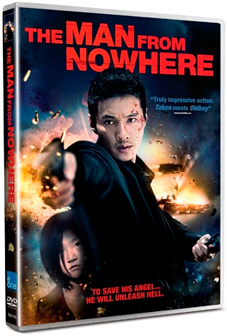 The Man From Nowhere (cert. 18) will be released on DVD by eOne on 11th April 2011 at the RRP of £12.99.