Fritz Lang returned to Germany on the eve of the 1960s to direct this enchanted penultimate work, a redraft of the diptych form pioneered in such silent Lang classics as Die Spinnen, Dr. Mabuse, der Spieler, and Die Nibelungen. Although no encapsulating title was lent at the time of release to what is, effectively, a single 3-hour-plus film split in two, the work that has come to be referred to in modern times as "the Indian epic" (consisting of Der Tiger von Eschnapur and Das indische Grabmal) proved to be one of the legendary director's most adventurous achievements. It was also one of the most popular successes Lang was to experience in his native land.
A German architect (Paul Hubschmid) is commissioned by an Indian maharaja (Walter Reyer) to construct a temple on his palatial grounds. After saving the life of a bewitching dancer (Debra Paget) on whom the maharaja has spousal designs, the pair are drawn into a hazardous maze of traps, perhaps the purest realisation of Lang's obsession with a labyrinthine 'house of traps' – that is, Man challenging Fate.
Like Lang's following final work Die 1000 Augen des Dr. Mabuse, the Indian epic charts new territory for the director, as it strikes out into the über-melodramatic tenor of his early silents while instigating the colours of his emulsion into adopting a lurid, sometimes gaseous palette. Arriving in the wake of The River (Renoir), India matri bhumi (Rossellini) and Black Narcissus (Powell & Pressburger), it also stands among the remarkable mid-century contributions of the greatest Western filmmakers who have explored India.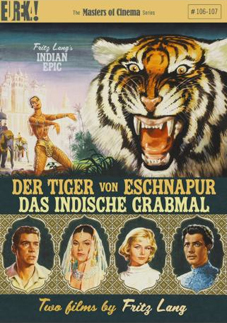 Der Tiger von Eschnapur and Das indische Grabmal will be released as a 2-disc DVD by Eureka Entertainment as part of the Masters of Cinema series on 18th April 2011 at the RRP of £23.48. Featuring beautiful, newly restored transfers of the films in their original 1.37:1 aspect ratio, the native German-language track, and the English-language dubtrack made for overseas distribution, and newly translated optional English subtitles, the release will have the following extras:
New and exclusive feature-length audio commentaries, for both Der Tiger von Eschnapur and Das indische Grabmal, by film scholar David Kalat;
20-minute documentary on the making of the Indian epic;
Three minutes of vintage 8mm footage shot on location by actress Sabine Bethmann;
The original French trailers for both Der Tiger von Eschnapur and Das indische Grabmal;
A lengthy booklet containing an essay on the films by Lang scholar Tom Gunning (The Films of Fritz Lang: Allegories of Vision and Modernity); excerpts from interviews with Fritz Lang about the film;
And more!