Eureka are clearly fond of Phil Morrison's 2005 Junebug. Having released it on DVD in 2006, they followed this up in 2009 with a Blu-ray release boasting exatly the same features. Now, less than two years later, they have announced a re-release of borth versions for April this year. In case you're new to the film, I'll habnd over to the press release for a synopsis:
This slow-burning, acutely observed comedy of manners concerns a dealer in outsider art who threatens the equilibrium of her middle-class in-laws in North Carolina. Madeleine (Embeth Davidtz, Schindler's List) is a go-getting art gallery owner from Chicago, recently married to George (Alessandro Nivola, Goal!), a near-perfect Southern beau. When Madeleine needs to close a deal with a reclusive North Carolina artist, George introduces her to his family: prickly mother Peg (Celia Weston, The Village), taciturn father Eugene (Scott Wilson, The Last Samurai), cranky brother Johnny (Ben McKenzie, The O.C.), and Johnny's pregnant, childlike wife Ashley (Amy Adams, The Fighter, Enchanted), who is awestruck by her glamorous sister-in-law. Madeleine's presence exposes the fragile family dynamics as hidden resentments and anxieties surface.

As well as the Oscar nomination, Amy Adams won Best Supporting Actress awards from the Sundance Film Festival and Screen Actors' Guild (amongst many others). Junebug also won the MoMA New Directors Award and the Cannes Film Festival Critics Award. Critically observed as being a "small quiet miracle" (The Telegraph) and of having "breathtaking visual textures" (Time Out), Junebug is presented here, anamorphically in its original aspect ratio to replicate the theatrical experience as closely as possible.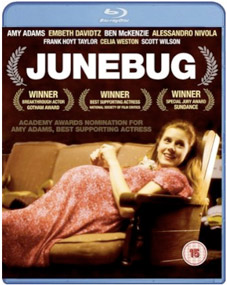 Junebug will be re-released in the UK on DVD and Blu-ray on 18th April 2011 by Eureka Entertainment at the RRP of £13.27 for either version. The extras features are the same as before, namely:
Full length audio commentary with the stars of the film Amy Adams and Embeth Davidtz;
Amy Adams interview and Q & A session in London, recorded in March 2006;
Ten deleted scenes;
Five behind the scenes documentaries;
Original casting sessions (Amy Adams, Ben McKenzie);
Ann Wood Art Gallery.
You can read our review of the previous DVD release here and the Blu-ray here.