After learning that he is suffering from acute kidney failure, Thai farmer Uncle Boonmee chooses to spend his final days surrounded by his loved ones in a remote forest, an important place from his childhood and, he believes, the possible location of his former existences. To his surprise, the ghost of his deceased wife appears to care for him and his joined by the spirit of his long lost son. Boonmee treks through the jungle with his family to a mysterious hilltop cave, the birthplace of his first life...
The latest film from Apichatpong Weerasethakul, the visionary director of Tropical Malady, Syndromes and a Century and Blissfully Yours, Uncle Boonmee Who Can Recall His Past Lives (Loong Boonmee raleuk chat) is an eerie, poetic and masterful work, one that won its director the Palme D'Or at the 2010 Cannes Film Festival.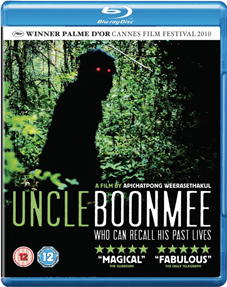 Described by David Thompson in Sight & Sound as "Spellbinding, erotic and moving" and Nigel Andrews in the Financial Times as "A total wonderwork," Unce Boonmee Who Can Recall His Past Lives will be released on UK DVD and Blu-ray by New Wave Films of 28th March 2011 at the RRP of £15.99 for the DVD and £19.99 for the Blu-ray. Extra features on both will include:
Short film: A Letter to Uncle Boonmee;
A specially recorded interview with the director;
An essay by Apichatpong Weerasethakul entitled The Memory of Nabua;
40 minutes of extra scenes;
Theatrical trailer.